Disruptive Business, Wisconsin Housewives & Cannabis: A Talk With Leslie Bocskor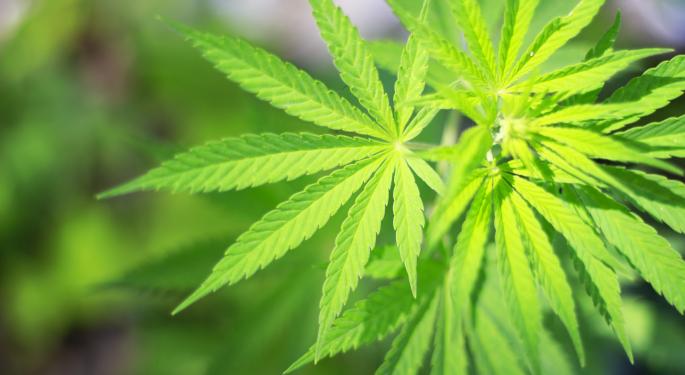 Leslie Bocskor is one of the legal cannabis industry's high-profile personalities. Based in Las Vegas, he is founder of Electrum Partners, a group that develops expansion strategies for the marijuana market. He's also founding chairman of the Nevada Cannabis Industry Association.
How did you get into the cannabis industry?
My background is investment banking and corporate finance. The most significant part of that was probably when I was working as co-founder and banker at a small family office investment bank in the mid- to late-90s, I was one of the first investment bankers to focus exclusively on the internet and new media. At the time I did it because I've always been a technophile.
That was watching the birth of an industry and being involved in the birth of an industry. And it was a tremendous amount of fun. And from there, I started to look for disruptive businesses, technologies and business models that would fundamentally change the way we live or do business on a potentially massive scale.
Related Link: MaryJane Group CEO Joel Schneider Discusses The Cannabis Hospitality Business
The cannabis industry came to my attention after I moved here to Vegas. I moved out to Vegas because here was the convergence of technology, online gaming and the gambling industry. And while I'm here, coming from New York City...I had no awareness that there was a legal cannabis industry in 2009.
In Nevada, medical marijuana is legal. What made you think this would be a growth industry in the state?
I looked at the economics of Las Vegas, how much is sold in beer, in wine, in alcohol, (People) come here to celebrate, even if they come here on business. And so, if there's going to be that housewife from Wisconsin who's going to use medical marijuana or legal cannabis once a year, she's going to do it in Vegas.
I started to look at the numbers, and the numbers were incredibly compelling. It could easily be a $1 billion a year market, just here in Las Vegas.
What is your group's focus when it comes to the cannabis business?
The Nevada Cannabis Industry Association is focused on the medical marijuana law, for dispensaries that got passed last year. We also are currently looking at a ballot initiative...called the Coalition To Regulate Marijuana Like Alcohol in Nevada, which is expected to be on the ballot in 2016.
Let's talk about cannabis investment. There's been chill put on cannabis-based penny stocks, following the recent SEC warnings. As someone in the business, what might it mean for your work in Nevada?
The penny stocks; this is very similar to what I saw in internet companies back in the late 90s. We're at a unique moment in time, this is never going to happen again. This is the birth of an industry that's going to grow to probably $50 billion-plus in the next ten years. And that...built-up demand has led to what we have seen in the penny stocks.
Related Link: Marijuana Investors Beware: SEC Warns Traders Of Fraud In The Industry
And that is, anybody who can find a way to take their existing public company or go through a reverse merger, or file an X-1 to become publicly traded, there is essentially a – not infinite but a very large demand for investors to find places to participate in this industry. They read all the news; they see the writing on the wall, they see the polling.
And then they hear about the numbers, and it's fairly obvious if you look at history, and with what happened with alcohol after the repeal of Prohibition in 1933. We had (liquor industry) dynasties built around the country, gigantic businesses were built. And so people want to be able to participate in the same type of thing here.
To draw a parallel, there was a time back in the mid-90s, late-90s, when all you had to do was add "dot-com" to your business name, if you were a public company, and your stock price would react.
This is an old pattern that we've seen. You can go back to the tulip trade (bubble) in Holland (in the 1600s) and see the same kind of thing. We have this demand, we have a lot of press about it, we have a lot of hype surrounding it – and so there are a lot of less-than-stellar players who are trying to be associated with the industry in whatever way they can.
And a lot of these are public companies, because they give access to so much capital. And so that first wave of (cannabis) companies, although I don't think that many of them have actually gone bust yet, I believe there will be a lot of "road kill" from the early stages, the public and private entries into the industry.
Posted-In: Electrum Partners Leslie BocskorCannabis Health Care Politics Startups Interview General Best of Benzinga
View Comments and Join the Discussion!