PMDTechnologies' VR Concept Could Make Facebook Wildly Successful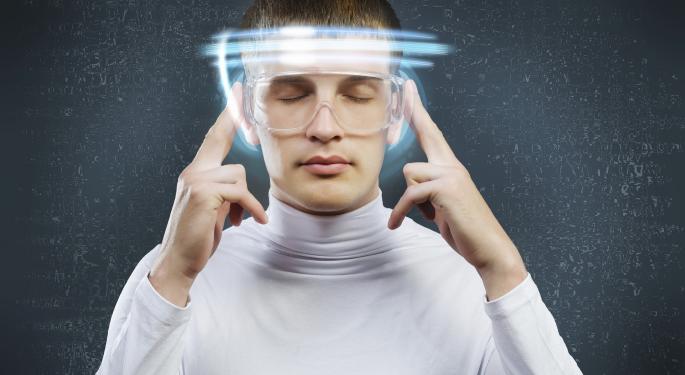 PMDTechnologies has a brilliant idea that could make Facebook (NASDAQ: FB) and other virtual reality developers a ton of money.
Current VR systems are limited by their couch potato restrictions; that is, users are not able to leave the confines of a chair. They can move their head around and experience the next step in virtual reality, but they can't actually get up and take a step forward without running into something.
Developers have experimented with various hamster ball and treadmill-style contraptions, hoping to give consumers a greater degree of movement. These prototypes might sound interesting, but they have yet to provide a seamless solution.
Related Link: Is Electronic Arts Serious About Virtual Reality?
PMDTechnologies (stylized as 'pmdtechnologies') has a concept that could change that. Jochen Penne, Director of Business Development at PMD, took some time to tell Benzinga all about the company's promising idea.
"The solution for virtual reality would be to let your environment, which [the headset] could sense in 3D, influence [the actual level]," Penne told Benzinga.
PMD (which is developing 3D sensors for a wide variety of applications, including Google's Project Tango) is currently experimenting with Oculus Rift. The company cannot say if it has officially partnered with the headset's developer, but PMD has been working with Oculus' development kit.
"When you wear Oculus, you're in a virtual world but you don't know your surroundings anymore because you cannot see it and you cannot interact with your hands because you're holding the controller with your hands," said Penne. "If you put the controller away, you don't know how to grab it again -- you have to take off the head-mounted display."
To solve this problem, PMD combined its nimble UX 3D software with a small camera (its own CamBoard pico S) and applied them to Oculus Rift. The results were demonstrated last December on YouTube:
"[Now] you know what your fingers are doing, whether you grab something or whether you point somewhere," said Penne. "This is something which is a totally immersive user experience because you're kind of crossing the border between real life and the virtual life."
Penne said that when the users raise a hand, they will see it in the virtual world -- just as they would in real life.
"You're spreading your fingers, you're making a fist, you can see what's happening," he added. "This is what we experimented [with]."
The Next Step
PMD can't fix VR overnight. Sony and Oculus VR -- the two primary VR headset manufacturers -- could be a year or more away from a retail release.
Long-term, Penne hopes PMD can offer developers a solution that will allow them to develop an "environment-aware adaptive level design." With that design, Penne said that the "current level of your game adjusts to your real world around you."
Items would be automatically placed in areas where you can reach them (on a desk, chair or table, for example), but not where you could not physically reach them. It would also adjust the virtual environment to account for real-world obstacles, such as doors, walls and stairways.
"So you're in virtual reality, but based on 3D sensing, the level is set up [and] is adjusted so that you can really play this level in the environment you're in," Penne explained.
Disclosure: At the time of this writing, Louis Bedigian had no position in the equities mentioned in this report.
Posted-In: Facebook Jochen Penne Oculus Oculus Rift Oculus VRSuccess Stories Tech Interview Best of Benzinga
View Comments and Join the Discussion!