The Battle Is Over: Microsoft Windows 'Desktop' Beats 'Metro'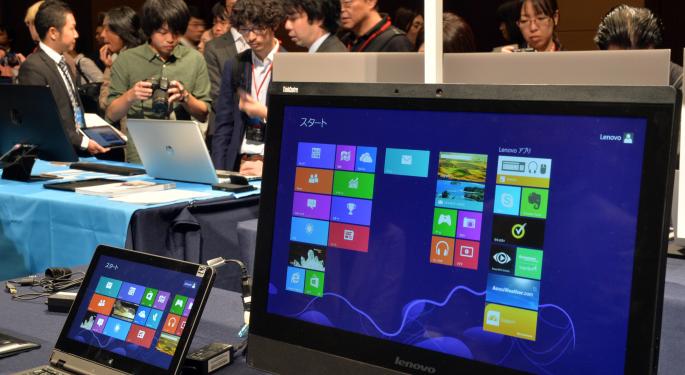 It's been widely reported that one of Microsoft's (NASDAQ: MSFT) main goals with its next major version of Windows, known as Threshold, was to bring on board all those Windows 7 holdouts who have been vocal critics of the Windows 8 OS.
To that end, ZDNet reported Monday that 'Threshold' was nearing the finish line in preparation for a spring 2015 release. It was not clear if the new OS would be called 'Windows 9' but what was clear was that desktop users have been a prime focus as the software has been under development.
In other words, people who interact with their computers, especially with a mouse or keyboard (touch optional), should find 'Threshold' more user friendly than has been the case with Windows 8 or even the 8.1 Update.
Different Strokes for Different Folks
ZDNet sources, noting that with the 8.1 Update Microsoft created a set of profiles that operate differently depending on the device in use, said that type of adaptability would continue with 'Threshold.'
For example, with some 8.1 devices include Power and Search on the Metro-style Start screen while others do not. Users have the option to have their computers start up in Desktop mode if they wish as opposed to the Metro-style opening screen.
Related: Google's Standalone Answer To Microsoft Office For iPad
The Power of the SKU
The SKU, or version, of the Windows OS would determine the look and feel, again depending on the device in use. Desktop/laptop users would get a SKU that emphasizes the Desktop look.
Two-in-one devices such as the Surface Pro would more easily switch between Metro and Desktop mode.
Versions designed for smartphones and tablets wouldn't contain a Desktop environment, although ZDNet sources said those versions of the OS would support side-by-side apps.
Mini-Start Coming
Previous rumors of a Mini-Start menu on the Desktop SKU, ZDNet sources said, were true. This was reported to be a brand new version of the traditional Start menu, which would include the ability to run Metro-Style apps on the Desktop.
ZDNet noted that the Mini-Start menu was expected to be customizable. This feature would allow users to include or remove Metro Style apps and tiles to make the interface more comfortable for individual use.
Bye Bye Windows 8.x
Whatever the timeline turns out to be, multiple sources, including ZDNet have reported that Microsoft was "over" Windows 8.x. The company clearly hopes 'Threshold' puts lots of distance between it and what has become known as 'Vista 2.0.'
At the time of this writing, Jim Probasco had no position in any mentioned securities.
View Comments and Join the Discussion!
Posted-In: Microsoft Threshold Windows windows 7 Windows 8 Windows 9Tech Media Best of Benzinga