Florida Becomes 23rd State With Medical Marijuana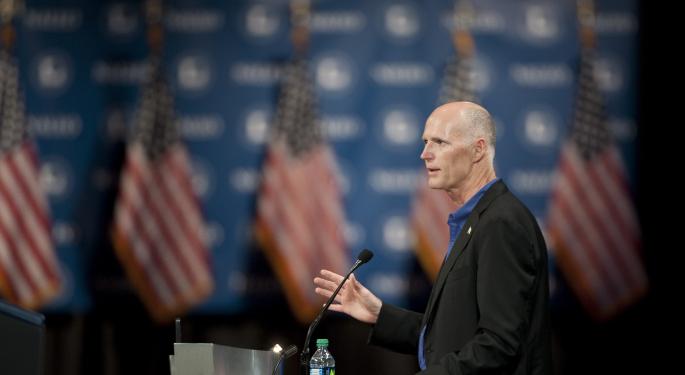 Florida Governor Rick Scott (R) signed a law on Monday that legalized a special strain of marijuana to treat epileptic seizures and other diseases. This policy is one of the most restrictive in the nation, but is a good first step for the state of Florida.
The law will allow for patients to use the form of marijuana known as "Charlotte's Web," which is named after a young Colorado girl with epilepsy that has seen vast improvement since starting treatment with a cannabis pharmaceutical.
Governor Scott, who has been quite outspoken against medical marijuana, noted Monday that he is "proud to stand with families who deserve the ability to provide their children with the best treatment available."
As reported by Reuters, the law allows for patients suffering from epilepsy, cancer and amyotrophic lateral sclerosis (ALS) (also know as Lou Gehrig's disease), will have access to the drug. 'Charlotte's Web' is a low THC extract from the marijuana plant that has no pyschoactive effects. The substance cannot be smoked, and has to be very specially cultivated to be effective.
Related Link: Is Cannabis Delivery The Next Big Thing?
This policy is not to be confused with the upcoming vote on Amendment 2, which would fully legalize medical marijuana in the Sunshine State. This move from Governor Scott can easily be interpreted as an effort to discourage voters at the polls this November, and is a minimal step in the eyes of Floridians. Ninety percent of Floridians are in favor of the amendment, though it is currently facing increasing resistance.
With Monday's new law, in addition to the District of Columbia, Florida became the 23rd state to have some level of medical marijuana. The politics behind the swing in medical and recreational marijuana is a very important issue, which will be heavily discussed at the upcoming WeedStock Conference.
Tickets for WeedStock are very limited-- investors in the cannabis industry should register as soon as possible. Benzinga readers can get $200 off a three-day pass with coupon code "BENZINGAWEEDSTOCK."
Posted-In: Amendment 2 Charlotte's Web Florida marijuanaNews Politics Legal General Best of Benzinga
View Comments and Join the Discussion!