#PreMarket Prep Guest List For The Week of June 2, 2014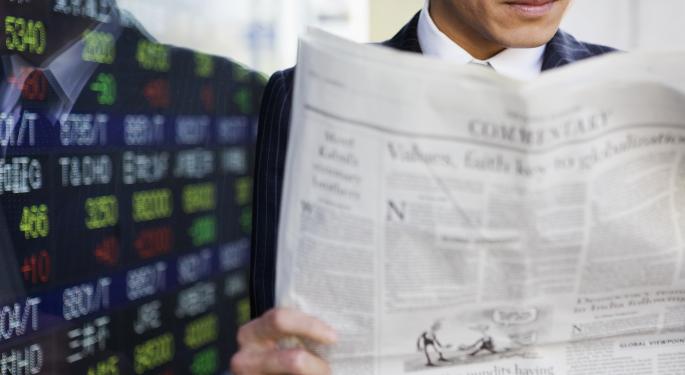 This week's #PreMarket Prep broadcast, sponsored by OptionsHouse, is packed with a wide variety of guests!
Tune into the show at 8:00 am EST Monday-Friday here.
Monday, June 2, 8:35 a.m.
Ethan Premock (@HamzeiAnalytics), Hamzei Analytics
Ethan Premock of Hamzei Analytics starting his day-trading and swing trading career back in early 2007 trading both individual stock option contracts and index futures contracts.
9 a.m.
Andrew Yang (@AndrewYangVFA), Founder and CEO of Venture for America
Andrew Yang is the Founder and CEO of Venture for America, a fellowship program that places top college graduates in start-ups for two years in low-cost U.S. cities to generate job growth and train the next generation of entrepreneurs.
9:20 a.m.
David Tawil (@MaglanCapital), Co-Founder of Maglan Capital
Prior to founding Maglan Capital, David was an investment banker with Credit Suisse, where he served as Director of Leveraged Finance and co-managed the fixed-income alternative asset trading business, focusing on sourcing and trading illiquid high-yield and distressed debt.
Tuesday, June 3, 8:35 a.m.
Nic Chahine (@racernic), Creating income with options spreads
Nic will join the show every Tuesday to discuss the week's options outlook.
9 a.m.
Doug Kass (@DougKass), President of Seabreeze Partners Management
Until 1996, Kass was senior portfolio manager at Omega Advisors, a $6 billion investment partnership. Before that he was executive senior vice president and director of institutional equities of First Albany Corporation and JW Charles/CSG.
9:20 a.m.
Reggie Middleton (@ReggieMiddleton), Editor of the Boom Bust Blog
Reggie Middleton is a financial analyst and the founder of editor of the Boom Bust Blog. Until 2011, he wrote about financial evaluation and the global financial crisis at the Huffington Post.
Wednesday, June 4, 8:35 a.m.
Harlan Pyan (@AllAboutTrends), Co-Founder of All About Trends
AAT is a subscription-based newsletter service focused on helping individuals secure consistent profits in the market by trading what they see, not what they think, hear or fear.
9 a.m.
Jack Steiman (@jacksjournal), Chief Technical Analyst, SwingTradeOnline.com
Former columnist for TheStreet, Jack Steiman is president of New York-based Visionary Research Group, a consulting/advisory firm in stock market analysis and education, focusing on his strength in technical analysis.
9:20 a.m.
Whitney Tilson (@KaseCapital), founder and managing partner of Kase Capital Management
Whitney Tilson is the founder and Managing Partner of Kase Capital Management, which manages three value-oriented hedge funds.
Thursday, June 5, 8:35 a.m.
Fari Hamzei (@HamzeiAnalytics), Founder of Hamzei Analytics
Fari will join the show every Thursday, bringing his wealth of knowledge on aggressive equity options and index futures trends.
8:50 a.m.
Michael Kahn (@mnkahn), CMT
Michael Kahn has been working with charts and technical analysis since 1986.
9:15 a.m.
Gregg Greenberg (@5GsOnTheStreet), TheStreet
Before joining TheStreet, Gregg Greenberg was a writer and segment producer for CNBC's Closing Bell.
Friday, June 6, 8:35 a.m.
Alan Brochstein (@Invest420), 420 Investor, Cannabis Financial Analyst
Marketfy's 420 Investor will be be discussing the latest in cannabis stocks.
9 a.m.
Jacqueline Ko Matthews (@pjm_mint), Founder and CEO of PJMINT
Jacqueline Matthews has worked as an investment banker with Goldman Sachs and as a managing partner and COO for quantitative hedge fund PJM Capital before founding PJMINT.
9:20 a.m.
Kiana Danial (@KianaDanial), CEO of Invest Diva
Kiana Danial is the CEO of Invest Diva and author of "Invest Diva's Guide to Making Money in Forex." She is a multilingual forex analyst, award-winning speaker, TV personality and entrepreneur based in Japan.
View Comments and Join the Discussion!
Posted-In: #premarket #PreMarket Prep Alan Brochstein Andrew Yang David TawilPre-Market Outlook Interview General Best of Benzinga