Did You Know There's A College Football Playoff Ticket 'Futures' Market?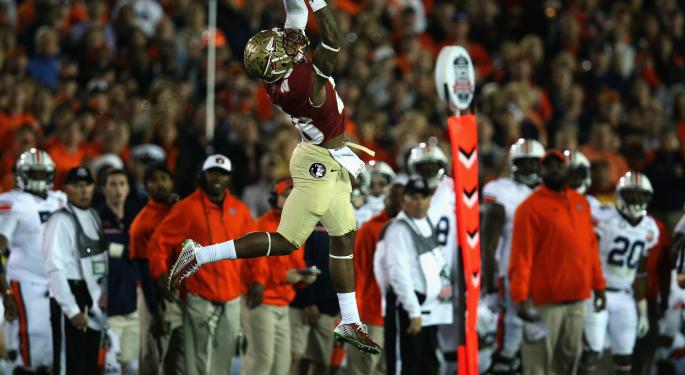 Traders who love college football – and trading – are in luck. At this website, traders can select seats and reserve tickets to the College Football Playoff national championship game on January 12, 2015, in Arlington, Texas.
If the selected team makes the playoff game, the trader will then buy tickets at face value ($450 per ticket) instead of the highly-inflated after-market prices many people pay.
The twist is that traders do not pay for tickets up front. Instead, traders can buy an "obligation" to purchase tickets at a price determined by the "fan market." If the team doesn't make the national championship game, the purchaser loses whatever they paid for their obligation.
Related: 5 Candidates To Purchase The Los Angeles Clippers
The pricing part of the system has been described as similar to an initial public offering in which demand determines price. Since traders are buying an obligation to purchase, as opposed to the right to buy, it's also similar to the futures market.
When the site opened Wednesday, obligations were as low as $20. For popular teams, likely to end up in the championship, obligation prices rose quickly.
For the top five ranked teams: Florida State Seminoles, Auburn Tigers, Michigan State Spartans, South Carolina Gamecocks and Missouri Tigers, recent "obligation" bids ranged from $20 for Missouri to $118 for Auburn.
Forward Market Media (FMM) operates the TeamTix platform on which obligations are bought and sold. According to the company's press release, after securing their obligation to purchase, fans have the "option to sell them 24/7 in a highly organized, secure, and transparent forward marketplace."
Fans who do decide to sell their obligations can keep any profit, minus a fee described on the College Football Playoffs website.
Forward Market Media CEO, Rick Harmon told the Wall Street Journal that under this model in 2012 one fan bought an obligation on Notre Dame, which was at the time unranked. When the Fighting Irish eventually clinched a spot in the BCS Championship game, Harmon said, the fan sold the obligation for $1,100.
The national championship game on January 12 will be the final event of college football's first ever four-team playoff. Semifinals will take place January 1, 2015, at the Rose Bowl and Sugar Bowl.
Other TeamTix ticket "obligation" events include the 2014 World Series and 2015 Super Bowl; launching this summer on FMM's TeamTix, the Big Ten Football Championship and the Orange Bowl.
At the time of this writing, Jim Probasco had no position in any mentioned securities.
Posted-In: college football College Football Playoff Florida State SeminolesWall Street Journal Futures Markets Media Personal Finance Best of Benzinga
View Comments and Join the Discussion!