Liveable Wage Protesters Storm McDonald's Annual Shareholder Meeting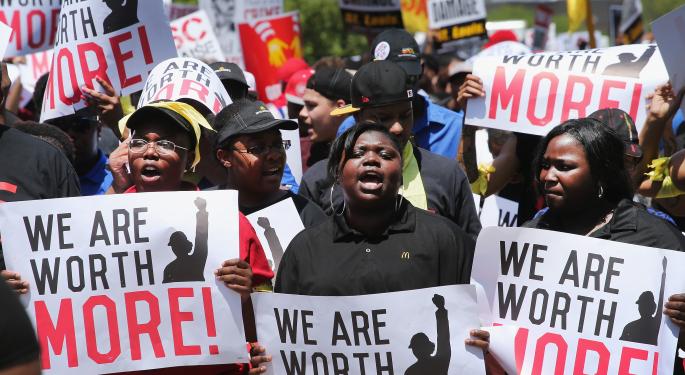 Over 100 individuals were arrested on Wednesday during a protest at the McDonald's (NYSE: MCD) corporate headquarters in the run-up to the company's annual share holder meeting on Thursday.
The protesters, who are said to have arrived on 32 buses, are seeking higher wages from the fast food giant. Those arrested were comprised of 101 McDonald's workers, as well as 38 clergy and union activists, according to USA Today.
Protesters are demanding $15 per hour and the right to unionize without suffering consequences. The protest efforts have been organized by Fast Food Forward and have received financial and logistic backing from the Service Employees International Union (SEIU).
Protest chants included "I want, I want, I want my $15!" and "Hey McDonald's you can't hide! We can see your greedy side!"
Related: McDonald's 'Scary' New Mascot Sets Off Social Media Backlash
The Oak Brook Police Department estimated the crowd to be between 1,000 and 1,500 people.
The company responded to the anticipated protest by closing one of its buildings and urging employees to work from home on Wednesday.
Spokeswoman Heidi Barker Sa Shekhem commented, "Folks have a right to protest peacefully and express their views... We're gearing up for our annual business meeting tomorrow and welcoming our shareholders to campus."
Shareholders Meeting
At the meeting on Thursday, McDonald's CEO Don Thompson addressed the wage criticism saying, "We believe we pay fair and competitive wages." Thompson also expressed that the company has historically provided individuals the opportunity to pursue "real careers."
In addition to the wage protests, the company has taken flak for targeting children in its marketing campaign. A mother from Lexington, Kentucky, called Ronald McDonald "the Joe Camel of fast food."
Thompson responded to remarks about the morals and healthiness of his company and said, "We are people. We do have values at McDonald's. We are parents." He noted that his children ate at the restaurant.
The issues surrounding health and predatory marketing practices seem to be taking second stage to the liveable wage movement, especially as the Obama administration is seeking an increase to the federal minimum wage. Speaking on wages, Shekhem said $15 is "unrealistic, but we know that the minimum wage will increase over time."
According to Reuters, the median hourly wage for fast-food and counter workers in the U.S. is $8.83, which works out to around $18,000 per year on a 40-hour work week.
Posted-In: Don Thompson Fast Food Forward minimum wage protest Reuters usa todayEconomics
View Comments and Join the Discussion!