China Bans Windows 8 Because … Windows XP?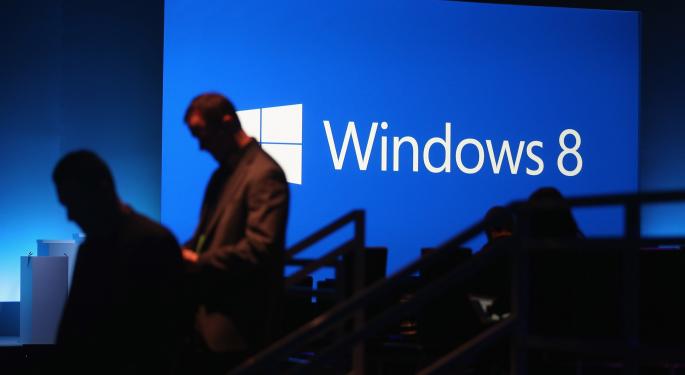 Using logic that might require some untwisting, the Chinese government last week banned the use of Microsoft's (NASDAQ: MSFT) Windows 8 operating system on government computers.
According to Reuters, the ban was designed, in part, "to ensure computer security after Microsoft ended support for Windows XP."
The Chinese government did not explain how banning the use of Windows 8 would ensure security, nor did it explain what operating system(s) the government would approve moving forward.
Windows 7 was still an option – assuming that OS too did not eventually suffer the same fate as Windows 8. Data firm Canalys said 50 percent of the Chinese desktop market currently utilizes Windows XP.
Related: Microsoft Issues Release Unveiling Surface Pro 3
The Windows 8 ban was included in a notice on energy-saving products posted on the Central Government Procurement Center website. Windows XP has been widely used in China and the ban hampers efforts by Microsoft to replace that OS with its newest product.
Reuters reported that Microsoft said in a statement, "We were surprised to learn about the reference to Windows 8 in this notice. Microsoft has been working proactively with the Central Government Procurement Center and other government agencies through the evaluation process to ensure that our products and services meet all government procurement requirements."
The company added, "We have been and will continue to provide Windows 7 to government customers. At the same time we are working on the Window 8 evaluation with relevant government agencies."
Although animosity between China and the US is high, last week's ban came before Monday's charges that Chinese government officials hacked networks in the US and Chinese counter-charges that the US has engaged in cyber espionage.
Related: Microsoft Mohoro Desktop As A Service Gets Public Release
In addition to problems between the respective governments, Microsoft has had trouble with China, long accusing the country of being a center of Windows pirates. The company and the Chinese government have tried to minimize the impact of unlicensed software, but to little effect so far.
Microsoft, which has tried to garner more positive press with the recent release of its self-proclaimed "laptop killer" Surface Pro 3, continued negotiations with the Chinese government to resolve issues regarding its operating systems according to The Verge.
Meanwhile Microsoft shares were down slightly Tuesday, closing at $39.68, off $0.07 or 0.18 percent.
At the time of this writing, Jim Probasco had no position in any mentioned securities.
View Comments and Join the Discussion!
Posted-In: Canalys China Microsoft Surface Pro 3 windows 7Politics Tech General Best of Benzinga