Android Users Are More Engaged With Ads, But iOS Users Are More Willing To Spend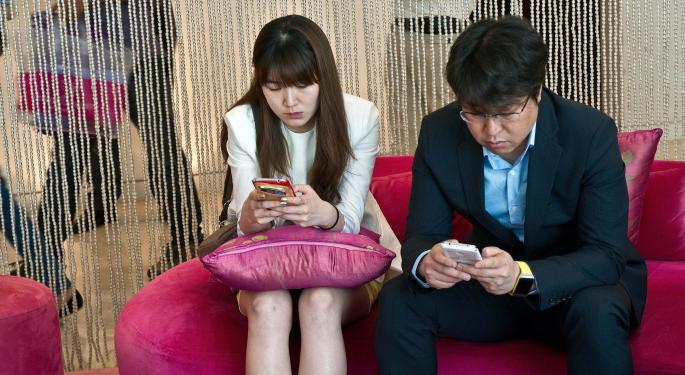 AdTheorent, a mobile ad firm, has uncovered some interesting traits among Android and iOS users across its network.
The company found that Android users were 17 percent more likely to click on ads than their Apple (NASDAQ: AAPL) counterparts.
That data only applies to devices that are connected to a cellular network, however. When connected to Wi-Fi, iOS outperformed Android by 27 percent. In general, Wi-Fi connected devices led to more engagement (16 percent higher) than those over cellular.
Anthony Iacovone, co-founder and CEO of AdTheorent, is currently analyzing this information, to figure out why Android leads in one area and iOS leads in another.
"We can infer, possibly, an iOS user may be more of a home browsing type of user, whereas an Android user may be somebody who is more active, on the go, and less on the couch," Iacovone told Benzinga.
'Highly Engaged' Users
"It could also be that the Android user has a smartphone, and not an Android tablet," he added, "while the iOS user is pulling out an iPad and engaging with more of the Wi-Fi environment at home. These are some of the possible reasons."
Related: Kindle Owners Spend $443 More On Amazon Than Everyone Else
Iacovone said he sees a number of campaigns where Android users are "highly engaged" with mobile media. But advertisers won't necessarily make money from this engagement.
"In the case with entertainment, none of this drives spending," he said. "Most of this is going to be tune-in, awareness and engagement media. For this specific vertical, Android gives us a platform which we know we are making somebody aware, because the metric conversion or engagement is some type of click- or view-through or post-click action where we can actually identify the user watching the video or looking at the rich media and clicking the video stream. So that's a great metric that we can provide back to the advertiser, whether it's ABC or Disney or somebody like that. In this case, Android is outperforming."
But If You're Selling Something, iOS Reigns Supreme
Android may be the king of user engagement, but iOS users are more likely to spend money when asked.
"I've looked at enough [data] to tell you that iOS tends to get users that will be more apt to spend in campaigns where a purchase or some type of mechanism beyond just engagement is part of the mix," Iacovone explained. "We see that iOS users tend to spend and tend to spend at a better rate than Android users. I can make someone more aware on Android for less cost to the advertiser, but on the iOS side, it's easier for me to use the iOS vehicle to get somebody to actually convert to a purchase."
Disclosure: At the time of this writing, Louis Bedigian had no position in the equities mentioned in this report.
Posted-In: AdTheorent Android Anthony Iacovone Apple commentsNews Events Tech Best of Benzinga
View Comments and Join the Discussion!