WhatsApp Could Have Gone Public Without A Facebook Buyout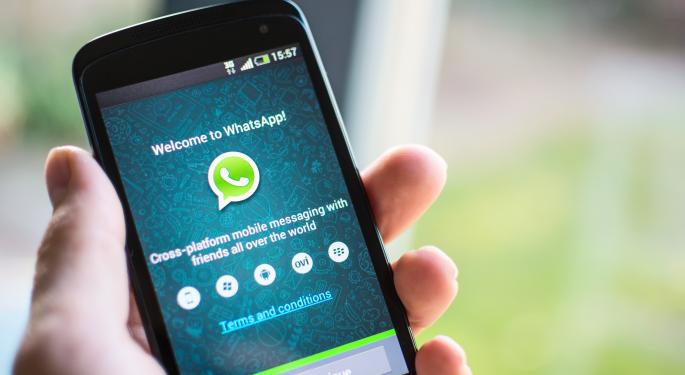 WhatsApp's investors received a hefty sum in February when Facebook (NASDAQ: FB) announced that it would acquire the firm for roughly $19 billion.
Analysts responded fairly well to the acquisition, which many believe will provide Facebook with mountains of data and a much-needed entry into new markets.
But what would have happened if WhatsApp had remained an independent entity?
"Just like Facebook could go public, WhatsApp could [have gone] public," Guy Turner, Managing Director at Hyde Park Venture Partners, told Benzinga. "There's no reason it couldn't go public. Whether it was immediately viable, I don't know. I don't know how much revenue they were doing and I don't know if they were effectively driving recurring revenue or if they had a high churn rate -- all these kinds of things that you would consider. But it seems [that] in the long run, it could [have been] viable if they continue to grow fast, etc."
Hyde Park Venture Partners specializes in B2B software investments, but Turner recognized the value in Facebook's acquisition.
Related: Facebook vs. WhatsApp - Which Company Is More Valuable?
"Why did Facebook buy them?" Turner asked. "It makes perfect sense. The biggest risk to Facebook is that they get old and tired and their user base stops growing. Basically, spending 10 percent of your market cap to accelerate your user base by another 20 or 30 or 40 percent, it seems pretty smart. Whether I actually agree with the price and think it's worthwhile, I don't know. We'll all find out in two years. Fundamentally, the strategic acquisition at [that price] made a ton of sense."
B2C Gain All The Hype, But…
Consumer companies may gain most of the media attention, but Turner was quick to point out one of the biggest and most notable B2B success stories.
"Isn't Box pretty exciting?" he said. "And that's really a B2B company. Maybe not quite as exciting as Dropbox, and I have a blog post on this about business models. You know, Dropbox's model itself is moving from being a consumer model towards being a small and eventually medium- and large-sized business model. It started there and it's moving upstream."
Overall, Turner said that there is still more hype for business-to-consumer enterprises. But B2B firms have a lot of hype surrounding them as well.
"As an investor, I don't really care about hype unless it drives value to the business," said Turner. "In a B2C company that matters because a lot of them spread virally. For B2B companies, it's less important."
Disclosure: At the time of this writing, Louis Bedigian had no position in the equities mentioned in this report.
Posted-In: comments Facebook Guy Turner Hyde Park Venture PartnersM&A News Success Stories Tech Best of Benzinga
View Comments and Join the Discussion!