Tesla Strikes Deal To Keep Ohio Stores Open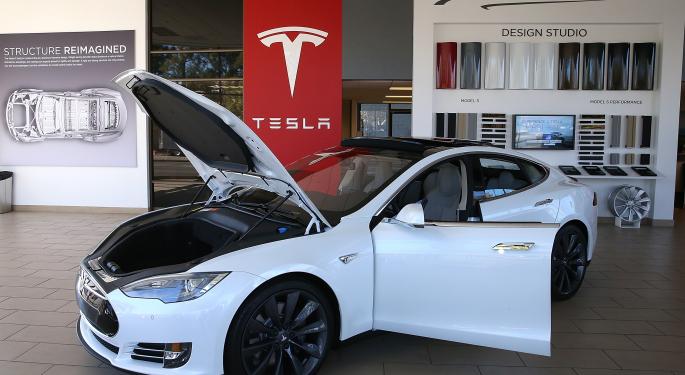 Two weeks after New Jersey banned Tesla (NASDAQ: TSLA) from selling its vehicles there, Ohio said the company could keep its two existing company-owned stores open and move forward with plans to open a third in that state.
The agreement, which banned Tesla from opening additional stores beyond the three, also prohibited other automakers from selling their automobiles in company-owned stores as Tesla has.
An Ohio Senate panel passed Wednesday's deal according to The Associated Press. Based on the arrangement, Tesla showroom-stores in Columbus and Cincinnati would remain open and plans for a storefront in Cleveland would be allowed to proceed.
Ohio's dealer association had tried to block Tesla from selling directly to consumers. The company said it felt it had to do this in order to educate the public about its unique all-electric vehicles.
Related: Arizona Wooing Tesla With Possible Direct Sales Law
Local dealers said Tesla's business model threatened consumer protection laws and cut independent franchised dealers out of the retail pipeline. As of next week New Jersey, Texas, Arizona, Colorado and Virginia will all have laws on the books prohibiting Tesla from direct sales of its vehicles in those states.
The state of New York might be next, making the Ohio deal all the more important. New York is home to five Tesla stores, one of the largest footprints the company has outside of California.
The Wall Street Journal reported that Tesla's vice president of business development, Diarmuid O'Connell said the compromise in Ohio could serve as a model in other states, including New York.
Said O'Connell, "I do think the Ohio solution points to a way dealers and Tesla can resolve this issue for the present, while letting both sides see how this develops. While on the margin it's disappointing that we don't have the ability to grow freely in Ohio, the compromise we achieved in the past 24 hours is sufficient for now."
The Ohio Automobile Dealers Association, through vice president, Joe Cannon, said the agreement amounted to "a very fair proposal that is helpful to both sides."
Meanwhile, Tesla said it believed that to grow, the company had to be allowed to implement its direct-sales model everywhere. The ongoing state-by-state battles have become a distraction for Tesla, as the company has tried to focus on plans to build a Gigafactory to mass produce batteries for its vehicles – a far more important component to the company's growth plans.
The sponsor of the Ohio legislation, Sen. Tom Patton of Strongsville, told the Cleveland Plain Dealer that the bill provides protection for more than 60,000 Ohioans employed by auto dealerships across the state. Patton added, "If it turns out this is a good business model for the consumers, we can revisit it."
At the time of this writing, Jim Probasco had no position in any mentioned securities.
Posted-In: arizona Batteries California Cincinnati ClevelandNews Events Media Best of Benzinga
View Comments and Join the Discussion!