Warren Buffett's Basketball Bracket Madness Ends Twice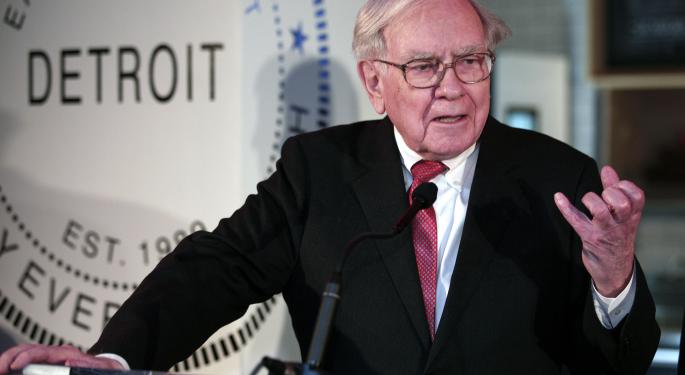 Warren Buffett inspired people to take a chance on a dream with the Quicken Loans Billion Dollar Bracket Challenge.
Registration for QuickenLoans Billion Dollar Bracket closed on March 20 at 1:00 a.m. EDT, and the fun was over for many shortly after the games started.
"If it gets down to the last game I'll go to the game with whoever has the winning bracket at that point," said Buffett on NBC's Late Night with Seth Myers.
Mercer's win over Duke on Friday was the first shocker that ruined many people's brackets. Then, George Washington's late Friday night loss to Memphis drenched the flame that boiled the nation's imagination into bubbling dreams of a hot $1 billion prize completely. That was it.
For one basketball fan, however, the dream never started, and yet it lingered for a while anyway.
Brad Binder, the Yahoo! Sports NCAA tournament almost-perfect bracket holder, ended 36 games strong. The 23-year-old didn't enter Buffett's challenge with his aptly named "Brad's Breathtaking Bracket," and yet he was able to surpass every contestant.
"It's not just flipping a coin," Buffett said while joking with Dan Gilbert and late night host Meyers during promotions before the registration period ended.
As reported by ABC, Binder wanted to make a deal with Quicken Loans and Warren Buffett in attempts to earn bit of money for grad school for almost-perfect bracket; tweeting them both about his consistently strong picks before the streak-ending game 37.
With chances at one out of 128 billion, it was unlikely that anyone would win. Nonetheless, if Binder's streak continued through March Madness, it would have been interesting to see if Buffett took real notice.
The move to even hold the contest was a decent enough publicity win, and it was insured anyways, as Buffett pointed out during his media appearances.
Related: Barron's Recap: World's Best CEOs
Even more so, it was an interesting experiment. For a brief period, the spirit of his offer showed people that it's good to take chances on some underdogs, while showing us all that just about any outcome is possible.
Buffett is in the clear for now when it comes to the big prize, and at least 20 people can still win Quicken Loans' $100,000 runner-up prizes for the brackets that were closest to perfect picks in the tournament.
Maybe he'll even reach out to Binder.
In the meantime, games are in motion. And while we won't get to see if someone will win that colossal grand prize for picking each winning team in every bracket, everyone can still get into the action on the court as the nation follows along with NCAA March Madness.  Jason Cunningham had no position with the mentioned entities while writing this article. Visit Jason on Twitter at @JasonCunningham and @Benzinga.
Posted-In: ABC Brad Binder Dan Gilbert Duke George Washington UniversityTopics Media General Best of Benzinga
View Comments and Join the Discussion!