Spotify Vs. Pandora Vs. Google Music Vs. iTunes Radio Vs. Xbox Music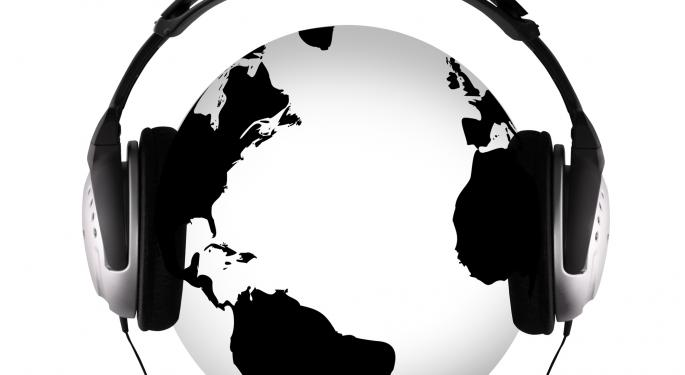 Last fall, Benzinga wrote about the deluge of streaming video players.
Now it's time to tackle another area that has become bloated with too many options: streaming music.
Ranging from straight radio to full on-demand services, the streaming music business is one of the most overcrowded industries in the tech and entertainment spaces.
Do consumers really need dozens of services to stream their favorite music? Isn't one enough? Read on to find out.
Related: Spotify Might Be Eyeing An IPO
Spotify
More than a decade ago, Rhapsody attempted to provide consumers with an all-you-can-eat streaming music service. At the time, music lovers had become very comfortable with the idea of downloading music -- especially music that they could get for free from Napster. But they had yet to accept the idea of paying a monthly fee to stream music they could not actually own.
Other services offered similar options, but it wasn't until Spotify arrived that consumers finally embraced the idea of on-demand streaming. Pandora (NYSE: P) may have helped things along -- after all, it was the first streaming radio service to gain mainstream attention. But Spotify was the first major on-demand service that offered a free version for Mac and Windows users. This helped lure consumers, who were especially pleased by the global track list of more than 20 million songs.
Spotify has yet to bring its on-demand features to Android or iOS, but that's where the premium service ($9.99 per month) comes into play. Spotify Premium eliminates ads, allows users to listen offline, and delivers the full Spotify experience to mobile devices. The company currently offers a 50 percent discount for students and a 30-day free trial for any user looking to test out the service.
Not all mobile users are forced to pay, however.
In December Spotify released a new app that allows Android and iOS tablet users to stream on-demand, ad-supported music for free.
Even without a proper smartphone app for cheap music lovers, Spotify is still one of the most impressive music services available. From indie bands to rock legends and everything in between, Spotify is a great service for those who know what they want -- and for those who are looking to discover something new.
The only downside is that some artists (such as The Beatles) aren't on board, and some albums and individual songs are absent due to unexplained licensing issues. For example, indie band Los Campesinos! once had its entire catalogue on Spotify. In 2013, We Are Beautiful, We Are Doomed (the band's second album) disappeared from that lineup.
Los Campesinos! has since added its newest album, No Blues, to Spotify -- but its second album has not returned.
Similarly, Pennsylvanian rockers Farewell Flight initially brought its entire catalogue to Spotify as well. This year eliminated one of its songs, "Out For Blood," from its debut album. It has since been re-added, though the song "Out For Blood" now appears unplayable for some.
Other bands have stayed away entirely because they claim that Spotify and other streaming music services do not pay enough.
Regardless, consumers will be hard-pressed to find a better, more comprehensive music service than Spotify.
Pandora
On its site, Pandora tells visitors that it is a "new kind of radio" with stations that "play only music you like."
The site then invites consumers to enter an artist, genre or composer into the search box, which will generate a station based on that simple criterion (Spotify Radio offers a similar service based on a consumer's listening history).
If a user enters "John Williams" into Pandora, they'll hear music from Williams and other movie composers. If a user enters "Beyonce," they'll hear music from her and other pop artists.
Unlike traditional radio, Pandora allows users to skip songs -- but only a handful of skips are allowed per hour, per station. After that users are told to create another artist to hear something different.
Alternatively, they could simply sign out and switch to a different service, but Pandora has wisely chosen not to promote that option.
Like Spotify, there is a premium version of Pandora for $3.99 per month (by the time you read this, the fee may have jumped to $4.99). This fee eliminates banner and video ads, reduces timeouts and provides listeners with additional skips.
But since it's a radio service, users still can't listen to whatever they want, whenever they want. Like most online radio services, offline play is not an option.
Related: Pandora Not Falling Victim to iTunes Radio
Google Play Music All Access
Google (NASDAQ: GOOG) is one of the few tech companies that doesn't currently offer a free music services. While users can get their free music fix on YouTube, the company's music-specific service comes with a monthly fee.
The standard Google Play Music is a lot like iTunes. Users can pay for albums and individual tracks, or download any of the free songs that are available.
Google Play Music All Access is the firm's answer to Spotify. After the 30-day trial period, users can pay the $9.99 monthly fee for access to "millions of songs" (just like Spotify), create a personalized radio from any song or artist (just like Pandora) and receive "smart" recommendations based on their personal tastes. Offline listening is also available.
Unlike Pandora, this service comes with unlimited skips.
Separately, Google also released a feature that allows iTunes users to upload 20,000 songs to Google Play for free. Music lovers do not have to subscribe to Google Play Music All Access to take advantage of this feature.
iTunes Radio
Is this Apple's (NASDAQ: AAPL) long-awaited answer to Pandora?
That depends on who you ask. While CNET argues that it is better than its competitors, the Associated Press found it to be much less intuitive than Pandora.
iTunes Radio is currently an exclusive app for iTunes and iOS 7 (or later), so not everyone can gain access to the service. Those who can, however, can easily buy the music they enjoy without much effort.
Apple's song library is larger than Pandora, so consumers might have an easier time finding obscure tracks with iTunes Radio.
That said, the two services are still very similar, right down to the hourly skip limitations and lack of offline play. iTunes Radio does not offer a premium service, but users can ditch the ads by subscribing to iTunes Match, the Apple service that allows users to upload their existing (non-iTunes) music to the cloud. iTunes Match is $24.99 per year, which is notably lower than Pandora's current monthly fee of $3.99.
Radio lovers will surely enjoy everything iTunes Radio has to offer, including Siri integration that allows users to verbally adjust what's being played. But others may prefer the on-demand features of Spotify or Xbox Music.
Xbox Music
Xbox Music is easily the most accomplished Spotify competitor available.
Unlike other Spotify clones and competitors, Xbox Music offers free, unlimited streaming through its site, music.xbox.com. The ad-supported music catalogue is fairly close (if not exact) to Spotify, so users won't feel cheated if they choose this service over another.
The Web player actually loads faster than Pandora, which has a few-second delay between songs. Things slow down a tad when launching Xbox Music's radio, which also creates stations based on artist preferences.
Xbox Music offers a pro version for $9.99 that supports mobile devices, eliminates ads and allows users to play music offline -- just like Spotify.
Disclosure: At the time of this writing, Louis Bedigian had no position in the equities mentioned in this report.
Posted-In: Apple Google Google Music Google Play Music All Access iTunesNews Success Stories Tech Best of Benzinga
View Comments and Join the Discussion!