BYOW: Michigan Bill Allows Restaurant-Goers To Bring Their Own Wine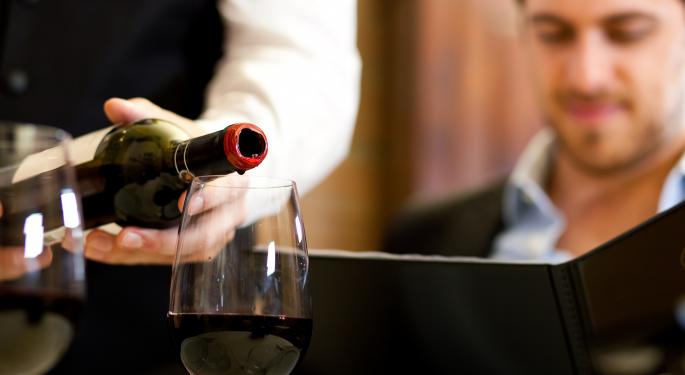 Drink up, friends.
A Michigan bill that allows people to bring their own bottles of wine to bars restaurants takes effect Friday, and it's just in time for the St. Patrick's Day weekend.
Introduced by State Representative Jim Stamas, House Bill 5046 makes it legal to bring an unopened bottle of wine to an establishment with a liquor license.
This isn't great for the restaurant industry, Michigan Licensed Beverage Association executive director Scott Ellis told Benzinga, but it won't have a huge impact. Establishments can use this opportunity to learn about new wines available.
"If they notice a pattern, the might want to pick up that brand," Ellis said.
An opened bottle of wine that is unfinished may be re-corked by a restaurant employee and taken home with consumers.
"There's a lot wine connoisseurs," Ellis said. "There's a lot of expensive wines, and people don't want to finish a whole bottle and then drive home."
Related:Let's Drink to That: U.S. is World's Largest Wine Market, with Sales Expected to Expand
It's about choice
Ellis said this is about choice for restaurants. Although it's legal, a restaurant does not have to let customers bring their own bottles of wine.
Michigan Restaurant Association Vice President Justin Winslow told Benzinga that some restaurants are choosing to only allow the BYOW option for wines they don't already have on their menu.
"Because the bill was written with such flexibility, they (restaurants) really have the power to decide whether it makes sense for them or not," he said.
The establishments can also choose whether or not they want to charge a corkage fee -- the price of being waited on, glassware, liability, etc. that would normally included in the markup of a bottle purchased at an establishment.
Other booze news
Sam Adams won't participate in South Boston's St. Patrick's Day Parade this year, the Boston Globe reports.
The Boston Beer Company (NYSE: SAM), makers of Sam Adams beers, pulled its sponsorship from the event after an agreement to allow a group of gay veterans to march could not be reached between parade organizers and the gay advocacy group MassEquality.
MassEquality posted a statement from the Boston Beer Co. on its website.
"We were hopeful that both sides of this issue would be able to come to an agreement that would allow everyone, regardless of orientation, to participate in the parade," the statement said. "But given the current status of the negotiations, we realize this may not be possible."
Club Cafe, a restaurant/night club in the south end of Boston, had announced it would stop serving Sam Adams because of the controversy. After the company's decision to pull out of the parade, the establishment announced on its Facebook page that it would continue to serve products from the Boston Beer Company.
Posted-In: Club Cafe House Bill 5046 Jim Stamas Justin Winslow MassEqualityNews Restaurants General Best of Benzinga
View Comments and Join the Discussion!