Commander-In-Chief Or Comedian-In-Chief?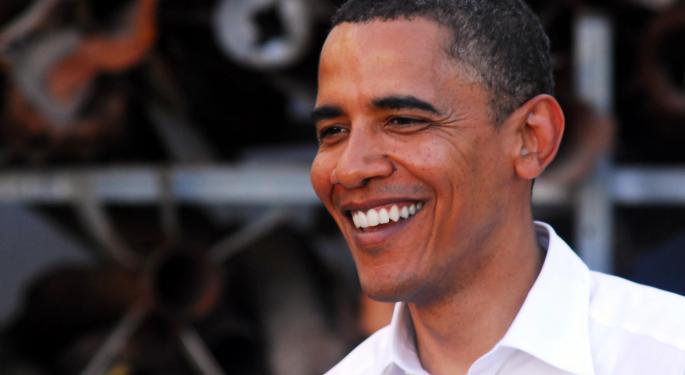 Whether they are for him or against him, many people admitted that President Obama's pitch on behalf of the Affordable Care Act on popular Internet show Between Two Ferns with comedian Zach Galifianakis was entertaining.
In his latest light-hearted public appearance, Obama traded jabs with Galifianakis as the two managed to discuss a wide range of topics, including foreign policy when Galifianakis asked the President, "What should we do about North Ikea?"
Finally, after the President mentioned health care, Galifianakis muttered, "Let's get this out of the way. What'd you come here to plug?"
As Obama explained the main attractions of the ACA for young "invincibles" – Galifianakis, by the way, thought the President said "invisibles" – Galifianakis rolled his eyes and moaned, "Is this what they mean by drones?"
Related: Obamacare About to Get a Lot More Customers
In a somewhat surprising move, at one point Galifianakis asked, "What's it like to be the last black president?"
Obama's response? "Seriously? What's it like for this to be that last time you ever talk to a president?"
Neither the White House nor the producers of the show would say how much of the final product was scripted and how much was ad-libbed – let alone who may have done the most ad-libbing.
The underlying serious nature of Obama's participation – ginning up support among young people for ACA signups prior to the March 31 enrollment deadline – raised the question of whether it was "seemly" for the leader of the free world to be trading jokes with a comedian.
In fact, Barack Obama has appeared on more entertainment programs than any sitting chief executive in history, according to NBC News.
In addition to his most recent Between Two Ferns appearance, the President introduced Cosmos on Fox this past Sunday night, declaring, "There are new frontiers to explore… there are no limits."
There are, apparently, no limits for Obama when it comes to his willingness to attempt to push his agenda via popular mediums like television. His previous appearances on late night shows with the likes of Jay Leno and David Letterman, not to mention "slow-jamming" the news with Jimmy Fallon, almost appear tame compared to the exchange with Galifianakis who portrays an awkward, anti-social fool on Between Two Ferns.
Although many found the President's appearance with Galifianakis entertaining, and the White House pointed to the fact that the video had racked up three million views within hours of its posting, not everyone was impressed.
Texas Republican congressional representative, Randy Weber tweeted this:
Instead of playing celebrity, our President should be working on fixing his failed takeover of health care.

— Randy Weber (@TXRandy14) March 11, 2014
Other Republicans said the appearance was "undignified" and a "distraction from real issues."
Despite the criticism, if the effort is seen to result in increasing signups for the ACA, chances are this will not be the last the world will see of the "Comedian-in-Chief."
Posted-In: ACA Affordable Care Act Barack Obama Between Two Ferns Comedian In ChiefNews Events Media Best of Benzinga
View Comments and Join the Discussion!