Unsafe At Any Age: Violence In Venezuela Causes Locals To Speak Out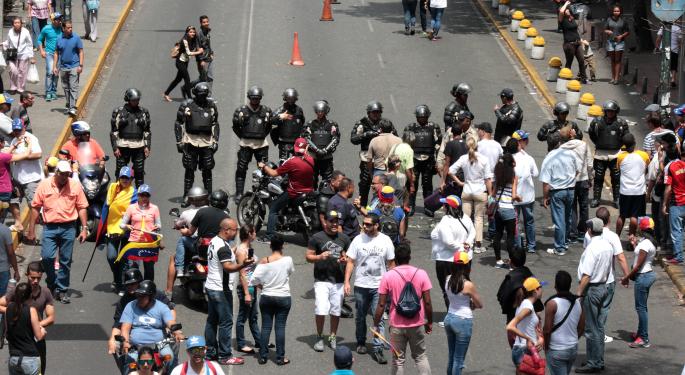 The February 12 protests in Caracas, Venezuela gained international attention after a student was killed in what began as a peaceful march through the city.
Since then, much of what has happened in the South American nation has been shrouded in confusion as government controls on media outlets have made it difficult to get a clear understanding of situation.
While the country's national TV stations play soap operas and cartoons, protests rage on as more and more Venezuelans join the fight against a government that protesters believe is no more than a puppet for Cuban interests. The country is divided between pro government "Chavistas" and opposition groups who believe the nation's nearly 25,000 murders per year are the result of a government which doesn't care to protect or serve its people.
See also: 6 Reasons Why What's Going On In Venezuela Matters
Many believe that the unrest in Venezuela began with late President Hugo Chavez, who closely aligned himself with the communist Cuban governments of Fidel and Raul Castro in the early 2000s. Opposition groups have long criticized the Venezuelan government for supplying Cuba with billions of dollars of subsidized oil each year.
Following Chavez' death in March 2013, Nicolas Maduro took office in what many Venezuelans believe was a fraudulent election. Since then, protests against the government's left-wing policies have been a regular occurrence. However, the sexual abuse of a student at the University of Los Andes' Tachira campus set off a wave of angry demonstrations among university students demanding improved security measures at their schools.
The protests snowballed after police delivered a heavy handed response by incarcerating five students and manhandling several others. Images of young people facing off against the country's National Guard began to surface adding fuel the nation's growing unrest.
In support of the students arrested in Tachira, young people around the country organized the February 12 march on Venezuela's National Youth Day. Since then, several young protesters including Venezuela's Miss Turismo, Genesis Carmona, have died in violent clashes with government forces. The stories and images of riot police using disproportionate force against unarmed young people have slowly made their way to mainstream media through Twitter and Facebook, resulting in the chaos seen today.
See also: Crimea, Russia, Ukraine & What It Means For Investors
Now, Venezuelans of all ages have joined the student demonstrations to voice their frustration. Life in Venezuela has changed, with things getting exponentially worse over the past two years. A small business owner living near Caracas whose name has been changed to Ana to protect her from being singled out for speaking up said, "We have to wait in a line of nearly 100 people just to buy one chicken, or toilet paper. I travel to seven or eight supermarkets just to find meat at all." She also described her worries about personal safety, saying most of the public chooses to stay indoors after dark as violent crimes have become increasingly common across the nation.
But for many, these issues are simply symptoms of a larger problem.
A Venezuelan social worker whose name has been changed to Joseph in order to avoid conflict with the government said "People are focusing on the human rights issues right now, but there is something much worse happening here. Our problems are not just Venezuelan; they are problems for the entire continent and in many cases, the world."
He went on to describe the Venezuelan government as a financial supporter of several extremist movements throughout South America, including reports of collaboration with the Revolutionary Armed Forces of Colombia (FARC). FARC, a wealthy terrorist organization which emerged as a guerrilla arm of the Colombian communist party, funds its operations through illegal activities like drug trafficking and kidnapping and was linked to Hugo Chavez in 2011.
"[On the surface] the protests are about a lack of supplies and the high crime rates, but the ultimate goal is to change the government. The government is nearly becoming totalitarian. People are tired of it."
See also: A Local Perspective From The Ukraine
He explained that the Venezuelan government has organized groups of armed militia, allowed to fire at will. Speaking up against the government is becoming more and more dangerous. "In 2007, they broke up protests with tear gas. Now, they use tear gas and they fire shots. Going to a protest now is putting your life at risk."
International calls for investigation into the 17 reported protest-related deaths echo those heard round the country. Hundreds of protesters have allegedly suffered serious injuries ranging from loss of eyesight to severed spinal columns at the hands of government forces.
In mid- February, activist politician Leopoldo Lopez was accused of several crimes related to the protest deaths including arson, homicide and terrorism. However, his arrest and incarceration was widely seen as the government's scapegoat.
Since Lopez' imprisonment, some say the opposition is lacking both leadership and direction. Demonstrations are spontaneous and often poorly planned, which has led to more frustration. Despite that, it seems more and more Venezuelans are joining the fight. What began as an uprising in the middle class has started to spread.
"Now, some of the favelas are protesting" Ana said, "Because of that, I think there is hope."
Posted-In: Hugo Chavez Leopoldo Lopez Nicolas MaduroNews Politics Global Economics General Best of Benzinga
Empty shelves

A view of empty grocery store shelves in Venezuela.

Lack of supplies

Another view of the lack of supplies in Venezuelan supermarkets.

Hours in line

Red ropes line residents up while they wait to get inside supermarkets for items like toilet paper, produce, meats and other essential products.

Lines around the block

Lines around the block leave residents waiting for hours for essential products for survival.

Protest in the streets

Residents line streets in protest.

No safety in the streets

People may be out walking during the day, but will avoid being outside at night. Note that people are covering their faces to avoid any fallout from the violence or acts of police forces.

The equality of bullets

A woman hold a sign that says "Brother, bullets don't make any distinction, they kill us all equally. #Resistence"
View Comments and Join the Discussion!