Does America Have A Sugar Addiction?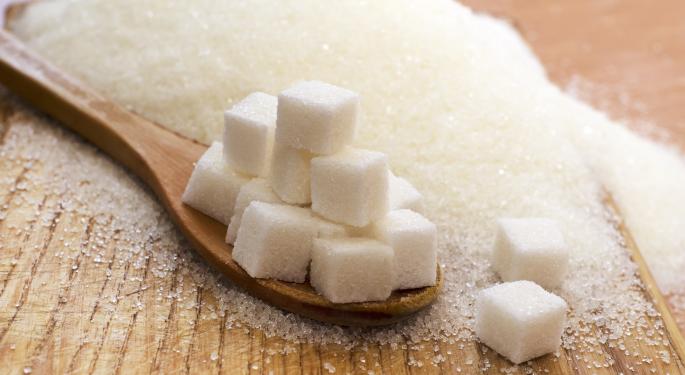 Starbucks (NASDAQ: SBUX) vanilla Frappuccino grande: 58 grams of sugar. 20 ounce bottle of vitamin water: 33 grams of sugar. Eight ounce bottle Tropicana 100 percent orange juice: 25 grams of sugar.
These are three small examples of common, regular items that are being cited by scientists to show that companies need to cut down on the amount of sugar in their products.
Scientists and public health authorities are putting pressure on the food and beverage industry to reduce added sugar, which is overused to help sales but comes at a social cost. High amounts of sugar can lead to obesity, diabetes, heart disease and cancer.
Companies have historically argued that the link between sugar and health issues is far from conclusive. The Financial Times quoted Simon Litherland, Chief Executive of Britvic, a British bottler for Pepsi who said "the causes of obesity are far more complex than simply the amount of sugar a person consumers. Blaming one ingredient or one set of products is misguided."
Related: Green Mountain Coffee Roasters Enters 10-Year Agreement With Coca-Cola
Laura Schmidt, professor of health policy at the University of California, San Francisco, said this week: "We are in the midst of a paradigm shift in research on the health effects of sugar, one fueled by extremely high rates of added sugar over-consumption in the American public."
Consumers appear to have embraced a healthier trend when it comes to consuming snacks and beverages, but is it enough?
"There's no question that U.S. beverage stocks have been underperforming relative to the rest of the consumer staple stocks, and we still don't know if they can figure out a way to deal with the public health concerns," said Ali Dibadj, analyst at Bernstein Research.
During Pepsi's third quarter conference call, Indra Nooyi, the company's CEO said "There has been an accelerated decline in diet drinks as people say they don't even want artificial sweeteners, they want more natural sweeteners, they don't mind some calories, but they want natural sweeteners, they want to go back to sugar in some cases. So we are seeing a fundamental shift in consumer habits and behaviors."
Unfortunately for manufacturers like Pepsi, reducing sugar content isn't as easy as it sounds. Sugar adds bulk, texture, and most importantly, taste.
Nooyi indicated that she is no hurry to introduce a new product to the market. "We don't want to rush a product to the market and then have to wonder why we launched something that wasn't that great tasting. So that's our focus."
In the meantime, some companies are reducing their portion sizes. In the UK, Coca-Cola will replace its two-litre bottles with new 1.75 litre bottles. This move can be seen as a short-term positive by public health lobbyists, who say that the food and beverage industry's biggest mistake was to get consumers hooked on oversized portions.
While some companies have made legitimate efforts to lower their sugar input, many argue that not enough is being done. The World Health Organization projected a 75 percent increase in annual cancer cases that are linked with an unhealthy eating lifestyle.
Posted-In: Ali Dibadj Berstein Research Coca-cola Financial TimesNews Commodities Markets Media
View Comments and Join the Discussion!