Redbox Instant Is 'Likely' To Close Its Doors In 2014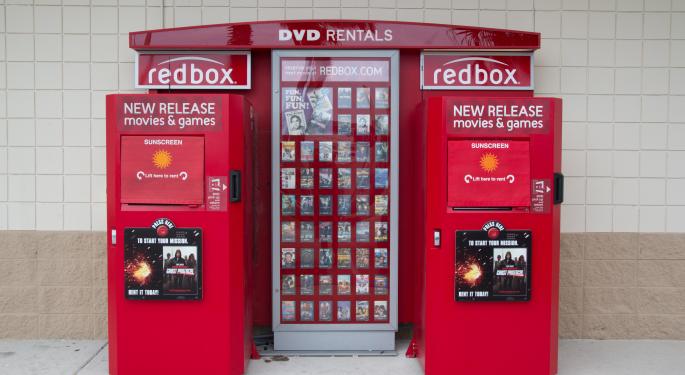 Verizon (NYSE: VZ) and Outerwall's (NASDAQ: OUTR) streaming video venture could soon come to an end.
The two teamed up to create a new and unique competitor to Netflix, one that would incorporate the best of two completely separate worlds.
From the start, Redbox Instant was designed to give users access to both online video streams and DVDs from in-store kiosks.
This may have sounded like the perfect combination, but problems began to surface when the service went into beta early last year.
"Redbox doesn't have the infrastructure that Netflix does," James Norman, founder and CEO of GroupFlix.tv (an online video service with TV shows that are offered a la carte), told Benzinga.
"When I went to watch a movie to try it out, the video player is of no comparison to Netflix, and the infrastructure leaves you buffering half the time."
Norman ultimately had to stop watching his video (an unnamed movie) because it buffered too much on his iPad. He then switched to Netflix and watched the same film on the same device without a single issue.
That wasn't his only problem, however.
"The user experience was too convoluted to actually communicate the value proposition," said Norman. "They muddied that proposition by throwing in all these other content plays that they didn't need."
Related: Redbox Wants Your Tweets and Credit Cards to See "The Hobbit" for Free
Those content plays included a number of additional fees to watch films that Redbox Instant was not allowed to stream as part of its monthly package.
"When they added that streaming service to compete with Netflix, they basically copied Netflix's catalogue," Norman added. "They didn't have the whole thing because they didn't allocate a large enough investment to copy the entire library, in my estimates.
"They already have a kiosk, so it gets mixed in there. When you're in the user experience, you're like, 'Whoa, that's a great movie!' And you go to click on it and it's like, 'Go pick it up at the kiosk.'"
To make matters worse, Norman said that if you're not an existing Redbox customer, "It's going to be hard for you to even come across that service."
"It's not at the center of any device experience," he said.
Norman recently authored a report about the OTT (over-the-top) industry after surveying roughly 500 individuals about their TV habits, likes and dislikes. He ultimately concluded that Redbox Instant is likely to be closed.
"Similar to Blockbuster's failed streaming efforts years back, Redbox Instant encountered a cold reception in 2013 and will likely be shut down in 2014 for its lack of profitability," Norman wrote.
Norman's conclusion is far from the first sign of trouble for Redbox Instant.
In October 2013, Jana Partners reportedly fought to sell, spin-off or shut down the streaming video service.
On the upside, the existing Redbox kiosk business should not be impacted if the streaming component is eliminated.
Related: Redbox Instant Beta Launches with Glitches, Lackluster Films
Verizon does not plan to go down without a fight, however. The company recently reorganized the team that leads its pay-TV, digital media and streaming video services.
Under new management, Redbox Instant could always rebound and become a formidable competitor to Netflix. But Norman said that Verizon and Outerwall invested $40 million in the project just to get started. How much more will it cost to transform Redbox Instant into a service people actually want?
Disclosure: At the time of this writing, Louis Bedigian had no position in the equities mentioned in this report.
View Comments and Join the Discussion!
Posted-In: GroupFlix James Norman Jana Partners OuterwallNews Rumors Tech Interview Best of Benzinga