Microsoft Officially Announces Satya Nadella As CEO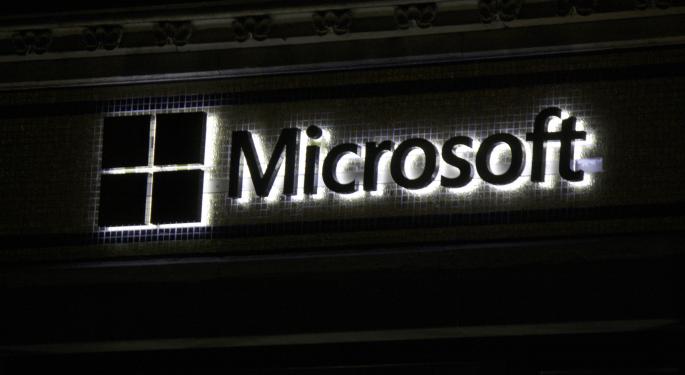 On Tuesday, Microsoft (NASDAQ: MSFT) officially announced Satya Nadella as its Chief Executive Officer ending months of speculating and guessing by investors and analysts.
"During this time of transformation, there is no better person to lead Microsoft than Satya Nadella," said Bill Gates, Microsoft's Founder and Member of the Board of Directors in a press release.
"Satya is a proven leader with hard-core engineering skills, business vision and the ability to bring people together. His vision for how technology will be used and experienced around the world is exactly what Microsoft needs as the company enters its next chapter of expanded product innovation and growth."
Microsoft's outgoing CEO Steve Ballmer had nothing but praise for his successor.
"Having worked with him for more than 20 years, I know that Satya is the right leader at the right time for Microsoft," said Ballmer. "I've had the distinct privilege of working with the most talented employees and senior leadership team in the industry, and I know their passion and hunger for greatness will only grow stronger under Satya's leadership."
See also: Will 'Innovator-in-Chief' Be Bill Gates' New Role at Microsoft?
In Nadella's first official e-mail to employees as CEO, Nadella said that it is "an incredible honor" and that he wants to "change the world through technology that empowers people to do amazing things" in a "software-powered world."
"I am here because we have unparalleled capability to make an impact," Nadella added.
Nadella faced an uphill battle to be named as Microsoft's new leader as it was widely expected that Microsoft would hire an outsider candidate with expertise in turning around a failing company.
Alan Mulally, Chief Executive Officer of Ford Motors was the heavy favorite for many months by sell side analysts, including Rick Sherlund, analyst at Nomura Securities and long-time Microsoft expert.
Sherlund said in November that "consensus has come together that Mulally is the guy." As Mulally shied away from commenting on the issue with the public, Sherlund said in December that "If he were not in discussions [with Microsoft], it would be easy to say I am not interested and will not go, as some other candidates have said. He did not say this."
Mulally announced in early January that he intends to remain at Ford and will not leave the company to assume top ranks at Microsoft.
Management shuffles
In addition to being named as Chief Executive Officer, Satya Nadella will also join the board of directors. Steve Ballmer is expected to retain his seat on the board of directors.
Bill Gates is set to resign as chairman and assume the newly created title of "technology adviser." Previously, Gates hinted he wanted to devote more time to his charitable foundation but wants to play a role in supporting Nadella in creating new products and innovations. Gates intends to work at Microsoft at least one day a week.
Lead independent director John Thompson will assume the title of chairman.
With the addition of Nadella, Microsoft's board consists of:
Steve Ballmer, outgoing CEO of Microsoft.
Dina Dublon, former Chief Financial Officer of JPMorgan
Bill Gates, Microsoft founder, former Chairman, CEO.
Maria M. Klawe, President of Harvey Mudd College.
Stephen J. Luczco, Chairman and Chief Executive Officer of Seagate Technology
David F. Marquardt, General Partner at August Capital.
Charles H. Noski, former Vice Chairman of Bank of America
Dr. Helmut Panke, former Chairman of the Board of Management at BMW
John Thompson, Chief Executive Officer of Virtual Instruments
Seven of the ten board members are independent of Microsoft, as required in the company's governance guidelines that a "substantial" majority be independent.
Posted-In: Alan Mulally Bill Gates Ford Microsoft CEO Nomura Securities Rick SherlundNews Management Best of Benzinga
View Comments and Join the Discussion!