Is An Outbreak On A Cruise Ship Cause For Investor Concern?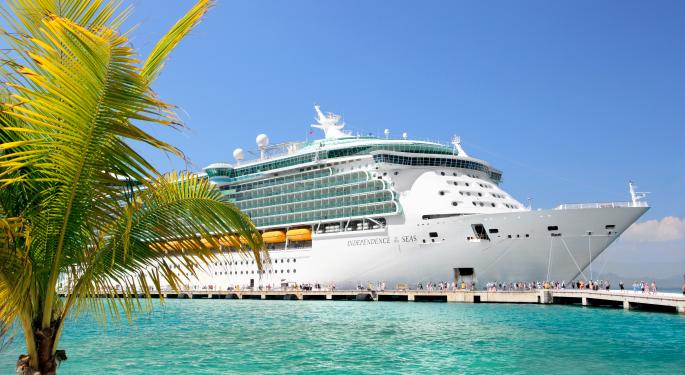 A Royal Caribbean (NYSE: RCL) ship on Wednesday returned to port in New Jersey after hundreds of passengers fell ill.
The Explorers of the Sea experienced an outbreak that sickened 630 passengers and 54 crew members, according to the Centers for Disease Control and Prevention. The culprit is suspected to be a norovirus outbreak—a highly contagious virus often called a "stomach virus" causing vomiting and gastrointestinal symptoms for a few days.
Royal Caribbean has said that all of the 3,050 passengers will receive a 50 percent refund and a voucher for 50 percent off a later cruise. Those who were sickened and forced to stay in their staterooms for the cruise will receive a voucher for a free cruise for each day they were confined. The company will also reimburse airline change fees and hotel expenses.
The ship will be sterilized and left vacant for 24 hours as a precaution, but will sail as scheduled for its next cruise.
But is this a PR nightmare for Royal Caribbean? Of course, perception is reality—the reason that Royal Caribbean is taking such big steps is to make passengers whole, but the outbreak doesn't necessarily indicate a company problem.
While less than scientific, reading comments posted in response to the numerous media reports would indicate that the public doesn't put this at the level of other cruise embarrassments like the Carnival "poop cruise."
Update: Cold Weather In The US Keeps Oil Prices Elevated
Cruise lines require travelers to disclose any illness they are currently experiencing. If an illness is disclosed, precautionary measures are taken. If a traveler doesn't disclose that they are ill, a contagious virus could easily spread to the 3,000 or more people who are confined to a relatively small space.
Anybody who has taken a cruise in the near past knows that it's filled with hand sanitizing stations to combat illness. Also important to note is that out of the millions of people who took a cruise last year, only 1,300 had confirmed cases of the virus, according to the CDC.
In all, reports show that cruise lines are clean. The CDC monitors cruise ship sanitation practices and according to MarketWatch, ships have only failed the more than 900 tests 27 times.
While the reports of multi-hundreds of people falling ill on a cruise ship make for a great headline, few of the outbreaks are the fault of the cruise line and that's why Royal Caribbean isn't taking it on the chin from Wall Street over the news.
Disclosure: At the time of this writing, Tim Parker had no position in the company mentioned.
Posted-In: carnival cruise Royal Caribbean CruiseNews Best of Benzinga
View Comments and Join the Discussion!