Cold Temperatures Not Likely To Have Macro-Economic Effects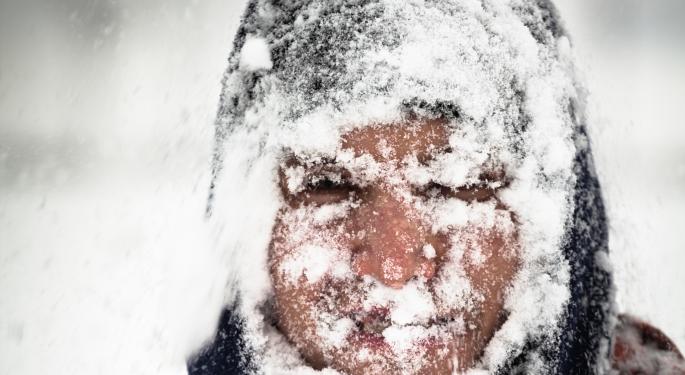 Everybody is talking about the deep freeze.
Temperatures reaching minus thirty and lower have gripped some portions of the nation for days and it's likely to last at least one more day -- but is it affecting the economic or is it business as usual?
JetBlue (NASDAQ: JBLU) doesn't see it as another day at the office.
Shares of JetBlue fell 4.3 percent yesterday as the company essentially threw in the towel saying it was halting all operations in Boston and New York City-area airports because of its backlog. The company said in a blog post that it intends to begin ramping up operations at 10:00 am ET on Tuesday and be back to full operations by 3:00 pm.
Airlines build into their models winter weather delays making analysts mostly brush off any large-scale earnings hit because of the weather.
The cold weather, however, is likely to impact U.S. energy output. Oil producers are beginning to feel the pinch as wells slow or shut down and the infrastructure used to transport it are sidelined.
Related: 3 Reasons to Invest in BP
Output in North Dakota often slows in the winter months but analysts are bracing for an even larger impact and that may keep energy prices higher in the short-term. "It is so cold that they cannot produce at full capacity, if at all. That should support prices," said Carsten Fritsch, senior oil analyst at Commerzbank in Frankfurt speaking to Reuters.
Watch stocks like Continental Resources, Marathon Oil, and Hess.
Crude prices haven't been impacted as of yet but the price differential for Bakken crude was higher last week. The demand for natural gas is at record highs, which will likely keep prices about $4/mcf for the short term.
Goldman released a research note about the economic impact of the weather basically saying that while mico-effects might impact some companies, there shouldn't be any lasting marco-economic effect.
Goldman says that any softness in economic data including jobs reports should be taken in the context of the weather. In short, because the past couple of winters have been warmer on average, this year's winter reports will likely show a notable downturn compared to past years but, in fact, this year's data will be more inline with historical averages.
"A potential concern is that recent warmer winters may have distorted seasonal factors for weather-sensitive series to expect a smaller decline in economic activity during the winter months. If so, even normal winter weather could result in weak seasonally-adjusted data."
As a result of colder than expected temperatures in December, Goldman expects the jobs number to be around 175,000 Friday.
Disclosure: At the time of this writing, Tim Parker had no position in any of the companies mentioned.
View Comments and Join the Discussion!
Posted-In: Continental Resources hess JetBlue Maraton OilNews Events Best of Benzinga