A Possible $4 Billion Contract for Apple In The Works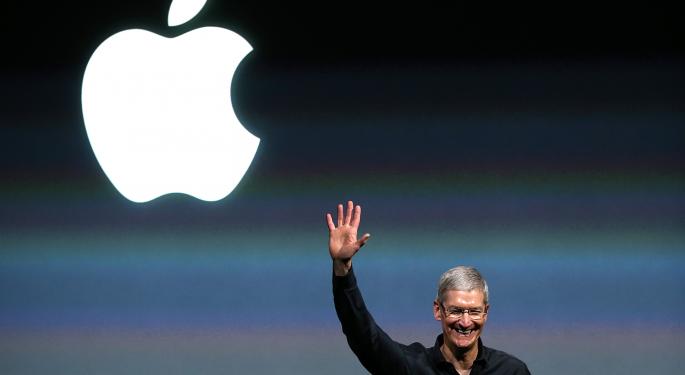 Apple (NASDAQ: AAPL) CEO Tim Cook will apparently travel to Turkey in February to discuss a potential deal where the country will purchase $4 billion worth of iPads.
While there, Cook and other executives will visit the new Apple store set to open in the country in January.
The country's education initiative, called the "FATIH Project" calls for blackboards and textbooks to be replaced with modern technology including tablets for its children. The initial phase of the program would have Turkey purchasing 10.6 million tablets and possibly an additional purchase of two to 2.5 million additional units. This would put a price tag on the project of $3 to $4 billion.
Reports of the trip, which have not been confirmed by Apple, fail to mention that the two sides have previously met about the project as early as February of last year, according to MacRumors.
The two sides discussed the tablet initiative along with iOS's Turkish keyboard layout that has keys in the wrong position.
In May, Turkish Prime Minister Recep Tayyip visted Apple's headquarters before opening the project to bids.
There's no guarantee that Apple will win the contract or that the government will follow through with the initiative but if all rumors are true, Apple is the current frontrunner.
Related: iPhone Finally Comes to China Mobile
While in Turkey, Cook will likely tour the new Apple store opening in the country next month. According to reports, the store will be similar to its flagship Manhattan store—glass cube style.
In June, Apple signed a $30 million contract with the Los Angeles School Board of Education to begin a massive roll out of iPads to students in the country's second largest school system. That program was later put on hold after students breached security settings on the tablets.
Apple is pushing to become the tablet of choice as more educational institutions look for ways to cut the cost of textbooks while offering a more interactive learning experience for students who make mobile devices their primary means of interacting with information.
Apple not confirming the news of the trip doesn't mean that it isn't true.
However, there are plenty of holes in this rumor including reports of the same trip happening this past February for the same reason during the same month. No reason to get too excited about this news yet but $4 billion is huge even for a company the size of Apple.
Disclosure: At the time of this writing, Tim Parker was long Apple.
Posted-In: Apple Los Angeles Tim Cook Turkey FATIH ProjectNews Rumors Contracts Tech Best of Benzinga
View Comments and Join the Discussion!