Darden Ditches Red Lobster Chain, Halts Expansion Of Olive Garden & LongHorn Steakhouse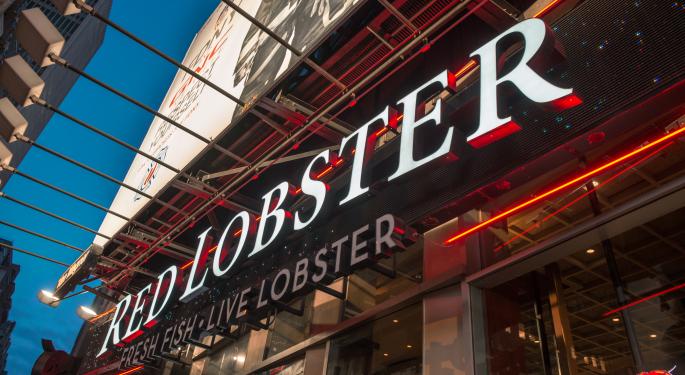 After reporting Q2 14 EPS of $0.20, in line with the consensus and revenue of $2.05 billion, short of the $2.07 billion consensus estimate, Darden Restaurants (NYSE: DRI) said it planned to sell or spin off its 705 restaurant Red Lobster chain.
Although Red Lobster has been a weak performer of late, it is also the restaurant chain on which the Darden empire was built. Following the announcement to dump Red Lobster, S&P Ratings placed Darden on Creditwatch.
Although Darden did not say how the separation would be done, it did reveal in its earnings call Thursday that Red Lobster has failed to attract the number of higher income diners that both Olive Garden and LongHorn Steakhouse have.
The Wall Street Journal speculated that this factor might be a reason Darden failed to follow the advice of activist investor, Barrington Capital, which wanted Darden to split the company into three parts – one of which would consist of Red Lobster and Olive Garden.
In explaining the company's decision to divest itself of Red Lobster, Darden CEO Clarence Otis said, "Red Lobster and the rest of Darden have significantly different sales and earnings growth prospects."
Statistically, it wasn't even close.
Last year, Olive Garden had 11 percent more visits from diners with household income over $100,000 than five years ago. For LongHorn Steakhouse,the increase was 50 percent, while Red Lobster saw virtually no increase in wealthier diners at all.
As one of the biggest casual dining companies in the business, Darden has been under pressure for some time to come up with a plan to reinvigorate itself. The company has a market value of $6.7 billion, but suffers from lack of growth.
Related: Darden Restaurants Sued Over Tipping?
In addition to dropping Red Lobster, Darden said it would halt expansion of the Olive Garden chain and pull back opening new LongHorn Steakhouse locations.
The company also said it would stop investing in new brands.
In addition to calling for the company to institute a three-way split in its operations, Barrington also said the company should aim for $100 million in cost savings. Darden had set a target of $60 million, according to The New York Times.
Although Barrington was not pleased that Darden didn't follow its advice, some analysts were more positive about Darden's announced efforts. David Palmer, at RBC Capital Markets in a client note said the moves represented, "a more shareholder-friendly strategy." Palmer did caution that Darden had made some big promises and might not be able to deliver.
Meanwhile, Wells Fargo suggested Friday that Darden's stock, which closed Thursday at $51.02, was worth about $56.00 per share. Wells Fargo maintained an Outperform rating on Darden.
At the time of this writing, Jim Probasco had no position in any mentioned securities.
View Comments and Join the Discussion!
Posted-In: Barrington Capital Clarence Otis Creditwatch Darden Restaurants David PalmerNews Events Media Best of Benzinga