Obama Not Allowed to Use iPhone for Security Reasons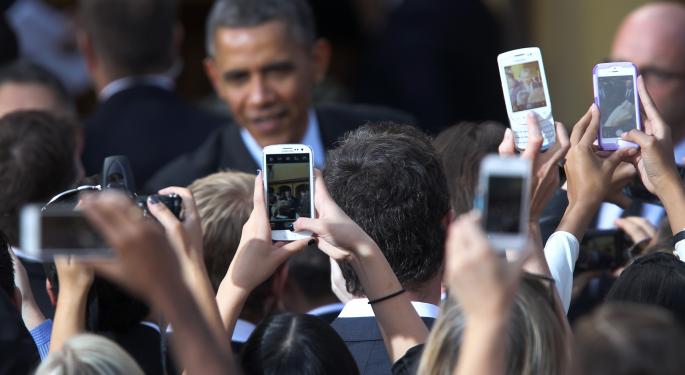 Never kick a company while it's down, but Blackberry (NASDAQ: BBRY) has certainly been kicked this year.
On the brink of bankruptcy, the phone maker has lost most of its customers and more than 80 percent of its stock value. But, the company still has one loyal supporter: The President of the United States.
Saying he's "loyal" might be a stretch. The story goes like this: President Obama was speaking to a group of young people at the White House about Obamacare. As part of his comments, he said that he's not allowed to use Apple's (NASDAQ: AAPL) iPhone for "security reasons." Although he still uses the iPad and his daughters each use iPhones, he can only use his Blackberry.
Interestingly, although the Obamacare website is still broken and those problems have dominated headlines, the most notable thing he said, if you believe the press, was this iPhone comment.
Political commentary aside, here's another question: Why can't Apple get any security love from the government? It can, a little. In May, iOS 6 was granted FIPS 140-2 certification. This means that low-level classified documents may be accessed and shared on devices running iOS 6. Soon after, iPhones and iPads were cleared by the U.S. Department of Defense of U.S. military use.
Related: The 10 Apple Acquisitions of 2013
But both Apple and Google would argue that their phones are secure. According to reports, both companies have lengthy waiting lists from Federal government agencies all the way to local law enforcement for help bypassing the encryption of the lock screen on their phones. While that doesn't qualify as secure by government standards, Apple is likely more secure than its given credit for. Even if that isn't true, it has plenty of help from outside companies.
Cult of Mac points out that there are plugins that offer enterprise level security for iOS devices. One of those is Thursby, which is already in use at the Pentagon, DEA, and numerous other government agencies.
But teaching old dog new tricks, even if those new tricks are just as secure as Blackberry devices, won't come quickly or easily. If Blackberry were to shut down, people familiar with the matter say that the government would be in no rush to find a new platform since Blackberry services would likely stay active for a long time into the future.
Until the White House is forced to change, don't expect large-scale iOS adoption. Until then, the high-level security protocol is Blackberry or outside contractors like Edward Snowden.
Disclosure: At the time of this writing, Tim Parker was long Apple.
Posted-In: Apple Blackberry DoD Obama White HouseNews Tech Best of Benzinga
View Comments and Join the Discussion!