Amazon's Jeff Bezos: Drone Delivery is Coming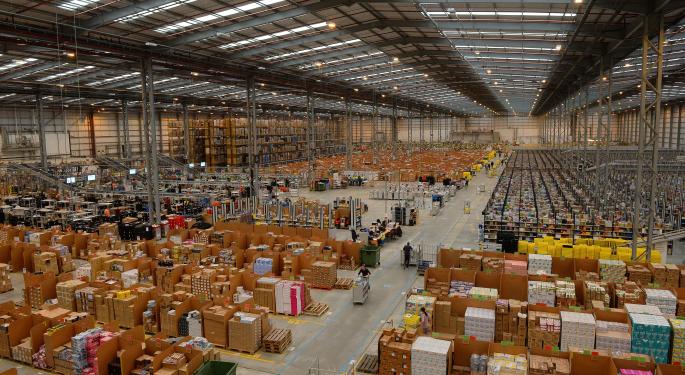 CEO Jeff Bezos called them "Octocopters," but in reality Amazon's (NASDAQ: AMZN) future delivery vehicles are drones.
In 4-5 years, Bezos told CBS, under the moniker Amazon "Prime Air," Octocopter drones will deliver packages weighing five pounds or less direct to your doorstep in about 30 minutes.
The company revealed its secret R&D "drone" project on 60 Minutes Sunday evening at the conclusion of an interview with Bezos conducted by Charlie Rose. According to CBS, nobody on the production staff had any idea what was coming.
Show producer, Draggan Milhailovich said, "I only knew that there was a surprise coming. I had no idea what it was." Milhailovich added, "They (Amazon) kept saying over and over again, 'Whatever you think it is, it isn't.'"
According to 60 Minutes associate producer Nathalie Sommer, Bezos even said at one point, "If you can guess what it is, then…I will give you half my fortune and send you to Vegas with it."
Related: Mobile Commerce Rulers: Amazon, eBay & Wal-Mart
Bezos said during the interview that before drone delivery becomes reality the FAA needs to approve the plan and much more safety testing would be required. The earliest the system could be in place would be 2015, but Bezos indicated that time frame was "optimistic" to say the least, saying four to five years was more realistic.
Following the "reveal" Bezos played this Prime Air demo video for 60 Minutes that illustrated how Amazon's drones would pick up at the end of the conveyor in a fulfillment center and deliver small packages to customers half an hour after they bought the item online.
The five-pound limit on package size is less of a hindrance than many might think. Bezos said that roughly 86 percent of Amazon's packages are less than five pounds. The drones would only be able to carry loads 10 miles from a fulfillment center, so one of Amazon's more important goals would be to ramp up the number of warehouse locations.
With the company expected to handle more than 300 orders per second on Cyber Monday, Amazon can use all the delivery help it can get. Bezos sees the Octocopter project as one future way to fill that growing need.
Delivery drones represent more than a solution to a single problem. They also represent an indication that Amazon has huge ambitions. It wants to deliver everything to everyone – everywhere. More importantly, it wants to do all that faster.
Jeff Bezos knows executing the drone project will not be easy. As he told CBS, however, "It will work, and it will happen, and it's going to be a lot of fun."
At the time of this writing, Jim Probasco had no position in any mentioned securities.
View Comments and Join the Discussion!
Posted-In: 60 minutes Amazon Amazon Prime Air CBSNews Global Tech Media Best of Benzinga