Tesla Owners Give Car "Highest Owner Satisfaction Rating in Years"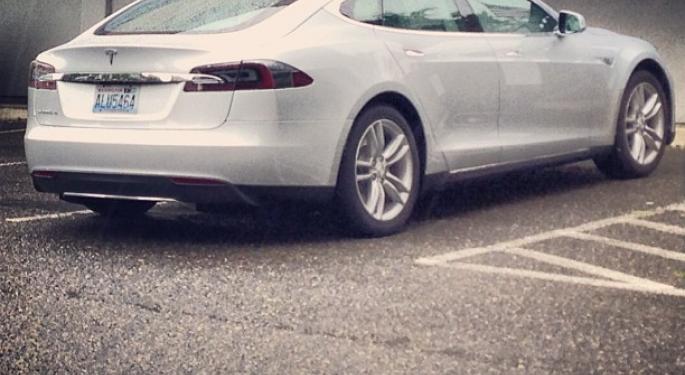 Influential magazine, Consumer Reports, had already given the Tesla (NASDAQ: TSLA) Model S sedan an unprecedented 99 out of 100 new car ratings score, naming it number one in April 2013.
Thursday the magazine announced results of its annual owner-satisfaction survey in which the car received another 99 out of 100, which CR said was the highest owner-satisfaction rating any automobile has received in years.
According to Consumer Reports' director of automotive testing, Jake Fisher, 600 Tesla-owning survey respondents indicated that they are "very, very satisfied" with their cars. Fisher added, "In testing, the Model S stands out for its innovative design, outstanding performance, and surprising practicality."
The annual survey, which this year garnered responses on about 350,000 vehicles, asked the question, "Considering all factors (price, performance, reliability, comfort, enjoyment, etc.), would you get this car if you had it to do all over again?"
Tesla's near perfect score reflected the percentage of owners who answered "definitely yes."
Related: Tesla Raises Model S Ground Clearance Wirelessly – Says It's Not About Safety
As Consumer Reports pointed out, luxury and high-end automobiles like the Model S tend to do well on owner satisfaction surveys. However, according to Anita Lam, Consumer Reports automotive data program manager, "Enthusiasm can wane quickly if a car turns out to be not very special."
Tesla, which has had to deal with fires in three cars in less than two months, not to mention a Federal safety probe, will obviously welcome this bit of good news. Clearly, it will help to counter what Tesla CEO Elon Musk called media coverage of the fires that was "disproportionate by several orders of magnitude."
Reuters noted that Consumer Reports failed to mention the safety probe or fires in its press release or in the article, which will appear in the magazine on December 3.
The magazine did discuss the safety issue following the first fire in October. That said, the main thrust of the article was that the issue was extremely rare and that gasoline-powered vehicles are far more prone to have problems being essentially "mobile incendiary devices."
Tesla shares had fallen 37 percent since October 1, according to Reuters, dropping 3.9 percent to close at $121.11 Wednesday alone. Following the release of the latest Consumer Reports owner satisfaction survey, the stock was up about one percent or $1.19 at $122.30 noon Thursday.
At the time of this report, Jim Probasco had no position in any mentioned securities.
Posted-In: Anita Lam Consumer Reports CR Elon Musk Jake FisherNews Events Media
View Comments and Join the Discussion!