Nvidia Shield Can Now Download Games on Google Play Store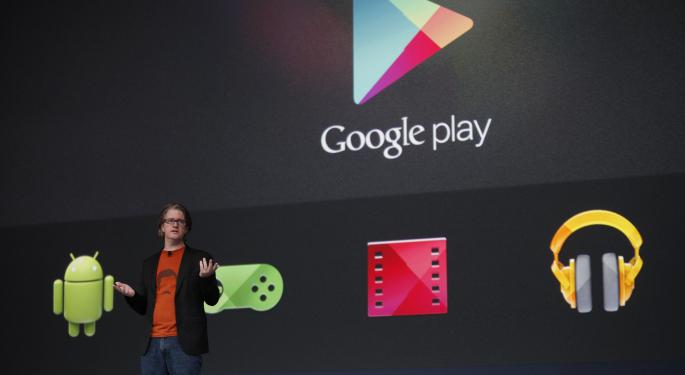 This could be a game changer. Literally.
CNET reported Monday that Nvidia (NASDAQ: NVDA) opened its Shield gaming device up to the universe of Android games on the Google (NASDAQ: GOOG) Play store.
This move changes the number of games available for Shield from hundreds to thousands originally designed for touch screens on smartphones and tablets.
The Shield Gamepad Mapper lets players either create custom controls or let games default to profiles provided by Nvidia. According to CNET among the titles now compatible with Shield are NBA Jam and Angry Birds.
A free over-the-air software update is available that makes the device immediately compatible with Android games.
Related: Mystery Barge in San Francisco Bay Might Belong To Google
Shield premiered at the Consumer Electronics show in January and has been popular enough that Nvidia said it was recently selling out in stores. Shortly after its unveiling, however, consumers complained about the limited number of supported games. The expanded catalog released Monday no doubt will boost popularity for the device.
In addition, PC Magazine said Nvidia GameStream, announced when the device came out, now provides support for PC game streaming. This feature lets users stream games from their PC to Shield over a local area network. Games supported under this feature include Batman: Arkham Origins and Assassin's Creed IV: Black Flag.
A desktop computer with an Nvidia GeForce GTX 660 or higher graphics card is required for GameStream so ATI and laptop owners are still excluded from that option.
Console Mode turns Shield into a portable living room game console. Capabilities include playing Android games on a Bluetooth capable TV, Internet browsing, and the ability to watch high-definition movies. In addition, with GameStream users can play PC games on their televisions.
Finally, the update offers Android 4.3 Jelly Bean features, including restricted profiles, expandable notifications, and many other improvements that come with the new operating system. In addition, support for SD cards was expanded which lets gamers move .0BB and .APK files to external flashcards, thereby freeing up Shield's internal storage.
So far, Nvidia has programmed more than 300 games for the Gamepad Mapper and plans to offer more on a weekly basis. Users will also be able to create their own profiles and share them online.
The company announced a holiday promotion to go along with the update. Consumers who buy certain Nvidia video cards will get free games, including Splinter Cell: Blacklist, along with a $100 discount on a new Shield.
The update is available free through Nvidia Shield. The GameStream feature requires an additional download to a player's PC.
At the time of this writing, Jim Probasco had no position in any mentioned securities.
View Comments and Join the Discussion!
Posted-In: .0BB .APK Android Android 4.3 Jelly Bean Angry BirdsNews Events Media Best of Benzinga