Nexus 5 Rumors Explode Following Release of Google YouTube Video (GOOG)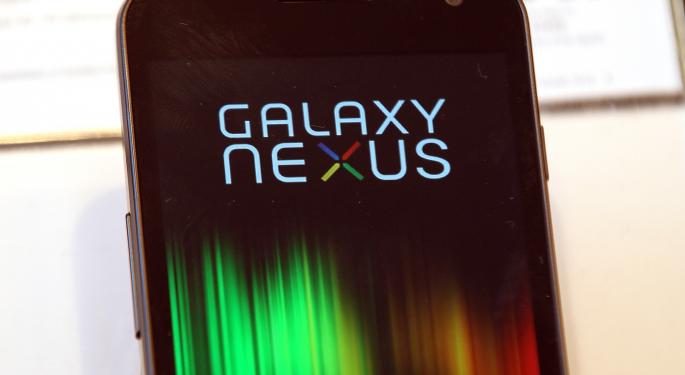 Rumors abound that the release of LG's next offering, the Nexus 5, is coming soon.
To add to the fire, according to The Verge, Google (NASDAQ: GOOG) may have inadvertently released a sneak peak of the device in a promotional video for Android 4.4 (KitKat) Wednesday.
Google removed the video from YouTube, but not before copies were saved and widely circulated on the Internet. In the video and in close-ups of the phone in question, the Nexus labeling is clear, along with a large camera lens that hasn't appeared on any existing LG smartphone.
The fact that the Nexus 4 is being sold at a deep discount along with the announcement of KitKat, only adds to speculation about the Nexus 5 release, according to TechAdvisor. The website said that it expected the arrival of Nexus 5 to come sometime in October. Google hasn't acknowledged the existence of a new smartphone, let alone a release date.
With the expected October arrival of Samsung (OTC: SSNLF)'s Galaxy Note 3 and the anticipated unveiling of two new Apple (NASDAQ: AAPL) iPhones only days away, chatter about a Nexus 5 – even if it turns out to be only chatter – is useful to both LG and Google.
Related: Apple May Be Working On a Hybrid iPhad
Nonetheless, more signs point toward an imminent Nexus 5 unveiling than point away from one. The latest comes in the form of FCC approval for an LG device, mysteriously called the D820, according to Engadget.
While Engadget acknowledged that not every LG smartphone that gets FCC approval is necessarily a Nexus 5, it pointed out a number of "hints" that strongly suggest the D820 is, in fact, Nexus 5.
For starters, there's the similarity between an image of the inside of the back cover of the D820 on the FCC application and the device pictured in the Google video.
In addition, the D820 includes 7-band LTE, which Engadget calls "an amazingly healthy list of specs." Other features include apparent references to a powerful Snapdragon 800 SoC chip and the fact the device will run the KitKat (Key Lime Pie) OS.
Finally, there's the fact the device will have an effective 5-inch display, an indication of a major flagship type offering.
Reaffirming the notion that the Nexus 4 is due for an upgrade, TechCrunch pointed out that the new device's broad LTE ban support versus the Nexus 4 which lacked LTE altogether, is even more reason to believe the D820 is, in fact, the Nexus 5.
TechCrunch added that if Google manages to keep pricing in the same range it did for the Nexus 4, the new phone could be a welcome offering for Android fans.
At the time of this writing, Jim Probasco had no position in any mentioned securities.
View Comments and Join the Discussion!
Posted-In: 7-band LTE Android AppleNews Rumors Events Tech Media Best of Benzinga