Startup OverNear Wants to Put the 'Social' Back Into 'Social Networking'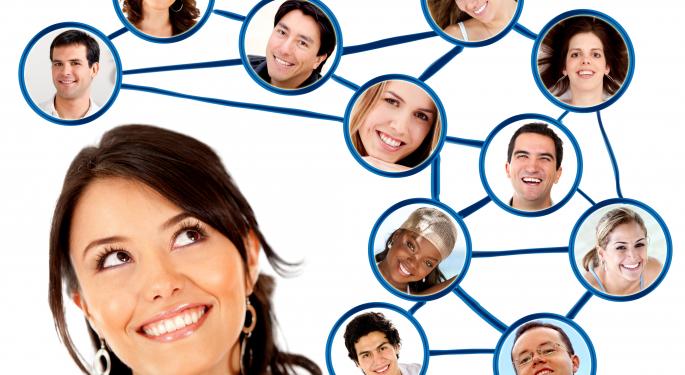 Fresh out of stealth mode, OverNear is finally getting pushed to the general public.
The social media app -- which promises to "bring your social network to life" while putting the "social back into social networking" -- aims to change the way people connect.
"[Traditional social media sites] are not an effective way to reach the friends that you would otherwise be able to connect with if you knew that they were going to be at the same place at the same time [as you]," Bill Glaser, co-founder and President of OverNear, told Benzinga.
Glaser described OverNear as an app that was "designed to connect you with people you are already connected with." It is not a discovery app, but rather a tool that individuals can use to announce that they are going to be in a particular location.
Related: The Startup Bubble is a Myth
Finding Friends -- And Helping Them Find You
For example, if Bob is attending the Super Bowl in New Jersey next year, he could post this event on OverNear. If his friends are using the app and are attending the event as well, they will be notified of Bob's presence when they arrive.
After setting the date and location, users will have the option to add an image or a personal message.
"That post has location awareness," said Glaser. "So the post is actually broadcasting, and it's broadcasting to your friends and your friends' posts. So when your friends come in the vicinity of where you left the post, they get alerted to your plans.
"If you're going to Las Vegas and a friend is going to Las Vegas, if the time and place overlap, you both get notified before you get there, letting you both know that you're both going to be there at the same time so that you can schedule a meeting."
Glaser said that he thinks of OverNear as being a productivity tool "because you don't have to think about all the people that might be attending the same event or might be in the same location."
"It does that for you," he added. "It's bringing to you all of the people that will be in the same place at the same time and it does it in a seamless way."
Related: How an eBay PowerSeller Raised $20 Million For a Startup
Celebrity Love
Ashton Kutcher is one of the most popular celebrities on Twitter, but he is far from the only one. Both musicians and actors have turned to the social network to hype their careers -- and to share their opinions on every topic imaginable.
If OverNear plays its cards right, it could receive a similar degree of celebrity attention.
"We are on the cusp of signing someone that is not Ashton Kutcher but it's the same status," said Glaser. "[This person has] over eight million Twitter followers. It's a very well-known personality, has a cross-over demographic from younger to older, which we think is perfect for us. Not a final deal yet, so I can't mention who it is yet."
That deal could be announced as soon as this week.
OverNear also plans to allow bands to promote upcoming shows through the app.
Louis Bedigian is the Senior Tech Analyst and Features Writer of Benzinga. You can reach him at 248-636-1322 or louis(at)benzingapro(dot)com. Follow him @LouisBedigianBZ
Posted-In: App Store Ashton KutcherNews Entrepreneurship Startups Tech Interview General Best of Benzinga
View Comments and Join the Discussion!