Traders Dump Potash Stocks As Pricing Power Expected to Drop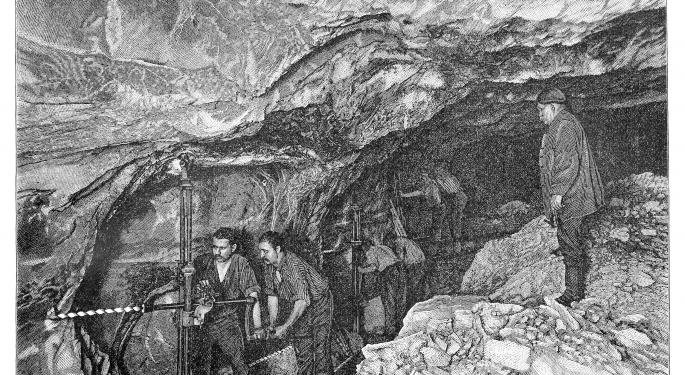 Potash companies saw shares plummet more than 25 percent in the pre-market Tuesday as the makers of the key fertilizer were hit by news that margins were set to fall as market prices for the key agricultural component decline.
Overnight, Vladimir Baumgartner, the CEO of the world's largest potash producer OAO Uralkali, announced that his firm was set to pull out of one of the two large fertilizer cartels. As such, he forecast that market prices for potash could fall more than 25 percent to below $300 per ton when prices currently trade near $400 per ton.
Shares Plummet
Shares of two large U.S.-listed potash producers, Mosaic (NYSE: MOS) and Potash (NYSE: POT) fell more than 25 percent at the lows in the pre-market as markets adjusted to the new pricing. Both companies have net costs of around $200 per ton of potash, meaning that the expected drop in prices would be about half of their profit margins.
Related: Benzinga's PreMarket Info Recap for July 30, 2013: Potash Smash!.
Shares fell in response to this news as lower margins lead inevitably to lower earnings. Notably, the sell-off was not a sharp-spike lower but was more a tempered, measured sell-off that began around 4:00am and continued through the pre-market.
Cartel Breakdown
Baumgartner said pulled out of the Belarus Potash Corporation (BPC) export cartel that controlled almost half of the global potash market, after it said its Belarusian partner was violating an agreement and selling outside the partnership. He said the end of the cartel would lead to potash prices plunging by 25 per cent.
"We expect competition to become stronger – that will push prices down," said Baumgertner on Tuesday, as Uralkali also announced a supply contract with a Chinese importer. Uralkali announced an agreement with CNAMPGC, a Chinese importer, to supply 500,000 tonnes of potash through to the end of the year.
BPC is one of two eastern European cartels which, along with the Campotex group, controls the entire global market for potash. North-American firms Mosaic, Potash, and Agrium (NYSE: AGU) are all members of Campotex.
Posted-In: Belarus Potash Corporation CampotexNews Guidance Commodities Global Markets Movers Best of Benzinga
View Comments and Join the Discussion!