How Will Disney's 'The Lone Ranger' Stack Up Against 'Despicable Me 2'? (DIS)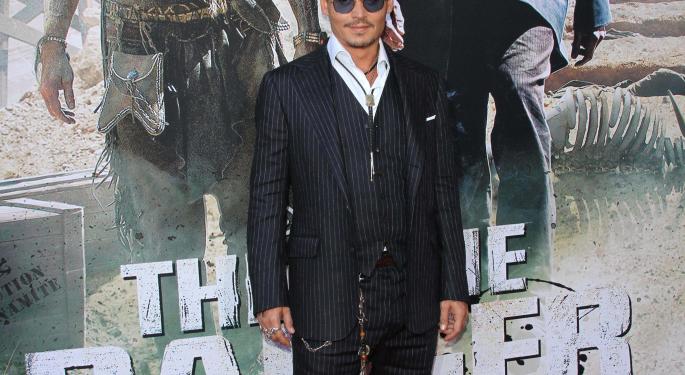 More than one year after John Carter left Disney (NYSE: DIS) with a multi-million-dollar black eye, critics are expecting the studio to suffer another major loss with the release of The Lone Ranger.
Unlike The Pirates of the Caribbean series, which was inspired by an amusement park ride and had no big screen predecessors, The Lone Ranger is a remake of a 1930s film and radio series.
Famous for shouting, "Hi-Yo, Silver!" while riding his horse, The Lone Ranger was created long before Star Wars, The Avengers, Titanic, Jurassic Park or any other modern blockbuster.
It was also created before television series became more cinematic -- and earned more critical acclaim.
Related: John Carter Stole $200M from Disney's Wallet
Nonetheless, Disney was determined to bring The Lone Ranger back to the big screen. That decision, however inspired as it may have been when it was first tossed around the boardroom, is expected to haunt the studio for many months to come.
When John Carter flopped in 2012, Disney had The Avengers to make up for the loss. Between the ticket sales, merchandise, DVD sales, Marvel video games and other related revenue, The Avengers proved to be just what Disney needed to overcome a major box office flop.
To make matters worse, The Lone Ranger opens against Despicable Me 2, which is expected to be one of the biggest films of the summer.
But while it may have been easy for moviegoers to forget, Disney still risked a ton of money producing John Carter, which only made $73 million domestically on a budget of $250 million.
Worldwide, John Carter made $282 million -- $32 more than its budget. That might sound like Disney turned a profit, but Albert Fried & Company's Rich Tullo said that movie theaters can take as much as 40 percent of gross ticket sales. At that rate, John Carter only earned $169 million ($282 x 40 percent = $112.8 million, leaving roughly $169 for Disney).
"Great Gatsby cost [$105 million] to produce," Tullo told Benzinga. "Generating [$280 million] at the box office is not a profitable gain for them. Movie theaters take about 40 percent of that."
If Disney negotiated a better deal and only allowed movie theaters to take 10 percent of ticket sales (the same deal the Star Wars prequels were rumored to have received), John Carter would have only made $4 million ($282 x 10 percent = $28.2, leaving roughly $254 million for Disney).
Unfortunately, Disney spent a couple million to advertise John Carter during the Super Bowl, and millions more to continue promoting the film after that.
The Lone Ranger, should perform a bit better. According to a Bloomberg article entitled, "Disney Rides Into Box-Office Ambush with Depp's 'Lone Ranger,'" the film cost $225 million to produce.
Based on the early clips from the film, it appears that The Lone Ranger has fewer special effects scenes than The Avengers or Man of Steel, both of which had budgets in the $250 million range. Without a massive display of CG (computer-generated) beauty, it is hard to fathom how The Lone Ranger could have cost $225 million.
Part of the expense could be attributed to the Hollywood talent. Disney reportedly paid Robert Downey Jr. a whopping $50 million to star in The Avengers. As the star of not one, but two separate Disney franchises, Depp could be worth even more.
The same could be said for director Gore Verbinski, who helmed the original Pirates trilogy for Disney, along with The Ring and a number of other films. His Lone Ranger paycheck was likely massive.
BoxOffice.com estimates that The Lone Ranger will earn $35 million this weekend (Friday-Saturday). It should make a bit more with Wednesday and Thursday factored in, and is expected to earn $135 million by the end of its domestic run. That's better than John Carter, but it could still be low enough to leave Disney with a deficit -- especially if the movie flops overseas.
Louis Bedigian is the Senior Tech Analyst and Features Writer of Benzinga. You can reach him at 248-636-1322 or louis(at)benzingapro(dot)com. Follow him @LouisBedigianBZ
Posted-In: Albert Fried & Company Despicable Me 2 disney John Carter Johnny Depp Man of SteelNews Tech Best of Benzinga
View Comments and Join the Discussion!