Predicting the Stock Market – Google Trends Style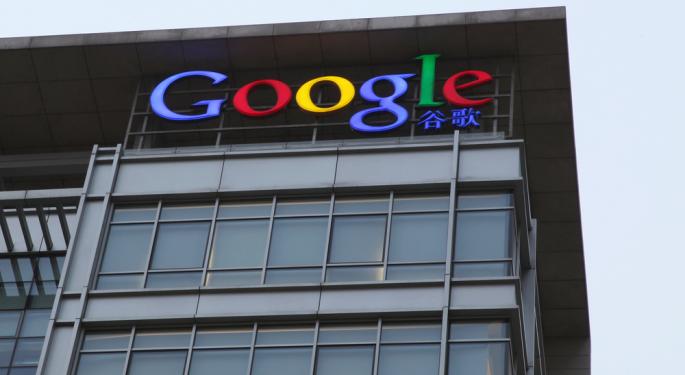 Can Google (NASDAQ: GOOG) predict the future? A paper published Thursday said so.
According to Forbes,the paper concluded that Google Trends data was useful in predicting daily price moves in the Dow Jones Industrial Average.
Co-authors of the paper, economists, Tobias Preis of Warwick Business School in the U.K., Helen Susannah  Moat of University College London, and H. Eugene Stanley of Boston University said that an uptick in Google searches on finance terms reliably predicted a fall in stock prices.
Quoting from the paper: "Debt" was the most reliable term for predicting market ups and downs, the researchers found. By going long when "debt" searches dropped and shorting the market when "debt" searches rose, the researchers were able to increase their hypothetical portfolio by 326 percent. (In comparison, a constant buy-and-hold strategy yielded just a 16 percent return.)"
Earlier research by co-author, Tobias Preis, published in 2010, reached an opposite conclusion.
At that time, Preis found:
"The Google data could not predict the weekly fluctuations in stock prices. However, the team found a strong correlation between Internet searches for a company's name and its trade volume, the total number of times the stock changed hands over a given week."
The question, of course, is why the discrepancy? In theory, the answer may have more to do with the fine-tuning Google's reporting has undergone over the past three years, along with the sheer "mass" of data now available.
Google's chief economist, Hal Varian, author of Information Rules, pointed to an April 2009 paper he co-authored with Hyunyoung Choi titled "Predicting the Present with Google Trends." In that paper Varian noted that the authors compared sales forecasts of standard seasonally adjusted and "momentum" models with models that used monthly Google Trends data and found that the Google data "could not predict the weekly fluctuations in stock prices."
In a newer version of the paper in 2011, Varian and Choi made their comparison with Google Trends real-time daily and weekly queries that users entered into Google. They found, in this case, a correlation with various economic indicators that they said "might be helpful for short-term economic prediction."
In other words, newer, bigger, and faster data is more predictive than data compiled over time. For example, Varian said a spreadsheet with daily trends data is going to be about 30 times larger than one with monthly data.
Adding a note of caution, Preis told LiveScience that the average day-trader might find the Google Trends investing strategy tough to implement.
 "This is something I wouldn't recommend to do without testing this very carefully," Preis said. "For one thing, markets have a tendency to adapt. If everyone starts using Google search terms to try to game the system, the strategy will become less effective."
As of this writing, Jim Probasco had no position in any mentioned security.
Posted-In: GoogleNews Topics Events Tech Media Trading Ideas General Best of Benzinga
View Comments and Join the Discussion!