Facebook and General Motors – Together Again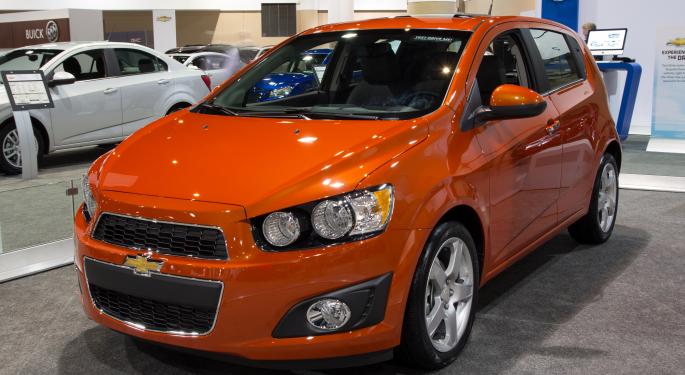 It's been a year since General Motors (NYSE: GM) broke up with Facebook (NASDAQ: FB), advertising-wise. Now the couple is a couple again.
General Motors has bought a series of test ads to run on Facebook's mobile apps and website. The auto manufacturer designed the ads to promote its Chevrolet Sonic subcompact car, GM said Tuesday, according to Bloomberg.
The change of heart on the part of GM demonstrates the effectiveness of Facebook CEO Mark Zuckerberg's efforts in convincing companies to use the social network as an advertising platform.
Facebook needs to increase ad revenue in order to remain viable. Winning back GM was a priority and a reason Facebook's COO, Sheryl Sandberg has had a yearlong ongoing dialogue about resuming ads with GM chief executive officer Dan Akerson.
Facebook's advertising related improvements have included a mobile-advertising service, which began in March 2012. It was (and is) an attempt to better monetize the growing number of users accessing Facebook through wireless devices. More than 60 percent of the social network's 1.1 billion members access the service on smartphones and tablets, according to a regulatory filing.
Impressive as those numbers are, Facebook is projected to have only about 11.5 percent of the U.S. market for mobile advertising by 2015, according to researcher, EMarketer Inc.. Those figures pale when compared with the full 57 percent of the U.S. market Google Inc. (NASDAQ: GOOG) will claim by then.
Depending on how many Facebook users install the new Facebook Home software; advertising on Facebook may make even more sense. If, as predicted, those users spend even more time with the service, the opportunity to interact with potential customers will be even greater for advertisers.
Reviews of Facebook Home have been mostly positive. Walt Mossberg, of All Things Digital, said the software was "easy to use, elegantly designed, and addictive," adding that with Home he paid even more attention to his newsfeed.
At midday, Wednesday, Facebook is trading for $27.70, up $1.12 or a little over 4 percent on the day so far. General Motors is also up, $.63 or slightly over 2 percent at $28.16.
View Comments and Join the Discussion!
Posted-In: Facebook General Motors Google IncNews Events Tech Best of Benzinga