Shell Strikes Back at Arctic Protestors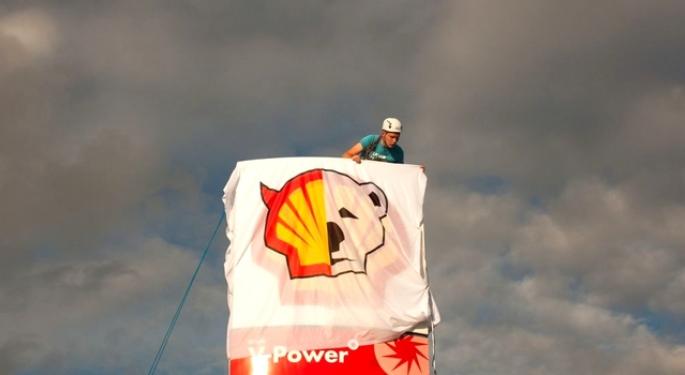 Royal Dutch Shell (NYSE: RDS.A) (NYSE: RDS.B) has been experiencing a fair share of disappointments in 2012 off the Alaskan coast, with protestors now fighting to end the company's plan to drill in the Arctic once and for all. The oil distributor is not taking the demonstrations lightly, as Shell has elected to take Greenpeace International (an independent global campaigning organization) to court over protests that "violate the rights of other parties".
According to scnow.com, Greenpeace International believes that drilling in the Arctic is a very risky move on Shell's behalf, and current safety plans are inadequate. Despite the fact that Shell was just forced to cancel drilling once again this week due to damaged equipment, activists continue to maintain their strong position against the company.
This is not the first time that Shell and Greenpeace International have butted heads over an issue. In 1998, Shell agreed to bring the Brent Spar (an offshore installation) to land for recycling due to a campaign that began three years prior.
Unfortunately for Greenpeace, it looks like activists may have more difficulty proving the intention behind their innocent, peaceful protests this time around.
"Greenpeace activists have been involved in two attempts to thwart Shell-owned ships from traveling to the Arctic, and in May, a U.S. court ordered the organization to remain 200 miles away from its Alaska projects," scnow.com reports.
Beyond interfering with Shell's operations, Greenpeace International has done a number of other things that may not fall under the freedom of assembly, including blocking 70 gas stations in the Netherlands earlier this month for several hours. The protest ended in 15 arrests and has become ammunition for Shell in the courtroom.
According to Royal Dutch Shell PLC's website, "Shell wants the environmental organization fined €1 million ($1.3 million) if any of its members approach within 500 meters (yards) of any Shell property."
The company argues that hundreds of new jobs are at risk, should Greenpeace prevail in protest efforts and in court.
A verdict is expected to be passed down in two weeks. Meanwhile, Shell has three days left before it has to officially suspend drilling in the Chucki Sea.
Shell is down about .43 percent in pre-market trading on Friday morning. Year-to-date, Shell is down about 2.28 percent.
Posted-In: Brent Spar Greenpeace InternationalNews Politics Legal Events Global General Best of Benzinga
View Comments and Join the Discussion!