The One Bright Spot in Facebook's Report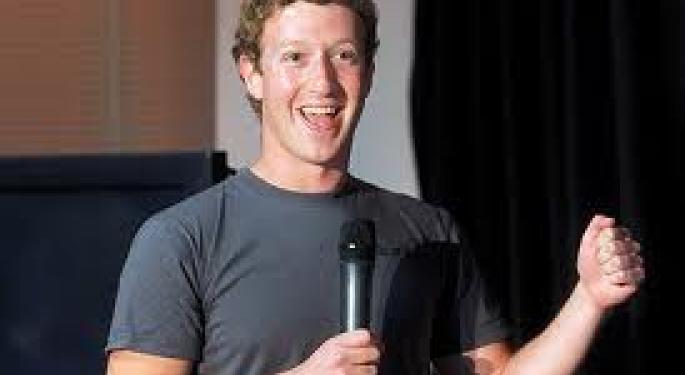 Facebook (NYSE: FB) is getting clobbered on growth concerns, but CEO Mark Zuckerberg did soothe some fears Thursday about how the company plans to monetize its nearly one billion strong global user base.
The question appears to now be "when" will Facebook derive more profit per-user, where as up until this point it has been a question of "if".
Make no mistake, investors were bummed about slowing growth rates in the second quarter.
Facebook ended the period with 955 million users -- fewer than some analysts expected.
Also, average revenue per-user was $1.28, up only 8 cents from the previous quarter.
The company's payments revenue -- most of that related to online games -- was $192 million. Analysts had been expecting about $200 million from that business.
Facebook is also spending a lot more on growth than it has in the past. Operating expenses more than doubled from the same period last year, as the company has spent on new growth initiatives aimed at appealing to mobile users and garnering more revenue from its user base.
The one bright spot is that one of those new initiatives -- Sponsored Stories placed in Facebook News Feeds -- is off to a fast start and could prove to be an important growth engine next year. Facebook has found a way to get a head start on pushing ad-like messages to smartphones, which was formerly uncharted territory.
Facebook said the business line ended the quarter with a $1 million-a-day run rate, suggesting it can generate hundreds of millions in revenue next year, perhaps more.
About half of that revenue run rate is driven by mobile users.
"This is an encouraging start in our effort to generate revenue from the mobile use of Facebook," Zuckerberg said.
He continued, "We know that social ads perform much better than non-social ads so our job over the next few years is to increase the percentage of ads that are social and engaging."
Zuckerberg called mobile a "huge opportunity" going forward, and said he expects four to five billion people globally to have smartphones in the next five years -- more than twice as many people that have computers today.
COO Sheryl Sandberg added that Sponsored Stories in News Feeds have much higher click-through rates than the company's more traditional desktop and mobile ads. She called the new Sponsored Stories the "cornerstone" of the company's monetization strategy in mobile computing.
How long it takes the Sponsored Stories strategy to move the needle remains to be seen. That said, the run rate makes a case for Sponsored Stories to become a billion-dollar plus business for Facebook over time .
The new features are currently being rolled out slowly, over fear that consumers will see the implementation of Sponsored Stories as invasive.
"We intend to be continually cautious as we really work on user demand, on the user perception," Sandberg said.
For the time being, investors don't care all that much. Facebook shares are getting clobbered, down over 16 percent and hovering around the $22.50 mark in Friday morning trading.
Facebook could become a much stronger earnings and cash flow story over time, depending on the success of Sponsored Stories and other growth initiatives. However, one thing is clear: Facebook has become a slowing growth story just months after it made its debut in public markets.
View Comments and Join the Discussion!
Posted-In: Mark Zuckerberg Sheryl Sandberg Sponsored StoriesNews Topics Hot Tech General Best of Benzinga