A Look at Molson Coors
Molson Coors Brewing Company (NYSE: TAP) manufactures and sells beer and other beverage products. Molson Coors Brewing Company was founded in 1873 and is headquartered in Denver, Colorado and Montreal, Quebec.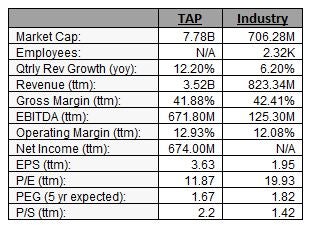 By these fundamentals, when Molson Coors is compared to the average industry, Molson Coor's revenue growth rate, gross margin, operating margin, EPS, and P/S are all very competitive. However, P/E and PEG are far below the industry average, which means that Molson Coors may be a relatively undervalued stock on these metrics.
Market trends
Beer makes up roughly half the US market for alcoholic beverages, hard liquor represents about a third of market share, and wine makes up most of the remaining market. According to the Brewers Association, craft beer saw 15% sales growth in the first half of 2011 alone and watched brewery numbers soar from 1,753 in 2010 to more than 1,900 last year. Molson Coors could benefit from this trend.
Molson Coor's largest markets are in Canada and the US. According to its annual report in 2011, its beer products compete with other beer brands and other alcoholic beverages, including wine and spirits, both in Canada and the US.
However, in the US market, increased advertising for spirits, coupled with increased wine and spirits execution, sales of wine and spirits have grown faster than sales of beers in recent years. This has resulted in a reduction in beer segment's lead in the overall alcoholic beverage market.
In addition, the entire beer industry is experiencing decline. High rates of unemployment and lower consumer confidence may have negatively affected the purchasing behaviors of key beer drinkers.
Innovation
One reason that beer companies may be losing their competitive advantage over liquor companies is that liquor companies are advertising more, while creating new flavors and interesting concoctions to generate buzz. It seems that it is becoming more crucial for beer companies to innovate and diversify their products. Molson Coors recently announced that plans to launch an iced tea beer next month, just in time for summer.
Risk Aversion
With a beta of 0.71, Molson Coors has low correlation to the market. Its annual dividend rate is 3%, which may make it intereting for investors who favor value stocks.
Posted-In: News Small Cap Analysis Markets Movers Trading Ideas Best of Benzinga
View Comments and Join the Discussion!