1 Minute Review
Leave Your Own 1 Minute Review!
Considered the gold standard among trading platforms, MetaTrader 4 is a free platform for trading forex and other financial instruments such as CFDs, futures, indices, commodities, and cryptocurrencies. MetaTrader4 is available for retail traders through specific brokers, which individually license the platform. According to its developer, MetaQuotes Software, the platform is available through over 750 brokers and banks and services millions of traders.
Best For
Beginning traders looking to dip their toes into data
Advanced traders who want a data-rich experience
Pros
Ease of deployment
Platform doesn't overload the computer
User-friendly design for beginner investors
Compatible with several operating systems such as Linux, Mac and Windows as well as iOS and Android
Cons
Comprehensive historical data for backtesting isn't available
Execution speed is not great and is unsuitable for high-frequency trading
Its nascent web platform does not allow automated trading
Charting package does not provide for a custom timeframe
Considered the gold standard among trading platforms, MetaTrader 4 is a free platform for trading forex and other financial instruments such as CFDs, futures, indices, commodities and cryptocurrencies. MetaTrader4 is available for retail traders through specific brokers, which individually license the platform.
According to its developer, MetaQuotes Software, the platform is available through over 750 brokers and banks and services millions of traders. Look through this MetaTrader 4 review to learn how the platform works and to decide if it's something you might try in the future.
Who's MetaTrader 4 For?
MetaTrader4 has something to offer anyone ready to trade. Compare what it can do to support beginners and advanced traders. Yes, a Meta 4 demo would be helpful, but you need to know what MetaTrader can do for you.
Beginners
MetaTrader 4, with its simple design, excellent user interface, and functionalities such as copy trading and Expert Advisors, is ideal if you're a beginner.
Since most brokers offer this as a sole platform or as an add-on with their own proprietary platform, you'll gain access to a plethora of platform of educational resources and tutorials. A fully-functional MetaTrader 4 demo account offers strong support for beginners. Think of this as a MetaTrader 4 user guide that lets you test the waters before you start investing.
Advanced traders
The platform also appeals to advanced traders due to its advanced charting capabilities and technical analysis, several built-in indicators and graphical tools and more. The platform also allows automated trading by programming with MetaQuote's proprietary MQL4 language and constructing custom indicators.
MetaTrader 4's Platform and Tools
MetaTrader offers desktop, web and mobile platforms. The platforms support over 30 languages, including English, French, Spanish, Portuguese, Japanese, Chinese and Russian. The desktop platform helps analyze financial markets, performs advanced trading operations, runs trading robots and does copy trading.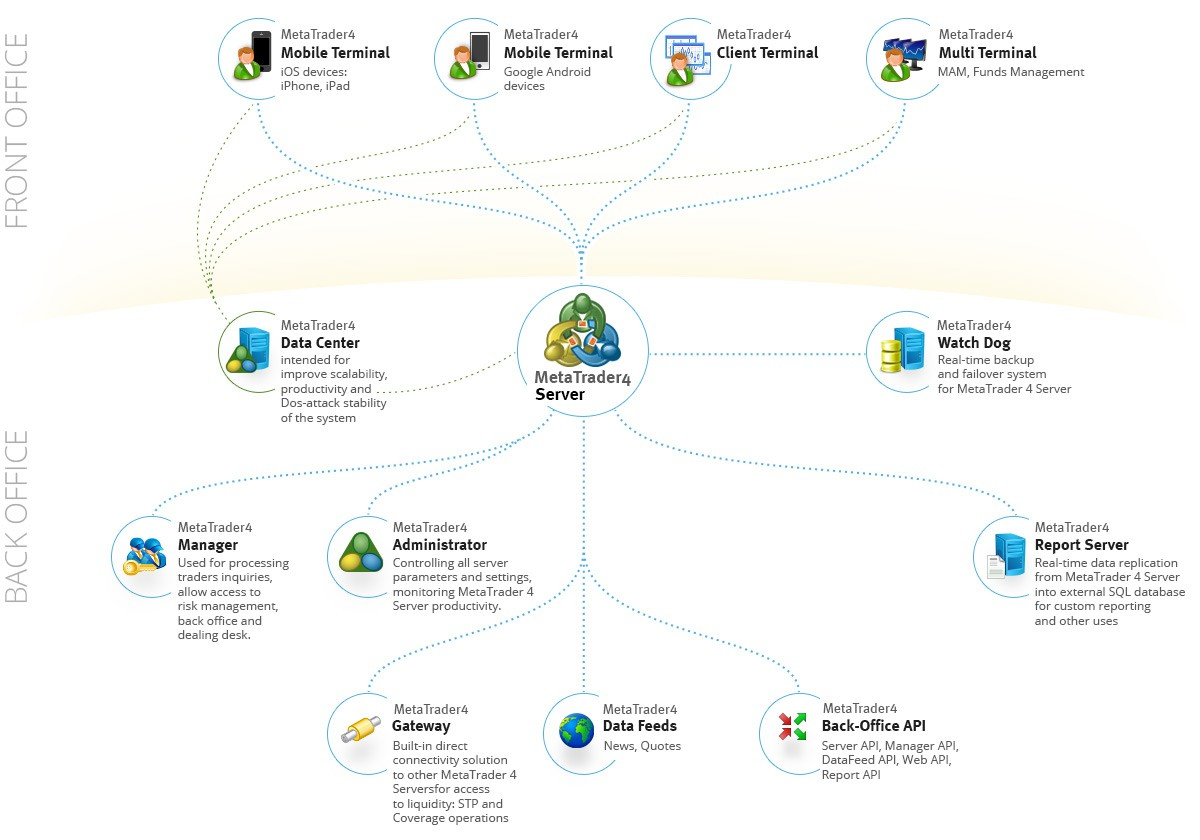 A Meta 4 forex broker has options when they enter the platform, be it on MT4 desktop version or mobile. The client terminal of the platform allows 3 trade execution modes:
Instant execution
Execution on request
Execution by market
Orders executed through MetaTrader 4 can be a market order, which is an order executed at the current market price or a pending order, which is a commitment to buy or sell a security at a predefined price in the future.
A pending order an MT4 broker can be a limit, stop or stop-loss order. The platform's quick trading function sends orders from the chart with one click. Another feature, called built-in tick, helps accurately determine entry and exit points. Price movement can be analyzed in nine timeframes. The platform's charting application has 30 built-in technical indicators and 24 graphic objects.
MetaTrader 4 platform also ensures security. It conforms to the highest security standards. Your trading account is secured by the encryption of data exchanged between the client terminal and the platform's servers and the usage of RSA digital signatures. The web platform allows you to trade using any browser and operating system. It provides for all trading orders, 4 execution modes and 1-click trading. The chart carries real-time quotes.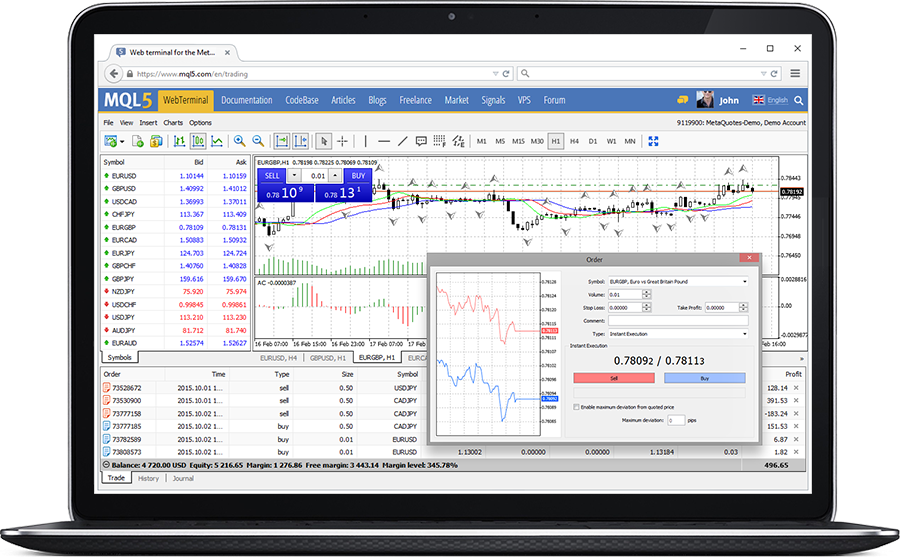 MetaTrader 4's mobile platform gives complete control over your trading account, and you can access your account anywhere, anytime. The free chat option also helps to communicate with other traders. MetaTrader 4 offers an automated trading feature with the help of automated trading robots called Expert Advisors (EAs). EAs can analyze quotes and execute trades.
These EAs, or robots, are available for download for free from Code Base, which is a library that features codes of free EAs, technical indicators and scripts. Alternatively, they can be purchased or rented from the Market, an online store. You can also order EAs from professional MetaTrader freelance developers.
TradingSignals in MetaTrader 4 allows copy trading of successful traders, who provide their trades in public access for free or for a reasonable fee, thereby becoming signal providers. These free and commercial signals are found on the Signals tab of the trading platform and on the firm's website. You can select a signal provider and start copying trades without leaving the platform.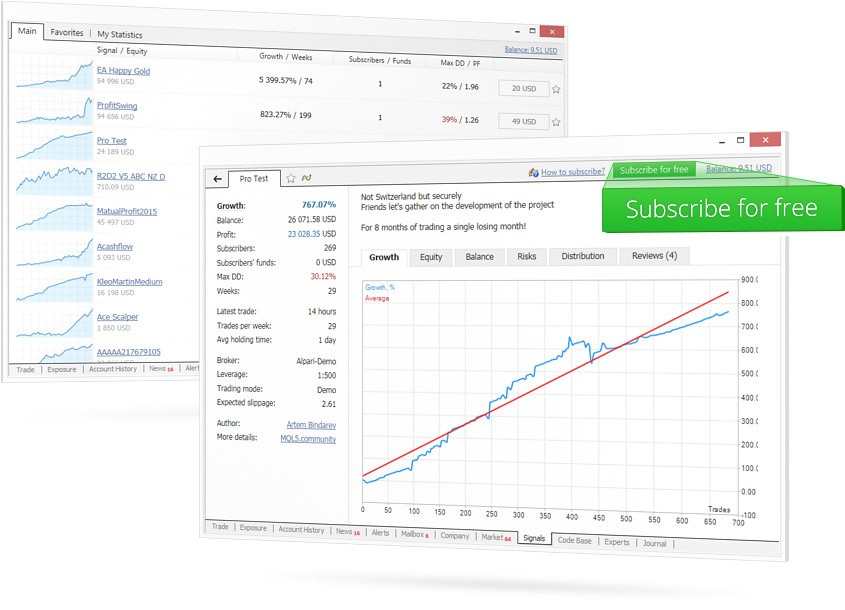 The alert tool of the platform lets you create an alert for certain trading conditions such as the price that exceeds specified bid and ask prices. Once the specified event occurs, you will be notified.
MetaTrader 4's Research Offerings
The platform does not carry 3rd-party research offerings. The financial alerts and tools of the platform provide traders with the latest market events, news from exchanges and large financial institutions, interest rate decisions and geopolitical developments.
For transmitting the quotes and news, you need to launch a simple plugin, a gateway for connecting the platform with quotes and news providers. The platform has already created feeds for major quote and news providers such as IB Times, Trading Central, Dow Jones, Claws and Horns, MNI, Bloomberg, Reuters, Alliance News, FXStreet and Trading Central. You can create your own feed using the MetaTrader 4 API.
MetaTrader 4's Pricing
Is MetaTrader 4 free?
Yes. MetaTrader 4 is free for download from the website. On the 1st launch, you will be prompted to open a free demo account to enable you to test all features of the trading platform.
When you access the platform through a broker, it may offer MetaTrader 4 free for its clients or widen its spread to account for the use of either the MetaTrader 4 standard account or the MetaTrader 4 Pro account. The brokerage pays an upfront fee of $100,000 for a full license and coughs up an extra sum of around $15,000 per month for hosting, bridging, hiring 24/5 support and other services.
MetaTrader 4's Compatibility
Even if you only want to see a MetaTrader 4 demo, you must ensure that you have the processing power to use the platform. You'll need meet the minimum computing requirements for MetaTrader for Windows, which includes:
OS – Windows XP/2003/Vista/2008/7/8/10
Processor – One that supports SSE2 instruction sets
The other hardware depends on terminal use, load from running MQL4 applications and the number of active instruments and charts, etc. MetaQuotes do not create a version of the platform for Linux and Mac OS. However, to install MetaTrader 4 on the Linux, you need to have the Ubuntu OS and Wine, which is an installer of the Windows program.
For installing the MetaTrader 4 Mac demo on Mac OS, a special program installer called PlayOnMac is needed, which can be downloaded for free. Wine and PlayOnMac do not guarantee perfectly installed programs; they can have bugs at times. If you want to install MetaTrader 4 on a tablet or smartphone with Android OS, Android 4.0 or a higher version is required. For an Apple device, iOS 7.0 or a higher version is required.
MetaTrader 4's Customer Support
MetaTrader 4's website has a webpage dedicated to help topics, which provides information under various heads such as getting started, client terminal settings, user interface, working with charts, analytics, trading, auto trading, tools, articles, signals, market and virtual hosting.
To purchase the software, brokerages can contact MetaQuote's offices in Cyprus, China, Singapore, Australia, Turkey, UAE, Pakistan and Thailand. Support is also available from brokerages that offer the platform.
MetaTrader 4's Ease of Use
Once you download the platform, you'll be up and running in no time. Its user interface is friendly and intuitive despite its advanced features. The feature that allows placing of orders right from the charts ensures quick execution and helps you capture profit-making opportunities.
Is MetaTrader 4 Safe?
When trading large amounts of money, it is understandable that you want to know your finances and personal information are safe and secure. Cyber-attacks and hacking are 2 of the highest risks attached to trading forex.
MetaTrader 4 is safe. It encrypts all the data between trader and server and conceals your IP address while you make investments and trades through the platform.
Is MetaTrader 4 Regulated?
Yes. Because MetaTrader 4 has a massive amount of exposure, its partner brokers are regulated by a diverse list of agencies across the world. When you open a Meta 4 trading demo account, are both safe and working with a platform that supports the world's best forex brokers.
Check Out MetaTrader 4 Today
Since MetaTrader 4 is the most preferred platform for most brokers, you may not be required to learn to trade with another trading platform. The analytical tools offered by the platform are second to none and the copy trading feature helps beginners draw on the expertise of experienced professional traders without burning their fingers. It also facilitates automated trading by either buying or developing your own EAs.
MetaQuotes has tried to popularize MetaTrader 5, so it's likely that that licensor may not offer technical updates or support. Even so, if you're using MetaTrader 4 from an established broker, you're likely to have unhindered access to the platform.
Frequently Asked Questions
User Reviews
Tell Us Your Experience With "MetaTrader"
Tell Us Your Experience With "MetaTrader"
I lost up to $55k while trading on Binary Options .I tried getting my money out from the option broker account and was unable to place a withdrawal. I found my self wading through excessively complicated terms which seemed impossible to meet, all because
Tell Us Your Experience With "MetaTrader"
Don't even think to use them, it's a scam.
Get a Forex Pro on Your Side
FOREX.com, registered with the Commodity Futures Trading Commission (CFTC), lets you trade a wide range of forex markets plus spot metals with low pricing and fast, quality execution on every trade.
You can also tap into:
EUR/USD as low as 0.2 with fixed $5 commissions per 100,000
Powerful, purpose-built currency trading platforms
Monthly cash rebates of up to $9 per million dollars traded with FOREX.com's Active Trader Program
Learn more about FOREX.com's low pricing and how you can get started trading with FOREX.com.