Want to jump straight to the answer? The best forex broker for most people is definitely FOREX.com or CedarFX.
With a tropical atmosphere and tons of natural beauty, Sint Maarten (and the country's northern territory of St. Martin) has long attracted adventurous travelers and vacationers. However, the country's residents and visitors are quickly entering into a new realm as well — the sphere of forex trading.
Forex trading is quickly gaining traction in Sint Maarten and it's never been easier to trade forex safely from your home. Learn more today with our comprehensive guide to forex brokers, currency trades and trading strategies commonly used in Sint Maarten.
Get Started with Forex in Sint Maarten
Before you can trade forex, you'll need to open an account with a forex broker. As a resident of Sint Maarten, you cannot buy and sell currencies directly. Instead, you'll place your orders through your broker, which executes trades on your behalf.
When you begin researching brokers, you want to make sure that you have a stable connection to the internet. You can use nearly any type of device with internet capabilities to trade, but your connection should be consistent and secure.
Once you've found a consistent connection to the internet, you should start comparing brokers. There are a wide range of both local and international brokers offering forex access to investors in Sint Maarten. Some of the characteristics you might want to look for when you compare brokers include:
The currencies you'll have access to trade
The currencies you can choose as your base currency
The types of trading platforms your broker supports. Know that you might need to download a 3rd-party platform like MetaTrader 4 or 5 before you can trade with some brokers.
Minimum account deposits
Domestic and international licensure status
After you find a broker that you'd like to work with, open an account online and download your trading platform. You'll usually need to submit a bit of personal information (like your full legal name and address) before your broker can open your account.
Choose how you want to add trading funds after you open your account. Most brokers in Sint Maarten offer a variety of transfer methods, including:
Direct bank transfer
Payment from a credit or debit card
Transfer from an electronic wallet
The specific funding methods you'll have access to may vary depending on your broker. It may take a few days for your funds to be cleared into your account after you initiate a transfer. Once your funds are fully deposited into your account, you can place your first trade.
Sint Maarten Forex Trading Strategies
Though traders in Sint Maarten can typically choose between the euro and the Netherlands Antillean guilder as their base currency, most traders choose their native guilder. Thanks to its higher volatility, the guilder often shows more potential for profits than more stable currencies that don't frequently change in value. However, it can also compound losses as well, so traders should develop their strategies before placing their first trade.
Most traders who trade with the guilder as their base currency use a technical analysis-based trading strategy. Technical analysis is a type of trading analysis that uses patterns and candlestick charting indicators to predict when a currency will rise or fall in value. You'll find dozens of technical analysis strategies that forex traders use to predict when prices rise or fall. Let's take a look at a few simple technical analysis patterns to get you started.
Rounding Bottom
The rounding bottom pattern is a long-term trend reversal that indicates that a currency will shift from a downward trend to an upward trend. The "bottom" of the chart can last anywhere from a few weeks to a few months, depending on the currency.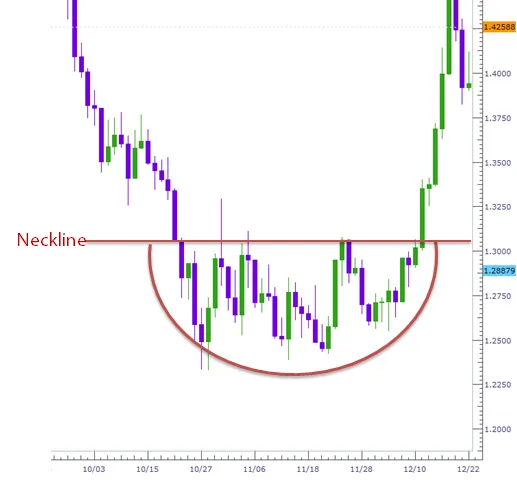 Breakout Strategy
The breakout strategy is often used during periods when the market is showing low volatility. When the charting pattern of your currency of choice is showing a "sideways pattern," calculate an average resistance and support level for the ongoing candlesticks. When a candlestick forms that "breaks out" of the pattern, it may signal a buy or sell signal depending on its strength and tail length.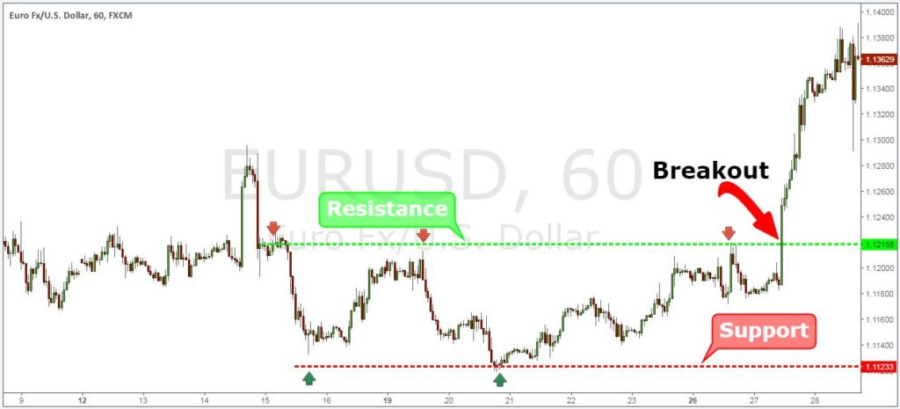 Forex Trading Example in Sint Maarten
Traders in Sint Maarten earn money by forex trading by strategically converting currencies when it's most beneficial. You invest when the guilder is strong and convert your currencies back to the guilder when your held currency increases in value. Let's take a look at an example.
Imagine that you open a brokerage account with ƒ10,000. Your broker offers you 10:1 leverage, which allows you to invest a total of ƒ100,000. You believe that the value of the euro will rise soon, so you decide to convert your entire lot of guilders to the euro. One euro is currently equal to 2.03 ANG — you convert ƒ100,000 to a total of about 49,261 euros.
A few days later, you see that the value of the euro is rising in comparison to the gilder. When 1 EUR is equal to 2.06 ANG, you decide to cash out. You convert your entire lot of 49,261 euros back to guilders to receive about ƒ101,477. This means that you've made a total profit of about ƒ1,477 on this trade.
Making Money with Forex in Sint Maarten
Making money with forex trading is completely legal in Sint Maarten and there are no limitations on the amount of money you can withdraw into an international trading account. Traders in Sint Maarten may be at a unique advantage over other forex traders as well, as the country has 2 native currencies. This can make it easier to turn a profit, as traders with firsthand experience using both the guilder and the euro have a more intimate understanding of each currency.
While it's possible to earn money trading forex, the forex market in Sint Maarten is still in its infancy. There are still unlicensed and unregulated brokers offering up to 1,000:1 leverage throughout the country. Be sure to take plenty of time comparing brokers before you choose where you want to invest your money.
Best Online Forex Brokers in Sint Maarten
Though forex brokers in Sint Maarten must be registered with the Central Bank of Curaçao en Sint Maarten, there are still many unlicensed brokers operating on the market. Choosing a reliable, regulated broker is one of the best ways to avoid forex scams and fraud. If you aren't sure where to begin, consider a few of our top choices below.

1 Minute Review
FOREX.com is a one-stop shop for forex traders. With a massive range of tradable currencies, low account minimums and an impressive trading platform, FOREX.com is an excellent choice for brokers searching for a home base for their currency trading. New traders and seasoned veterans alike will love FOREX.com's extensive education and research center that provides free, informative forex trading courses at multiple skill levels. While FOREX.com is impressive, remember that it isn't a standard broker.
Best For
MetaTrader 4 users
Beginner forex traders
Active forex traders
Pros
Impressive, easy-to-navigate platform
Wide range of education and research tools
Access to over 80 currencies to buy and sell
Leverage available up to 50:1
Cons
Cannot buy and sell other securities (like stocks and bonds)

1 Minute Review
A fully regulated broker with a presence in Europe, South Africa, the Middle East, British Virgin Islands, Australia and Japan, Avatrade deals with mainly forex and CFDs on stocks, commodities, indexes, forex, cryptocurrencies, etc. This brokerage is headquartered in Dublin, Ireland and began offering its services in 2006. It offers multiple trading platforms and earns mainly through spreads.
Best For
Beginners
Advanced traders
Traders looking for a well-diversified portfolio
Pros
Controlled by regulatory agencies of multiple countries
Choice offered in terms of trading platforms
Support available in 14 languages and trading platforms in 20 languages
Practice/demo account available for trying out
Breadth of trading assets
Cons
Does not accept customers from the U.S. as it isn't regulated in the U.S.
Transferring funds to the account may take up to five days; withdrawals could take up to 10 days
Disclosure: eToro USA LLC; Investments are subject to market risk, including the possible loss of principal.
1 Minute Review
Though Australian and British traders might know eToro for its easy stock and mobile trading, the broker is now expanding into the United States with cryptocurrency trading. U.S. traders can begin buying and selling both major cryptocurrencies (like Bitcoin and Ethereum) as well as smaller names (like Tron Coin and Stellar Lumens).
eToro offers traders the opportunity to invest their assets into premade portfolios or cryptocurrencies, similar to services offered by robo-advisors through traditional brokers. Though eToro isn't a one-stop-shop for everything an investor needs, its easy-to-use platform and low spreads is a great way to enter the cryptocurrency market.
Best For
International Forex/CFD Traders
New cryptocurrency traders looking for an easy-to-use platform
Traders who want to buy and sell cryptocurrencies on-the-go
Pros
Simple platform that is easy to master
CopyTrader feature that allows new traders to copy the same strategies used by professionals
Virtual dummy account that gives you $100,000 to practice trades
Cons
U.S. traders currently limited to cryptocurrencies
Only 15 major coins available to trade
Forex Terminology
One of the most important aspects of forex trading is understanding the unique lingo that traders and brokers use to describe the market. You'll run into a number of terms that have a unique meaning in the context of trading forex when you first begin your research. Let's take a look at a few of the most common terms you'll run into when you read about trading forex.
Pip: A pip is the smallest unit by which a currency can move. In most cases, 1 pip is equal to 0.0001 of any currency. For example, if the value of the USD moves from $1.0000 to $1.0010 in relation to another currency, the value has changed by 10 pips.
Lot size: Your lot size is the number of units of currency that you're buying or selling. For example, if you place an order to sell $100,000 USD and convert it into euros, your lot size is 100,000.
Orders: When you want to buy or sell a currency, you'll place an order through your broker. An order provides your broker with instructions on the trade you need to make. The broker then carries out the order to your specifications, often in exchange for a small fee.
Calls: If you use leverage to trade, be wary of margin calls. If you borrow money on leverage and the value of your portfolio decreases, your broker might require you to deposit more money into your brokerage account to make up the difference through a call. Margin calls are a major risk of using leverage to trade, so be very wary of the amount of money you borrow on margin.
Entering the Forex Market Safely
Though Sint Maarten has taken steps to curb the presence of unlicensed brokers, you can still find brokers that operate throughout the country that aren't registered with any official oversight body. If you decide to trade forex from Sint Maarten, be very careful when it comes to choosing a broker. Start with our list or recommended brokers and ask about both domestic and international licensure status before you open an account.
Get a Forex Pro on Your Side
FOREX.com, registered with the Commodity Futures Trading Commission (CFTC), lets you trade a wide range of forex markets plus spot metals with low pricing and fast, quality execution on every trade.
You can also tap into:
EUR/USD as low as 0.2 with fixed $5 commissions per 100,000
Powerful, purpose-built currency trading platforms
Monthly cash rebates of up to $9 per million dollars traded with FOREX.com's Active Trader Program
Learn more about FOREX.com's low pricing and how you can get started trading with FOREX.com.