A small collection of islands located in the South Pacific, most people associate French Polynesia with leisure and luxury. With a currency pegged to the euro and a growing, stable internet infrastructure, it's never been easier to trade forex from one of the many islands that make up French Polynesia.
Interested in learning more about how to open a brokerage account, place your first forex trade or formulate your own trading strategy? Our comprehensive guide for beginners will make things simple.
Get Started with Forex in French Polynesia
Trading forex begins with opening a brokerage account. Though most international brokers now allow you to do this completely online, you should start by ensuring that you have a stable internet connection. Check to make sure that your connection is private and that you aren't on a public network. Doing this will protect your personal data.
After you stabilize your connection, begin comparing brokers. Many brokers offer forex trading capabilities in French Polynesia, most of which are based outside of the country. Some of the factors you might want to consider when you compare brokers include:
Base currency availability
Supported transfer methods
Supported platforms
Currencies available to trade
Fees and transaction costs
When you find a broker you'd like to work with, open an account online. Most forex brokers require that you submit proof of your identity and residence before you can fully open your account.
Next, deposit trading funds into your brokerage account. International forex brokers typically support a range of transfer methods, including:
Direct bank account transfer
Credit or debit card purchase
Transfer from an electronic wallet
The native currency of French Polynesia is the CFP franc, which is pegged to the euro at a rate of 1 XPF to 0.00838 euro. This means that 1 franc will always be equal to 0.00838 euro, no matter what market conditions are currently like. Because of this, many brokers offering service to investors in French Polynesia also allow you to use euros as your base currency.
It might take a few days for your transfer to appear in your brokerage account. Once your funds arrive, you can place your first trade using your forex broker's platform.
French Polynesia Forex Trading Strategies
The CFP franc is a particularly strong currency thanks to its tie with the euro, one of the world's most important reserve currencies. This means that there are many short-term and long-term trading strategies that you can use to see a profit when trading the franc.
Let's take a look at a sample of the most common strategies and indicators that you can use to trade forex in French Polynesia.
Reversal Candlesticks
A reversal candlestick is a short-term indicator that tells the investor that a currency is likely to change its price direction soon. A reversal candlestick may be bullish or bearish depending on where it's located on a chart. The strength of a reversal candlestick can usually be determined by its tail length — the longer the tail, the stronger the indicator.

Breakout Strategy
The breakout strategy is another popular trading strategy. To use the breakout strategy, start trading when your base currency has moved in a sideways direction and showing little volatility. Establish a resistance and support value for your chart. When a candlestick "breaks out" of this predefined range, it may indicate a buy or sell signal that tells you that the trend will continue.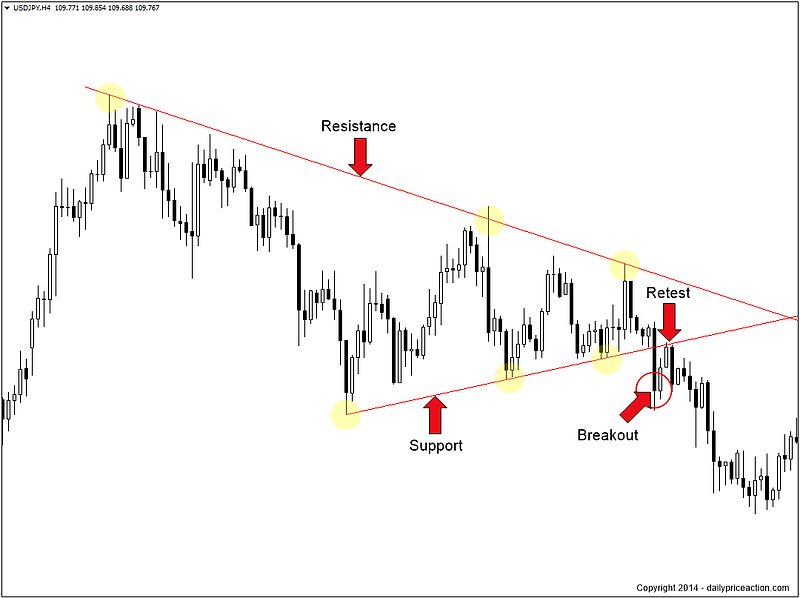 Forex Trading Example in French Polynesia
Is it possible to earn money forex trading?
Yes! Professional forex traders earn money by strategically purchasing and selling currency pairs, exchanging currencies when it's beneficial for their held currency. Let's take a look at an example.
Imagine that you open a brokerage account and fund it with 100,000 F. You believe that the franc will soon decrease in value against the British pound, so you decide to invest your entire lot of francs into the pound. Your broker offers you up to 100:1 leverage, which means that you can potentially place a trade worth up to 10 million francs. However, you choose to use 10:1 leverage.
1 GBP is currently equal to 0.0076 XPF, which means you can convert 1 million francs to 7,600 pounds.. Soon, you see that your analysis was correct — when the value of 1 GBP reaches 0.0072 XPF, you decide to convert your pounds back to francs. This leaves you with about 1,055,555 F. After accounting for the money you used in leverage, you've earned a profit of about 55,555 F on this trade.
Making Money with Forex in French Polynesia
Trading forex is legal in French Polynesia, and there are no current legal limitations to the amount of profit that you can take from your trading or the amount of money you can deposit into an international brokerage account. However, there are very few controls and license requirements for local brokers.
We recommend working with an international broker overseen by a major regulatory body like the Cyprus Securities and Exchange Commission or the Financial Conduct Authority. These brokers need to meet strict checks that ensure the broker is financially stable, and limitations are put on available leverage. These accounts also typically have negative balance protections, which prevent you from falling into debt when you trade forex.
Best Online Forex Brokers in French Polynesia
As a forex trader in French Polynesia, you can work with one of the many international forex brokers offering trading capabilities in your country. The broker you choose will determine which currencies you have access to, how you can trade and what you'll pay in currency pairs, so it's well worth the effort to take your time and ensure that you're working with the best broker for you.
Not sure where to begin your research? Consider exploring a few of our favorite brokers offering service in French Polynesia below.

1 Minute Review
A fully regulated broker with a presence in Europe, South Africa, the Middle East, British Virgin Islands, Australia and Japan, Avatrade deals with mainly forex and CFDs on stocks, commodities, indexes, forex, cryptocurrencies, etc. This brokerage is headquartered in Dublin, Ireland and began offering its services in 2006. It offers multiple trading platforms and earns mainly through spreads.
Best For
Beginners
Advanced traders
Traders looking for a well-diversified portfolio
Pros
Controlled by regulatory agencies of multiple countries
Choice offered in terms of trading platforms
Support available in 14 languages and trading platforms in 20 languages
Practice/demo account available for trying out
Breadth of trading assets
Cons
Does not accept customers from the U.S. as it isn't regulated in the U.S.
Transferring funds to the account may take up to five days; withdrawals could take up to 10 days
Disclosure: eToro USA LLC; Investments are subject to market risk, including the possible loss of principal.
1 Minute Review
Though Australian and British traders might know eToro for its easy stock and mobile trading, the broker is now expanding into the United States with cryptocurrency trading. U.S. traders can begin buying and selling both major cryptocurrencies (like Bitcoin and Ethereum) as well as smaller names (like Tron Coin and Stellar Lumens).
eToro offers traders the opportunity to invest their assets into premade portfolios or cryptocurrencies, similar to services offered by robo-advisors through traditional brokers. Though eToro isn't a one-stop-shop for everything an investor needs, its easy-to-use platform and low spreads is a great way to enter the cryptocurrency market.
Best For
International Forex/CFD Traders
New cryptocurrency traders looking for an easy-to-use platform
Traders who want to buy and sell cryptocurrencies on-the-go
Pros
Simple platform that is easy to master
CopyTrader feature that allows new traders to copy the same strategies used by professionals
Virtual dummy account that gives you $100,000 to practice trades
Cons
U.S. traders currently limited to cryptocurrencies
Only 15 major coins available to trade

1 Minute Review
FOREX.com is a one-stop shop for forex traders. With a massive range of tradable currencies, low account minimums and an impressive trading platform, FOREX.com is an excellent choice for brokers searching for a home base for their currency trading. New traders and seasoned veterans alike will love FOREX.com's extensive education and research center that provides free, informative forex trading courses at multiple skill levels. While FOREX.com is impressive, remember that it isn't a standard broker.
Best For
MetaTrader 4 users
Beginner forex traders
Active forex traders
Pros
Impressive, easy-to-navigate platform
Wide range of education and research tools
Access to over 80 currencies to buy and sell
Leverage available up to 50:1
Cons
Cannot buy and sell other securities (like stocks and bonds)
Forex Terminology
Forex traders have their own unique "language" they use to discuss trades and orders. Familiarizing yourself with a few of the most common forex terms will enhance your trading when you do enter the market. Below, you'll find a few terms that you'll hear again and again when you trade forex.
Pip: A pip is the smallest unit by which a currency exchange rate can move. In most cases, a single pip is equal to 0.0001 of the currency's standard value. For example, if the USD increases in value from 1.2500 to 1.2501 in relation to a certain currency, you could say that the value of the USD increased by 1 pip.
Lot size: Your lot size is the number of units of currency you're trading on a single trade.
Orders: An order is a set of instructions given to your broker to execute transactions on your behalf. There are multiple types of orders, and your order availability may vary by broker.
Calls: If you trade using leverage, be wary of margin calls. A margin call is a form of notice from your broker to deposit more money to your account or close out of your position when your account's value dips below a set percentage.
The Emerging Forex Market of French Polynesia
While the forex sphere of the country is growing, few laws and regulations control brokers, limit leverage offering or ensure that brokers have enough money in segregated bank accounts. Thoroughly researching each broker you consider can help you avoid costly forex scams, which are still present throughout the world.