Benzinga Money is a reader-supported publication. We may earn a commission when you click on links in this article.
Learn more.
Argentina has a long and complicated history of turbulent relations with the forex market. After nearly a decade of tight currency controls, loosened regulations have made it possible for everyday residents and travelers to invest in foreign currencies. If you're interested in learning more about how to trade forex in Argentina, our guide will provide you with everything you need to get started.
Get Started with Forex in Argentina
Getting started with forex trading in Argentina begins with opening a reliable brokerage account from a licensed broker. Use this step-by-step guide to open your account and make your first trade.
Step 1: Find a stable internet connection.
Forex trades might rely on price differences calculated on a second-to-second basis. The most important tool that you can have at your disposal is a consistent, safe connection to the internet. Check that your connection is private and run a speed test on your device before you proceed.
Step 2: Choose a broker.
The forex market in Argentina is one of the most highly regulated in the world. However, this doesn't mean that currency scams don't still exist. Before you open an account with an international brokerage firm, be sure that the broker is regulated by an oversight body like the Cyprus Securities Exchange Commission or the Australian Securities and Investments Commission. You should also make sure that the broker is registered by local authorities like the La Comisión Nacional de Valores (CNV), or National Securities Commission.
Once you locate a broker that you want to work with, open an account through the broker's online process. You might need to provide some personal information (like a scan of your ID or proof of residence) before you can begin trading.
Step 3: Download a trading platform.
Though a few select brokers offer their own proprietary trading platform, you might also need to download a 3rd-party platform from a provider like MetaTrader 4 or 5 before you can trade. Determine which platforms are compatible with your broker's software before you choose how you'd like to trade.
Step 4: Fund your account.
Once your account is fully open, you'll need to link a payment method to fund your trades. Most brokers operating in Argentina offer a number of funding methods, including electronic wallets, debt and credit card purchases and direct bank transfers.
Step 5: Place your first trade.
It might take a few days for your transfer to make its way into your account depending on which transfer method you use. Once your deposit is fully clear, you can officially start forex trading.
Argentina Forex Trading Strategies
The Argentinian peso is a notoriously volatile currency, with an inflation rate of over 50% and multiple recessions in the last decade. While this volatility may be dangerous for long-term investors, it can generate large amounts of profit for smart short-term and medium-term traders with a solid technical analysis strategy.
Technical analysis is a type of currency analysis that relies on the use of charting patterns to predict future price movements. There is a very wide range of profitable and reliable charting patterns that traders look for when executing their trading strategy.
Let's take a look at a few of the most common charting patterns and indicators that technical analysis traders look for when investing. Though these formations aren't foolproof guarantees that you'll earn money trading, they can provide you with a strong "jumping-off point" to develop your own individual strategy.
Reversal Candlesticks
Many short-term traders rely on reversal candlesticks to determine their buy and sell signals. A reversal candlestick is an indicator that tells the investor that a currency is likely to change its price movement trend. The strength of the candlestick can be determined by the candlestick's "tail," the long extending portion outside of the body. There are many types of reversal candlesticks and a candlestick can be either bullish or bearish, depending on its placement.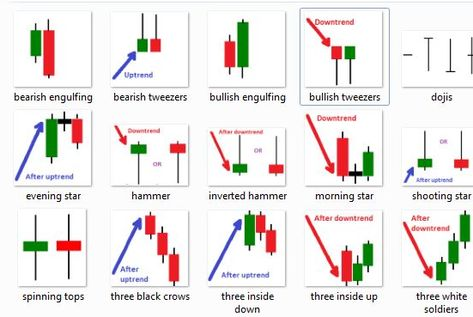 Breakout Strategy
The breakout strategy is another popular strategy with new traders. Traders who use the breakout strategy invest during periods of low volatility when your base currency is moving sideways. When a candlestick "breaks out" of this predefined pattern, a buy or sell signal is triggered. The breakout is then likely to continue in its movement until a reversal candlestick is triggered.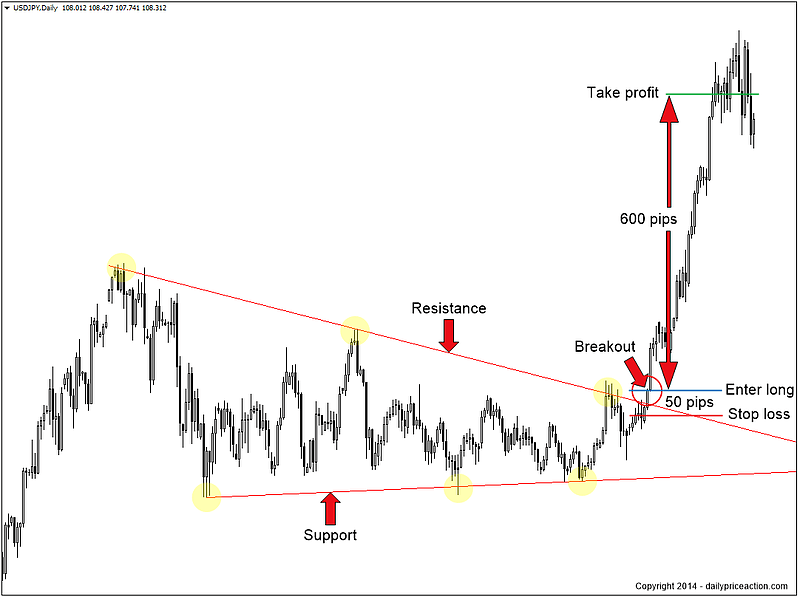 Forex Trading Example in Argentina
Forex traders earn money by taking advantage of differences in the values of varying currencies. You purchase currencies when the value of the peso is strong, buyback pesos when the peso's value falls and pocket the difference between the trades. Let's take a look at an example.
You deposit $10,000 ARS into your brokerage account. Your broker offers you 10:1 leverage, which allows you to place a trade worth up to $100,000 pesos. You believe that the USD is going to rise in value when compared to the ARS, so you decide to use your entire lot to invest in the U.S. dollar.
$1 ARS is currently equal to $0.014. When your order is filled, you're left with $1,400. A few days later, you see that the value of the peso is falling. When $1 ARS is equal to $0.013 USD, you decide to convert your lot back to your native currency. When the trade is finalized and your position is closed out, you're left with about $107,692 ARS. On this trade, you earn about $7,932 pesos.
Making Money with Forex in Argentina
Tight restrictions on currency exchanges were introduced in Argentina in 2001 in an attempt to bolster the local economy and reduce inflation. For over a decade, this made forex trading essentially against the law for everyday Argentinians. In 2015, the Central Bank of Argentina began to lift restrictions on forex trading, which opened the market to individuals again.
However, currency trading in Argentina is still heavily restricted. You must receive authorization from the Banco Central de la República Argentina (BCRA) before you can access the forex market. If you're an investor based in Argentina, there are no limitations on how much and how often you trade as long as you are registered with the BCRA. If you are a nonresident of Argentina, you're limited to depositing no more than $1,000 into your international brokerage account a month.
The bottom line? While it's possible and legal to make money trading forex in Argentina, you'll need to do your research and ensure that you have the proper authorizations before you enter the market.
Best Online Forex Brokers in Argentina
Though Argentinian officials are working to relax forex trading restrictions, there are currently no recommended local brokers offering service within Argentina. However, a number of licensed and regulated international brokers offer services to investors located in Argentina. Browse a few of our top choices below if you aren't sure which forex broker you'd like to sign up with.
Forex Terminology
Understanding how to use forex terminology before you place your first trade will make it easier to learn more about the market. Familiarize yourself with a few of the most common terms below before you get started.
Pip: A pip is the smallest unit by which a currency can move. In most cases, a single pip is equal to 0.0001 of any currency's value.
Lot size: Your lot size is equal to the number of units of currency you're buying or selling. For example, if you decide that you want to convert $100,000 USD into its EUR equivalent, your lot size on this trade is 100,000. Most traders consider 100,000 units of any currency to be a "standard lot."
Orders: An order is a specific set of instructions you provide to your broker that tells them what type of currency you'd like to buy or sell. Your order tells your broker which currencies you're trading, the price the order should be executed at and when you need the order to be filled. There are multiple types of orders and order type availability might vary by broker.
Calls: A call is a requirement from your broker to deposit more money into your brokerage account or immediately close out of your position. If you use leverage to trade, you might receive a call if the value of your portfolio dips below a certain percentage of its original value.
Profiting in a New Forex Sphere
For years, forex trading was essentially illegal in Argentina. Though restrictions have been loosened, forex trading in Argentina is still more controlled and regulated than most other countries in the world. If you're a trader in Argentina, be sure that you keep up with shifting regulations and adjustments to deposit limits, which may change with little notice.
Benzinga's #1 Breakout Stock Every Month
Looking for stocks that are about to breakout for gains of 10%, 15%, even 20% potentially or more? The only problem is finding these stocks takes hours per day. Fortunately, Benzinga's Breakout Opportunity Newsletter that could potentially break out each and every month. You can today with this special offer:
Hire a Pro: Compare Financial Advisors In Your Area
Finding the right financial advisor that fits your needs doesn't have to be hard. SmartAsset's free tool matches you with fiduciary financial advisors in your area in 5 minutes. Each advisor has been vetted by SmartAsset and is legally bound to act in your best interests. If you're ready to be matched with local advisors that will help you achieve your financial goals, get started now.