1 Minute Review
Fidelity is a comprehensive and responsive brokerage suitable for both new and experienced traders alike. With complete access to the full U.S. stock and options markets, a set of state-of-the-art education and research tools, as well as a wide fee-free fund selection, Fidelity is equally useful for the veteran swing traders to novices opening their first accounts. Mobile traders will be especially happy with Fidelity's app, which mirrors full capabilities of the platform. Though there isn't much to criticize about Fidelity, the broker does have a few areas where it can afford to improve. Margin rates are significantly higher than most other brokers, especially for traders borrowing less than $25,000. It also doesn't offer any access to the futures markets. Despite these minor flaws, Fidelity remains a strong choice for most investors.
Best For
Easy-to-navigate yet functional platform strikes the perfect balance between expert tools and comfort for beginners
Mobile trading app is fully-optimized and mirrors full functionality of the desktop platform
Wide range of education and research options make learning more about securities and the market easier and less time-consuming
Pros
Complete range of both independent and managed services available at exceptionally affordable prices
Offers access to both domestic markets and 25 foreign markets, as well as a wide range of options contracts and over 10,000 mutual funds
Mobile app that is well-integrated and works just as well as the desktop platform
Wide selection of education tools and resources available free of charge
Cons
Margin rates higher than many other competing brokerages
No access to futures trading
High fees for buying a non-Fidelity mutual fund (with over 3,300 fee-free funds available)
Fidelity is a well-known name in the financial game. It offers financial planning and advice, retirement plans, wealth management services and trading and brokerage services.
Dig into what Fidelity Investments can offer you. Learn more in Benzinga's review of Fidelity Investments.
Why Fidelity Brokerage Over Others?
There's plenty to love about investing with Fidelity. Let's take a look at a few of the broker's best features.
Comprehensive range of financial products and services: Fidelity offers a true 1-stop-shop for all of your financial needs. From a fully-functional and lightning-fast trade platform to personal wealth management services to automated robo-advising services that blend affordability and advice, Fidelity does it all.
Free research and education tools: Fidelity offers a wide range of market research tools from trusted sources like Reuters, Marketwatch and The New York Times. In addition, Fidelity also offers a daily stock screener to help you inform your trades each morning, as well as a comprehensive platform education center you can use to learn more about how to place trades and use indicators.
Fully-operational mobile app: If you're a new trader who wants to make trades primarily from your phone, you'll love the Fidelity mobile app. Easy-to-navigate and constantly-updating, Fidelity's app is a force to be reckoned with.
Brokerage Quick Summary
| | |
| --- | --- |
| Tradable assets | Stocks, options, ETFs, mutual funds, bonds |
| Platform | Comprehensive; wide range of screening tools and indicators available |
| Mobile app | Fully operational, mirrors desktop web-trading platform |
| Account minimum | $0 |
| Available account types | Taxable, traditional and Roth IRA, 529 college savings accounts |
Fidelity's fees and account minimums are exceptionally low. Let's take a look at a basic price summary, so you can anticipate what you're likely to spend while trading.
| | |
| --- | --- |
| Stocks and ETFs | $0 commission |
| Options | $0.65 per contract |
| Mutual funds | Access to over 10,000 mutual funds; 3,300 fee-free funds available, otherwise a fee of $49.95 applies |
| Bonds | $0 on most government-issued bonds |
| Account minimums | $0 |
The only complaint we have about Fidelity's pricing structure is its margin pricing. Margin trading is available through Fidelity — however, you'll need to apply for the amount of money you want to borrow. The amount that you'll be approved for will vary depending on your experience investing and the balance you hold in your brokerage account.
Margin rates vary from 9.325% APR to 5.00% APR depending on the amount of leverage you use, with the lowest rates extended to traders who use over $1 million of leverage. This is higher than most competing brokers. To put things into perspective, you'll pay about 2.59% APR with an Interactive Brokers account and about 5.00% APR with Robinhood.
Fidelity's brokerage platform is easy-to-use and beginner friendly. Casual and retirement investors can place buy and sell orders directly from their browsers or mobile app, while more involved traders will enjoy using Fidelity's Active Trader Pro downloadable desktop trading platform.
The Active Trader Pro is comprehensive and easy enough that even beginner traders will quickly be able to get a hang of how to use the platform's many tools. The tool includes pre-built market shortcuts that you can use to immediately start making more informed trades, including hot keys, watch lists and other news and research tools.
You can even customize your layout by choosing your preferred colors and font size. For traders with visual impairments, this minor customization feature can make a huge difference in comfort and usability.
Fidelity also offers a wide range of screening and order tools you can use to trade more effectively. You can screen stocks using over 45 unique market filters, ranging from social sentiment data to volatility and other technical indicators.
Create and save up to 50 orders at a time and manage your risk with conditional orders. If you prefer to take an online approach to stock and fund research, you can screen available assets from your browser using Fidelity's unique research screener, which mimics the functionality of its in-platform service.
Screen stocks, mutual funds, ETFs and more by categories like risk and expert ratings. When you find something you like, you can invest with just a few clicks.
Fidelity also does an excellent job of educating new users on how to use the platform. Once you log in for your 1st time, you'll receive a quick tutorial highlighting some of the basic platform features. If you prefer a more advanced look at Fidelity's features, check out Fidelity's Learning Center (see below).
Comprehensive, easy to navigate and simple enough that a beginner will quickly become a master, Fidelity's usability is 1 of its best features.
Fidelity offers a wide range of tools that new traders and old can use to inform their investment strategies. Let's take a look at 3 of our favorite offerings from Fidelity's huge list of resources.
Learning Center resources. If you're a new stock trader, the best place to begin is with Fidelity's Learning Center. You'll be able to read articles and watch videos that will help you develop a trading strategy, learn more about Fidelity's unique tools, plan for retirement, open your 1st account and much more. Hundreds of lessons are available on nearly every subject and are conveniently organized by investing skill level.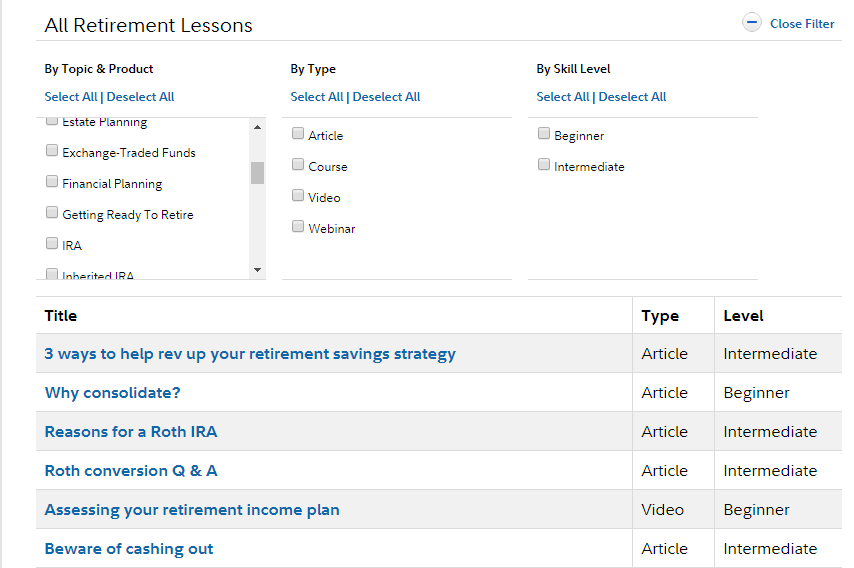 Learn more about retirement investing, mutual funds, technical analysis and more with well-organized and informative articles and video lessons.
Fidelity Viewpoints. Fidelity Viewpoints is Fidelity's hand-crafted markets news feed. It features articles on everything from major news stories to advice on strengthening your retirement savings. Fidelity Viewpoints frequently adds new stories to educate traders on social, political and international movements that will affect trade, and most articles also begin with a few "key points" that summarize the news. A fast and all-inclusive way to learn more about the day's market movements, Fidelity Viewpoints lays out information in a series of easily-digestible articles.
Stock research center. Not sure what you'd like to add to your portfolio? Fidelity's stock and fund research center allows you to narrow down your choices by category, pattern, sector and more with just a few clicks. View the top-trading stocks of the day in each category, analyze funds by sector and volatility or read expert recommendations on which assets are likely to increase in value.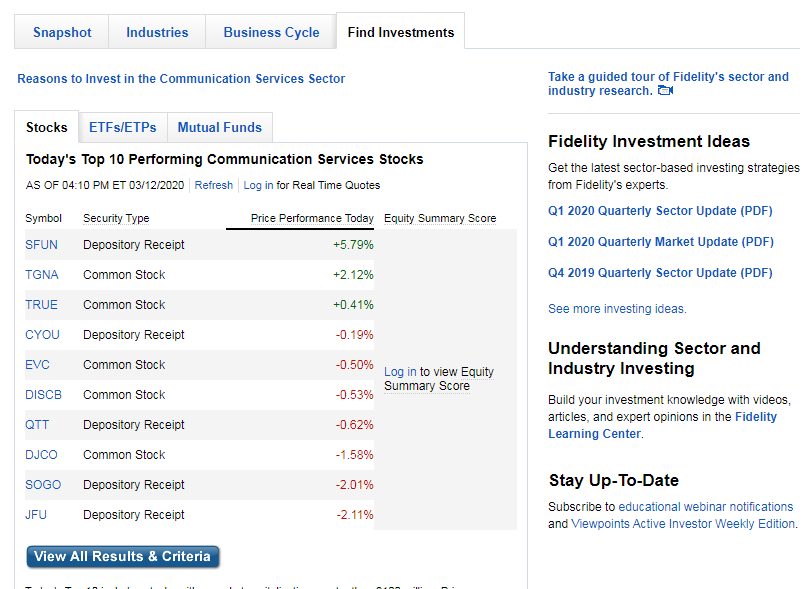 Swipe through market data and expert picks with just a few clicks.
Fidelity's education tools are free to use, but you may need to be logged into your account to access select data.
Fidelity offers multiple methods that you can use to contact customer service.
By phone. To contact Fidelity by phone, call 800-972-2155. Phone representatives are available 24 hours a day and 7 days a week to assist you.
By email. To contact Fidelity via email, log into your Fidelity account and request a support message. Fidelity's team aims to respond to each email within 3 to 5 business days.
By chat. To ask your question via chat, visit Fidelity's customer chat section. Chat with a live representative Monday through Friday 8 a.m. to 10 p.m. EST and Saturday and Sunday 9 a.m. to 4 p.m. EST.
Fidelity doesn't currently offer any special voice line for people who have hearing difficulties.
Fidelity offers a wide range of tradable assets that you can use to diversify your portfolio. Let's take a look at some of the assets you can buy and sell through Fidelity's platform.
Fidelity Stocks, ETFs and Mutual Funds
Fidelity offers access to the full U.S. stock market, as well as 25 international markets. Buy, sell and trade stocks and ETFs with $0 commissions. Fidelity also offers a wide range of bond, stock and factor ETFs with no fees. Finally, Fidelity offers access to over 10,000 mutual funds, 3,300 of which are commission-free.
Fidelity offers a wide range of fund and stock screening tools you can use to inform your purchases. With over 100 unique indicators, you can use the screener both directly on your Active Trader platform or online after logging into your Fidelity account.
Fidelity Options
Fidelity offers options trading at an exceptionally affordable $0.65 per contract. Like stocks, ETFs and mutual funds, Fidelity offers a wide-reaching options screener to help you find your next great investment. However, options trading isn't open for everyone — you'll need to apply for the ability to trade before you can enter the market. Your ability to trade may be influenced by your level of investing experience and the amount of money you hold in your brokerage account.
The Fidelity app is 1 of the best brokerage apps we've come across, mirroring the full effectiveness of the desktop platform with a few additional features as well. Let's highlight 3 features we love about the Fidelity app.
Easy order placement. Placing orders is easy through the Fidelity app, with just a few taps required and optimized formatting perfect for the smaller screens of your smartphone of choice. You can even create watchlists of your favorite stocks and assets — so you don't need to endlessly tap or scroll when it's time to trade.
Custom push notifications. Can't stare at your screen all day while you trade? Fidelity's app allows you to authorize custom push notifications that alert you when an order you placed is filled, when an asset hits a particular target price and more.
News and podcast streams. Like Fidelity's desktop site, the Fidelity app offers a daily news stream to help you keep up-to-date with market movements. However, it also features native access to financial and market news podcasts — perfect for listening to on your daily commute.
The Fidelity app is free to download on both Apple and Android platforms.
Fidelity offers a powerful set of tools for both new and experienced brokers alike. With plenty of native tools balanced out with an intuitive guide and streamlined layout, anyone can find themselves reaching master status quickly with Fidelity's tools.
For more in-depth learning, new traders will find plenty to love in the Learning Center and the platform's Viewpoints feed. With access to over 25 foreign markets and options trading available, Fidelity's platform is suitable for any type of trader and very close to a perfect brokerage.
There are a few areas where Fidelity can stand to improve. The broker's margin fees are much higher than competitors, especially for lower-value holders. Fees for non-Fidelity mutual funds are also high, and there's currently no option to trade futures contracts. However, Fidelity remains a solid choice for brokers of all skill levels looking for a mix between power and convenience.
Frequently Asked Questions
Q: How can I check the validity of a broker?
The Financial Industry Regulatory Authority (FINRA) is dedicated to creating a safe environment for investors. You can use its BrokerCheck service to learn more about your broker before you commit.
You can request a BrokerCheck report at www.finra.org/brokercheck. You can also call (800) 289-9999.
Q: Where can I learn more about the basics of trading and investing?
Benzinga is your 1-stop-shop for trading education. Start with our review of the best day trading courses. We've also got a list of the top stock trading schools, online stock trading courses you can start now and self-paced modules to teach you about forex.
Visit Benzinga daily to stay on top of all the latest market happenings. Or subscribe to Benzinga Pro to get faster stock market news and research.