Looking for the best rate and coverage for life insurance? Consider Sproutt.
Cash value life insurance is permanent life insurance with an investment option. Cash value is that part of your policy that earns interest, like a savings account. Policyholders may be able to withdraw money or even borrow from that cash value.
Types of cash value policies include:
Whole life
Universal life
Variable universal life
Indexed universal life
Term life, the most affordable type of insurance, does not contain a cash value.
Quick Look: The Best Cash Value Life Insurance
The Best Cash Value Life Insurance
Cash value life policies come in different types and the best choice for you may not be the same as that of your friends or neighbors. Here are our top picks and why they stand out from the pack.
Northwestern Mutual
The stakes couldn't be higher than when buying life insurance to protect your family. Financial strength remains an important consideration. After all, you're depending on an insurer to cover a claim that may be decades in the future. Northwestern Mutual routinely tops the charts for financial strength as measured by trusted rating agencies like AM Best, S&P Global and Moody's.
As a mutual insurer, Northwestern is owned by its policyholders — service is its top priority. You'll also find plenty of cash value options, including whole life, customizable universal life, and even an innovative single-premium universal life policy for worry-free coverage.
Age Requirements
18 – 100
1 Minute Review
Northwestern Mutual offers a variety of life insurance policies that are suitable for a wide range of people. Policies are available in all 50 states, although some policies and riders may not be available in every state. The company has strong financial strength ratings and an above-average rating when it comes to consumer complaints. 
To get a quote from Northwestern Mutual, you have to talk to one of its agents. However, you can browse information on its website and use the coverage calculator tool to estimate how much life insurance coverage is recommended for your family.
Best For
Affordable term life insurance that can be converted to a permanent life insurance policy later
Adding riders to a life insurance policy
Pros
Strong financial strength ratings and a low number of consumer complaints
Several types of life insurance policies available
Offers other financial planning, insurance and investment products and services
Cons
Lack of clarity about the product offerings on Northwestern Mutual's website
Can't get a quote or apply directly for a policy online
State Farm
Online life insurance providers continue to grow partly because of convenience but also because online providers can be less expensive. Don't write off brick-and-mortar agents altogether, though. If you prefer to discuss your need in person, look no further than State Farm, a trusted provider with over 19,000 experienced agents throughout the U.S.
You'll find common cash value options at State Farm, including whole life and universal life. The company also offers Survivorship Universal Life Insurance and Joint Universal Life Insurance, both of which offer a cost-effective solution if you need to insure 2 people rather than just yourself.
1 Minute Review
State Farm offers a selection of life insurance products designed to meet the needs of most customers. All the basic policy types are covered by this national insurer, with coverage options that are easy for consumers to understand. Some less common types of life insurance are not well represented and, as always, customers are encouraged to get quotes from multiple insurers.
Best For
Customers who have existing policies with State Farm
Auto insurance is discounted up to 17% if bundled with life insurance through State Farm
Pros
State Farm website provides easy life insurance quotes and helpful information to guide the process
A nationwide network of over 18,000 agents provides access when questions arise
Sizable discount on auto policies for customers who also purchase life insurance
Cons
Premiums may be higher than some competitors, depending on individual rating considerations
Less flexibility in term lengths then some competitors
Mutual of Omaha
Gerber's Grow-Up Plan is probably the best-known policy for children but Mutual of Omaha has a great product as well and often with lower premiums than its competitors.
Buying life insurance for kids can seem counterintuitive because they're young and have less risk. However, because kids are young and healthy, insurability is nearly guaranteed and rates are super low.
Mutual of Omaha's whole life policy for children offers lifelong coverage for kids as young as 14 with coverage amounts of up to $50,000. Premiums never increase, which helps ensure that coverage stays affordable. Mutual of Omaha also ranks well in recent J.D. Power U.S. Life Insurance Studies, earning 3rd place for overall customer satisfaction in 2019.
1 Minute Review
Purchasing life insurance requires you to be familiar with essential benefits. Different types of life insurance such as permanent insurance can give you peace of mind because you know your beneficiaries will receive death benefits, regardless of when you die.
For quality life insurance, look at Mutual of Omaha, which offers whole and universal life insurance policies that guarantee coverage for your entire life. A medical exam isn't required, premiums don't increase, you can access the cash-value portion of the policy in an emergency, and you can set a death benefit. Below is Benzinga's list of pros and cons associated with Mutual Omaha life insurance.
Best For
Anyone entering their prime earning years
Customers willing to take on additional risks with their policy
Pros
Policies offer financial protection that last throughout your lifetime
Policies provide cash value that can be accessed while you are still alive
Universal life insurance policies enable you to adjust premium payments and frequency
You can decrease or increase the amount of your death benefit
Cons
Policy options are limited when buying online compared to purchasing through an agent.
Pacific Life
Not sure which type of cash value coverage suits you best or you think you may need multiple types of policies? It's hard to beat the selection of products from Pacific Life.
Whether you're considering universal life insurance, variable life insurance or even life insurance with long-term care benefits, Pacific Life offers several ways to customize your coverage. You can even pair your cash value coverage with an inexpensive term policy from Pacific Life to reduce your long-range coverage needs and reduce your overall costs as well.
An outstanding selection of products from Pacific Life also comes with the security of a company that's been in the business for over 150 years and shows a long history of financial stability.
MassMutual
MassMutual offers several types of life policies, including term, universal and variable life, but its whole life insurance offering packs value into an easy-to-understand policy. As a mutual insurance company, MassMutual answers to its owners, the policyholders themselves. If possible, always give mutual insurers a closer look.
An easier-than-most application process helps you get covered quickly while avoiding the frustration that often causes people to postpone life insurance purchases. If you want to pair your permanent cash value policy with an affordable term policy, MassMutual's Haven Life subsidiary is quickly becoming one of the most respected online providers.
A rock-solid whole life policy from MassMutual might only be a starting point. Over its more than 160-year history, MassMutual has been a pioneer and now offers an impressive range of financial planning and insurance products.
Age Requirements
All ages
1 Minute Review
Mass Mutual is great for people who are looking for one-stop shopping for a range of insurance and financial products such as life insurance, disability income insurance, long-term care insurance, annuities and retirement plans.
Mass Mutual is the short version of Massachusetts Mutual Life Insurance Company, and it is one of the largest life insurance companies in the United States. 
Policyholders own the company as it is a mutual insurance company. When the company is prosperous, policyholders can expect to receive a dividend.   
The company is popular because it offers a wide range of products, and the customer service department is reliable and responsive. 
Best For
Males or females over the age of 18
Customers seeking a large offering of life insurance products
Pros
Wide range of life insurance products for term life, whole life and universal life
Claims accepted via email
No medical exam in some cases
Online applications
Dividends paid to policyholders
Competitive premiums
Cons
Medical exam generally required
No online application for some plans
Haven Life
While Haven Life prides itself on its expediency and digital platform, through the years it's formed a partnership with one of the most trusted insurance companies in the business, MassMutual.
Founded in 1851, with assets under management totaling more than $567 billion, MassMutual offers cash value life insurance such as whole, universal and universal variable policies.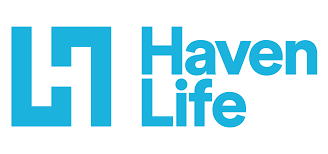 get started
securely through Haven Life Insurance's website
Disclosure: Haven Term is a Term Life Insurance Policy (ICC21 Haven Term in certain states, including NC) issued by C.M. Life Insurance Company (C.M. Life), Enfield, CT 06082. In New York (DTC-NY) and California (DTC-CA), it is issued by Massachusetts Mutual Life Insurance Company (MassMutual), Springfield, MA 01111-0001.
1 Minute Review
Haven Life is an innovative life insurance agency that offers a simple way to obtain term life insurance for those between the ages of 18 and 64. You can choose a term length of 10, 15, 20 or 30-years. What's unique about this term life insurance is the way you can complete an application online and, if approved, digitally purchase coverage.
Haven Life is backed and wholly owned by Massachusetts Mutual Life Insurance Company, a trusted A++ business. You'll get a user-friendly experience from Haven Life and enjoy MassMutual's financial strength. Haven Life focuses on personable customer service (it has a rating of 4.8 out of 5 stars) and convenient modern technology.
Best For
Those looking for a digital buying experience
Relatively healthy individuals with no preexisting conditions
Individuals under the age of 64
Those looking for affordable premiums with robust coverage and additional benefits
Pros
Simple application process
Instant decision on coverage. If approved, it can start immediately
May not need a medical exam
Competitive rates, more affordable than industry averages
Excellent customer support
Cons
No permanent life plans offered
Higher rates for preexisting conditions
No coverage if you're over 65
What is Cash Value Life Insurance?
A cash value life insurance policy is a unique type of policy that provides both a death benefit and a savings or investment component. Over time, the policy builds cash value (hence the name) and becomes an asset in its own right.
There's a lot to consider when you choose the best life insurance — a cheap life insurance policy may not offer a complete solution. Term life insurance is more common due to its lower premiums but it's also temporary coverage.
Cash value policies have staying power. When you purchase a cash value policy, you're buying permanent life insurance. You'll be covered for your entire life or until the policy matures, typically between age 100 and 121.
How Cash Value Life Insurance Works
Cash value policies come in 3 main types, although you'll find some additional variations. Nearly all permanent life insurance policies build cash value but each type may use a different mechanism to build value in the policy. Another commonality they share is that cash value policies can also offer a tax-sheltered investment.
Whole life insurance is the best known and most common of these cash value policies. You'll pay a fixed-level premium for a whole life insurance policy, part of which pays for the insurance policy itself and part of which is invested by the insurer. The insurer then pays a fixed return. This builds cash value in the policy over time.
A well-designed whole life policy can be a great choice for people of any age. Specialty policies can provide lifetime protection for kids, while final expense policies offer affordable life insurance for seniors.
Other common types of permanent life insurance include universal life and variable life, the latter of which leans more heavily on investment performance. Both of these types of policies step up returns on the investment portion of your policy. These policies can also bring some risk, meaning you may have to pay a larger premium later if the investment underperforms or if the policy is underfunded. Variable life policies can even lose some cash value because the insurer doesn't provide a safety net for investment performance.
It's important to weigh risks, but universal life insurance and variable universal life can also reduce the overall cost of coverage. In some cases, cash value growth can even increase life insurance payouts.
Regardless of the type of cash value policy you buy, you can access the value in your policy in a number of ways. You may be able to borrow against your cash value or even use your cash value to pay premiums. You can also sell or redeem your policy if your needs change and the cash serves a greater benefit than the policy.
When Cash Value Life Insurance is Worth It
Whether a cash value policy is a fit for you and your family depends not just on cost but also on which type of policy you choose. If you need stable coverage and fixed premiums, a whole life insurance policy offers compelling value. You'll pay more per dollar of coverage than the cost of a term policy, but your coverage can protect you for your entire lifetime.
Universal life brings flexibility in how you pay premiums but doesn't use a guaranteed level premium. If the investment portion of your policy performs less than expected or the policy becomes underfunded, you may have to put some money in to keep the policy alive. Universal life can be a good fit, but a big consideration is whether you'll have money to fund the policy if needed. If so, a universal life policy offers more flexibility and can be an effective way to pass wealth to heirs in a tax-advantaged way.
When Cash Value Life Insurance is Not Worth It
A cash value policy may not be the best fit for every situation. Premium costs and the risk of premium increases are the 2 primary considerations.
If your coverage needs are temporary, a term policy is a better option. For example, if your primary reason for purchasing coverage is to cover the mortgage or another expense with an expiration date, a term policy offers a more affordable solution in nearly all cases.
Perhaps a bigger consideration, and one that catches some people by surprise, is whether you can afford to put extra funds into the policy, as is sometimes required with a universal life policy. If your household isn't in a strong cash position, a universal life policy or variable life policy can bring more risk than reward in a down market.
The best way to find out if a cash value policy is a fit for you is to speak with a trusted agent. Get a quote and discuss the pros and cons for your family is an important first step to make a purchase decision.
Types of Life Insurance Explained
Learn about term and permanent life insurance.
Term life insurance
You can choose from 2 basic types of insurance. The 1st and most affordable, term life, carries with it no cash value. Term life is the more popular type of insurance, allowing for lower premiums and greater death benefits. Term life is the insurance of choice for those looking for just the death benefit, not an investment vehicle.
Advantages to term life include paying lower premiums for greater death benefits. Why? Because term life policies are enforced only for a predetermined period of time. Having no cash value to them, providers don't have to factor in equity withdrawals or loans. A term life policy is a straight-up gamble: the provider is betting that the policyholder will not need to cash in the policy. Ever. In return, the insurance company gets to keep all the premiums paid.
Disadvantages include:
No cash value
No loan access
Predetermined duration
Permanent life insurance
The 2nd type of insurance, permanent life, includes whole and universal life. Both these have a cash value and remain in place until the policyholder's time of death. Permanent life insurance is more expensive than term, but premiums paid accrue interest over time.
Disadvantages to permanent life include higher premiums and lower death benefits. Permanent life insurance policies are more popular as an investment vehicle with an added backstop. It's like having a savings account with a built-in death benefit to boot.
Advantages include:
Cash value
Entire life coverage
Tax-deferred gains
Both whole and universal life carry a cash value. What this means is that the premiums you pay go into a savings account. Over time, your policy gains in value and those gains are tax-deferred. There is no predetermined end. At the time of your demise, that's when the death benefit gets paid.
Choose the Right Cash Value Life Insurance
About 60% of people in the U.S. have life insurance, but this statistic can be somewhat misleading. Group life policies now make up the largest percentage of life insurance coverage. These employer policies can be a great supplement to a well-designed financial plan, but they can't provide the sturdy foundation you'll find with the right cash value life insurance policy.
Start your search with an easy online life insurance quote — but don't rush your decision. The cash value life insurance policy you buy today will protect your family and heirs for years to come.
Frequently Asked Questions
Is a cash value life insurance policy worth it?
If you're making good money and expect to be doing so for quite some time, a cash value insurance policy like whole or universal life might just be the right investment for you. If you've already maxed out your other investment vehicles and are looking for more tax-deferments, these may be sound investments for you.
Answer Link
Does term life carry a cash value?
Term life does not contain a cash value like whole or universal. Term life is the simpler of the 2 types of insurance policies. It's cheaper, too. If you're looking for basic protection with low premiums and a high death benefit, term life is the best choice for you. Term life is cheaper for just that reason: it has no cash value. If you outlive the term of the policy, the life insurance company keeps all the premiums.
Answer Link
Methodology
Benzinga crafted a specific methodology to rank life insurance. To see a comprehensive breakdown of our methodology, please visit our Life Insurance Methodology page.