Want to claim 6 FREE stocks? Head over to Webull to get started.
Carnival Corporation (NYSE and LSE: CCL) is the leader in the cruise line industry. The industry records annual revenues of $45.6 billion and services an estimated 26 million annual passengers.
8.66 – 9.6
8.7 – 27.53
9.49
1.18B
109.66M/41.21M
10.43B
1.18B
/0%
0.000
744.95M
Like entertainment stocks, cruise line stocks have a special dynamic and can present opportunities for the right investor. Carnival has been a leader in the industry since the mid-1970s and is the largest company of its kind in the world today.
Take a look at how to buy Carnival stock to start your investment in the cruise line industry.
Carnival History and Stock Performance
Carnival Corp. is the holding company for Carnival Cruise Line, Princess Cruises, Holland America Line and Cunard Line, among others. The company was originally named Carnival Cruise Line when it was founded in Miami, Florida in 1972. Its U.S. headquarters remain in Miami, and it's also based in London and Singapore.
Carnival Cruise Line's initial public offering (IPO) occurred for 20% of the company's stock in 1987 at $3.875, adjusted for 2 subsequent stock splits. Its IPO allowed the company to begin expanding through acquisitions that started with the Holland America Line in 1989, Seabourn in 1992, Italian Costa Cruises in 1997 and Cunard Line in 1998.
Carnival Corp. merged with P&O Cruises in 2003 to make it the world's 1st global cruise operator with 12 highly-visible brands. Today Carnival is world's largest leisure travel company. It has a fleet of more than 85 ships and visits more than 700 ports around the globe.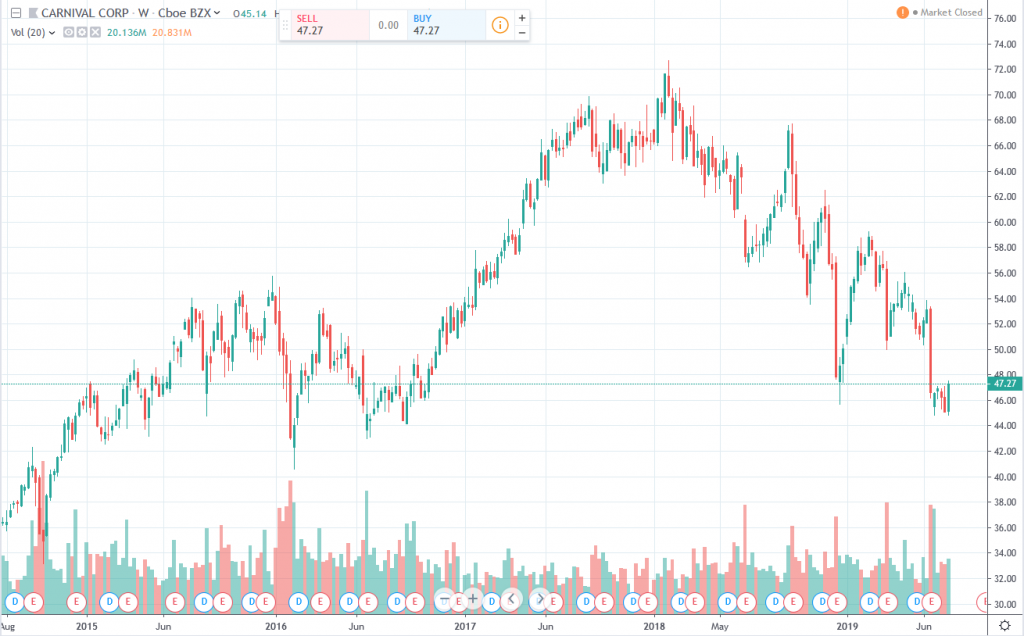 Future Outlook for Carnival
CCL stock has had a difficult year. It suffered losses due to the 2020 pandemic and may continue to see losses. Several 2020 cruises were cancelled.
But P&O Cruises did welcome the new ship Iona, and reservations are open for the new Carnival Celebration ship in 2022. Though a downward trend is expecting in the short term, when the pandemic passes, Carnival is optimistic for an uptick in travel.
Why You Might Want to Buy
Industry leader. Carnival rose to the top among world-class cruise ship operators with 10 highly-recognizable brands. The company leads the industry and will remain in that position for the foreseeable future.
Stock price. Stocks are at a low, so it could be time to buy. And its return on assets increased for the past 3 years.
High dividend yield. The CCL stock dividend yield of 14.26% makes the stock a decent candidate for long-term investors looking for a relatively high return on their stock holdings from an industry leader.
Low stock price. After Carnival's 2nd quarter earnings release, CCL stock had sold off sharply, prompting 2 of the company's top executives, including its CEO, to purchase stock for their personal accounts. This reaction could be a good indication of a short term low on the stock's price.
Considerations Before You Buy
Economic or stock market downturn. A global recession, economic downturn or market crash adversely affects all stocks, but fewer people cruise during economic downturns.
Lower 2019 full-year guidance. Some analysts have cited the company's guidance revisions lowering full-year earnings expectations for 2019 as a reason to avoid the stock. Further cuts to the firm's earnings and revenue outlook could put additional pressure on CCL's stock price.
Geopolitical and global health concerns. The past ban on cruise ships visiting Cuba and the pandemic are 2 instance of how global concerns can affect the cruise line industry. The outbreak of war, a natural disaster or a popular uprising in a popular island nation like the Bahamas could adversely impact the company's bookings and bottom line.
How You Can Buy Carnival Stock Now
You can buy Carnival Corp. stock now if you already have a funded stock brokerage account with a broker that has access to buy NYSE traded stocks.
If you don't have a brokerage account, then you should consider your options for opening an online account with a reputable stockbroker. Note that CCL stock is dually listed on the London Stock Exchange (LSE) and the New York Stock Exchange (NYSE).
Pick a Broker

Have a good idea of what your needs are before you decide which broker to use. While some brokers offer commission-free trading, others require a certain level of activity in your trading account or an inactivity fee is charged. 

You may want to choose a broker like Interactive Brokers if you have experience trading. Interactive Brokers offers a top-level trading platform and the ability to trade in multiple assets and markets.

On the other hand, a broker like E*TRADE or TD Ameritrade might be a better fit since they both have a user-friendly trading interface. E*TRADE also provides banking services to clientele. Keep in mind that how you buy Carnival stock is just as important as where you trade, so make sure you pick the right broker.

Check out a few of our top picks for the best online brokers for beginners below.

Open Demo Accounts to Assess Trading Platforms

Most online brokers provide virtual or demo accounts so you can check out platforms and services. This type of account lets you trade in real market conditions without risking any of your money.

You might want to open several of these accounts to see which one best fits your needs. Demo accounts can also be used to test a trading strategy.

Fund an Account

You're ready to deposit funds into an account once you've selected a broker and trading platform. Different brokers have different funding methods, so check with your broker to make sure you follow the right procedure for funding your account.

Start Buying CCL Stock

Once your trading account has officially been funded, you can place a bid on the amount of CCL stock you wish to buy. You might want to watch the stock trade for a session or two to evaluate the best price levels to place your bid. 

Technical analysis can help you determine an optimum entry point for your purchase. Once you've determined a good level to buy, you can place a bid at that price for the amount of stock you want. 
Best Online Stock Brokers
Is CCL Stock for You?
Cruise line stocks like Carnival Corp. tend to follow economic trends, so if you have a bullish outlook on the global economy, then you might want to invest in CCL stock. You could also invest in it for the dividend yield, but you would still risk capital depreciation from a stock price decline if an economic downturn rears its head.
No matter what, Carnival remains the leader in its industry, and its stock has recently sold off significantly. This could present an opportunity for a long-term investor or trader willing to pick up some stock on dips.
Starting to build your investment portfolio? Check out Benzinga's guides on the best online brokers, how to start investing in stocks, an how to create an investment strategy.