Cryptocurrencies have revolutionized the financial world and our concept of money. Qtum (QTUM) is at the forefront of the new cryptocurrencies and boasts a revolutionary model that combines the properties of 2 of the most successful cryptos: Bitcoin and Ethereum (ETH).
The Best Qtum Exchanges:
Best Overall: Kraken
Binance
Bitfinex
CoinSwitch
Overview: What's QTUM?
Qtum is an open-source blockchain value transfer application platform that focuses on mobile decentralized apps. Qtum is a cryptocurrency that combines the security of the Bitcoin blockchain with the increasingly popular functionality of Ethereum's smart contracts.
The Qtum platform enables multiple virtual machines (VMs) that include the Ethereum Virtual Machine (EVM) and Qtum's new x86 VM. Qtum uses the Unspent Transaction Output (UTXO) record-keeping model that is also used by Bitcoin.
In the UTXO model, your wallet tracks unspent transactions that are associated with all of your addresses. The balance of the wallet is subsequently determined by the amount of unspent transactions. The model is similar to having a stash of bills where your balance is determined by the amount of bills (UTXO) left after the transaction.
The other major cryptocurrency record-keeping model Ethereum uses is called the account/balance model. With the account/balance method, the balance of the account is kept as a global state with transactions conducted much like an ATM bank card transaction. Your account is adjusted with each transaction depending on the amount of the balance.
While using Bitcoin's UTXO-based core code, the Qtum host machine is running an Ethereum VM that uses the account/balance model. The models communicate with each other via an account abstraction layer (AAL) that keeps the transacting parties anonymous. Qtum combines the scalability of UTXO with the efficiency of Ethereum's smart contracts.
Qtum uses a proof of stake (POS) algorithm to generate new blocks. This method uses significantly less energy for mining than Bitcoin. The POS model effectively adds unspent coins from various transactions to the user's wallet and chooses the next creator node based on the amount of coins held in the wallet.
How QTUM is Traded
QTUM is the native token of the Qtum cryptocurrency network, which means that Qtum acts as a secondary asset for applications in the blockchain ecosystem, with the primary assets being Bitcoin and Ethereum. While native tokens have value, they're not considered a straightforward cryptocurrency like Bitcoin, Litecoin or Ethereum.
To begin trading, first register for an account with a cryptocurrency exchange that lets you buy the alt coin. Most exchanges require your basic personal data, such as your name, contact information and a copy of your photo identification before you can deposit funds and start trading.
Many cryptocurrency exchanges don't allow directly exchanging Qtum for a fiat currency like the U.S. dollar or the euro. This means that you'll have to trade Qtum against another cryptocurrency that is paired with it on the exchange, such as Bitcoin or Ethereum.
After you're registered, download a Qtum wallet compatible with your computer. You can download a Windows, Linux or iOS-based desktop wallet directly from Qtum. A Web Wallet and a mobile Core Wallet are also available. Make sure you get a wallet that lets you retain control of your private keys and provides security for your funds.
If you're unfamiliar with how to trade cryptocurrency markets, keep in mind that these markets are highly speculative and trading them involves taking considerable risk. You should develop a trading plan before funding an account and only trade with risk capital that you can afford to lose.
Our Top Picks for the Best Qtum Exchanges
To find the best cryptocurrency exchange for trading Qtum, you should consider your individual needs, the strictness of the exchange's security measures and its ease of use. The first consideration is whether you live in a jurisdiction where the exchange can legally operate.
Many exchanges refuse to allow U.S. residents to operate on them. Also, if you live in the U.S., crypto regulations can vary from state to state. Whether you're looking for the best platform or the best price, you'll need to find a Qtum exchange that works for you.
Below you'll find the best exchanges to trade Qtum if you're a U.S.-based crypto trader:
San Francisco-based Kraken gets the first spot on our list for its wide range of cryptocurrencies available and for the liquidity provided by the exchange. Kraken also has the widest range of funding choices in the market, and the exchange accepts U.S. dollars, euros, or Canadian dollars for funding your account. You can also use cryptocurrencies to fund your Kraken account, including Bitcoin, ETH, Ripple (XRP) and Litecoin (LTC).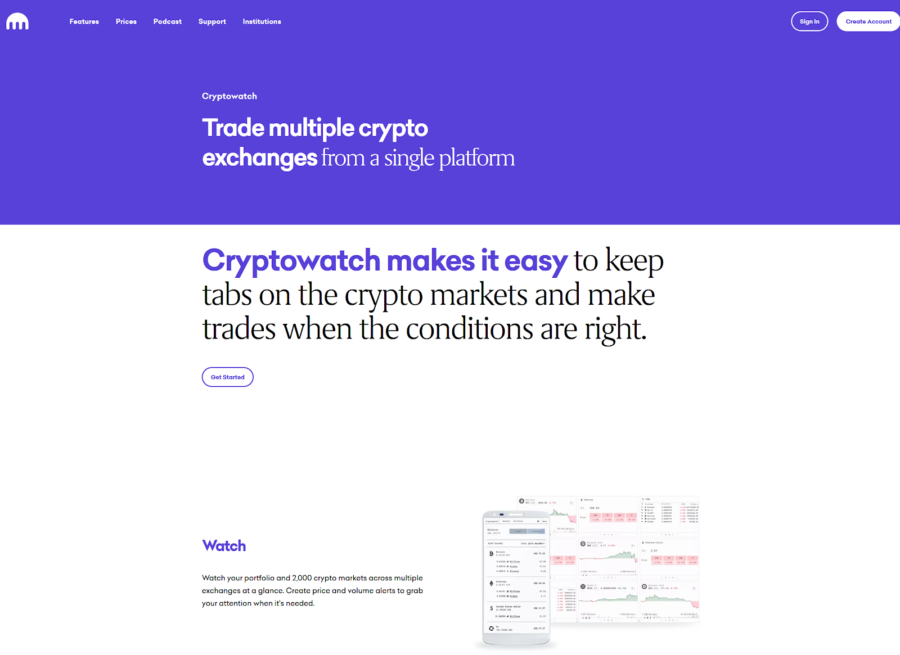 For security, Kraken keeps all deposits offline in an air-gapped, geographically-distributed cold storage facility. The exchange also keeps ample reserves so that withdrawals can be made immediately on demand. The platform's servers are protected in secure cages that are kept under armed guard around the clock.
Kraken uses the maker-taker fee schedule and offers volume incentives for traders who are active at least every 30 days. Maker fees are for those who want to place limit orders and start at 0.16%, while taker fees are for those who trade at the prevailing market and begin at 0.26% for total 30-day transactions under $50,000. Maker fees decline to 0% and taker fees to 0.1% for total 30-day volume of $10,000,000.
Malta-based Binance is one of the world's leading cryptocurrency exchanges. It sees a daily volume of $1.2 billion and processes over 1,400,000 transactions per second. Binance provides clients with an official Binance crypto wallet that is a secure and decentralized place to store your crypto coins in.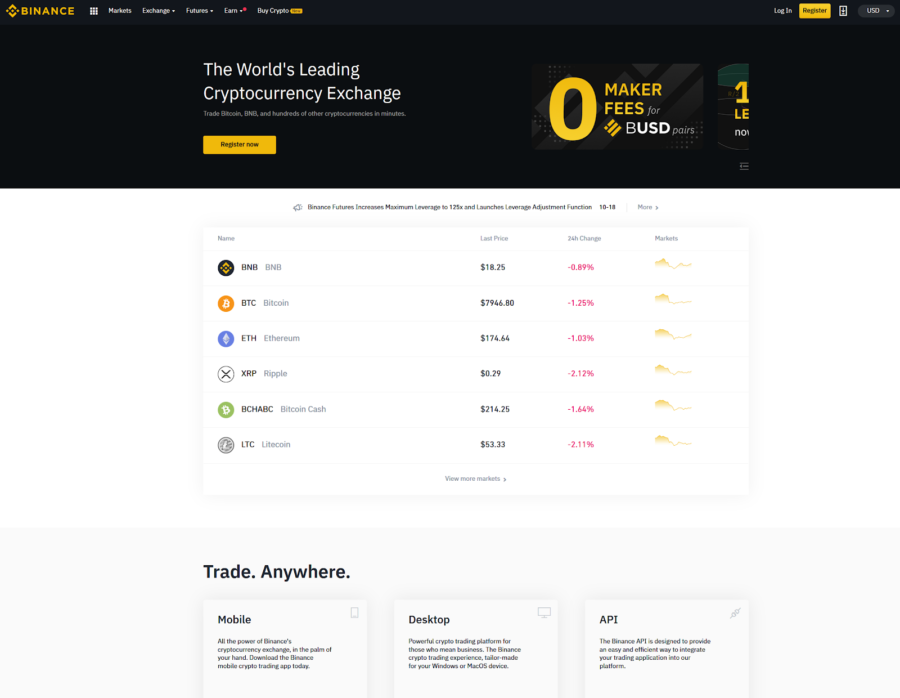 Binance offers its own native cryptocurrency token known as BNB. You can currently trade over 1,300 cryptocurrencies directly on its platform, including Qtum. The Binance trading platform can be downloaded to your desktop and a mobile option is also available for iOS and Android devices.
This exchange also makes our list for its Binance Academy that is an open-access learning hub providing educational resources about blockchains and cryptocurrencies. Binance also provides quality research and in-depth analysis of digital assets and the crypto market in general. In addition, you can access unbiased institutional level research reports for existing and upcoming cryptocurrencies.
As with other exchanges, trading fees at Binance depend on your average trading volume over a 30-day period. The general transaction fee is 0.1% of the notional amount, but you can receive a 25% discount if you hold BNB in your account so that transaction fees can be automatically subtracted from your BNB balance.
Bitfinex is located in the British Virgin Islands and was founded in 2012. The exchange allows margin trading and only accepts U.S. dollars as a fiat currency deposit. Bitfinex made our list for its impressive order book, which its website claims is the most liquid order book in the world. In addition to being able to trade Qtum, you can exchange BTC, ETH, LTC, XRP and many other digital assets with minimal slippage through Bitfinex.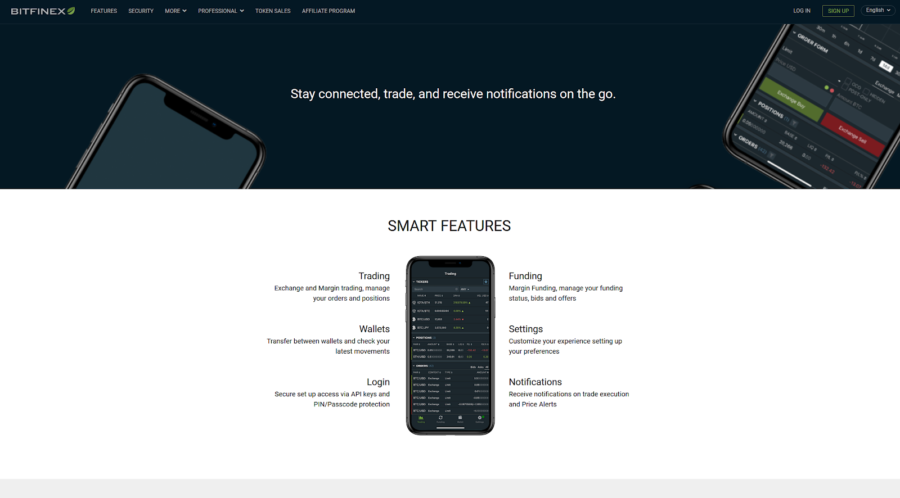 You can also trade on margin with Bitfinex, where you can access leverage of up to 3.3 times by getting funding from its peer-to-peer margin funding platform. The platform lets you place an order to borrow the amount you want at the rate and duration of your choice. If you don't use this option, then Bitfinex will fund your margin at the best available rate.
Bitfinex caters to trading professionals and institutions by providing corporate accounts tailored to the needs of such operators. Bitfinex's corporate accounts include sub-accounts, dedicated customer support and expedited verification.
Bitfinex platforms are some of the best in the business. The exchange's premium REST and Websocket API platforms are designed for easy access to the Bitfinex exchange and offer full integration of 3rd-party products and software. A mobile option is also available for smart devices.
Fees are based on the amount of orders executed over the last 30 days and start at 0.1% for maker orders and 0.2% for taker orders for transaction amounts under $500,000. Over $500,000, fees are 0.08% for maker and 0.2% for taker orders. The 0.2% taker fee begins to decline with a transaction value of $10 million, while maker fees drop to 0% at $7.5 million and above.
Based in India, CoinSwitch is an all-in-one cryptocurrency exchange aggregator platform that gives you access to trade cryptocurrencies on a wide range of exchanges. CoinSwitch made our list because it lets you trade over 400 cryptocurrencies and even allows you to buy them with a credit card.
The advantage of using CoinSwitch is that you can access multiple exchanges to get the best prices on your alt coins. CoinSwitch also allows you to accept over 400 cryptocurrencies as payments for your business.
In addition to trading on its platform, you can trade over 350 coins directly through CoinSwitch's application programming interfaces that consist of a dynamic and fixed-rate interfaces. You can also get integration software for a payment gateway.
CoinSwitch charges a fee of 0% to 0.49% of the transaction amount, depending on which exchange you choose for your transaction. The fee does not include network fees or the fees charged by the exchange where you transacted.
Voyager Digital Holdings Inc. is a Canadian cryptocurrency broker that lets you trade easily and commission-free among the various exchanges. While you can trade on Voyager's iOS app entirely free of trading commissions, Voyager does widen the dealing spread slightly to make its money.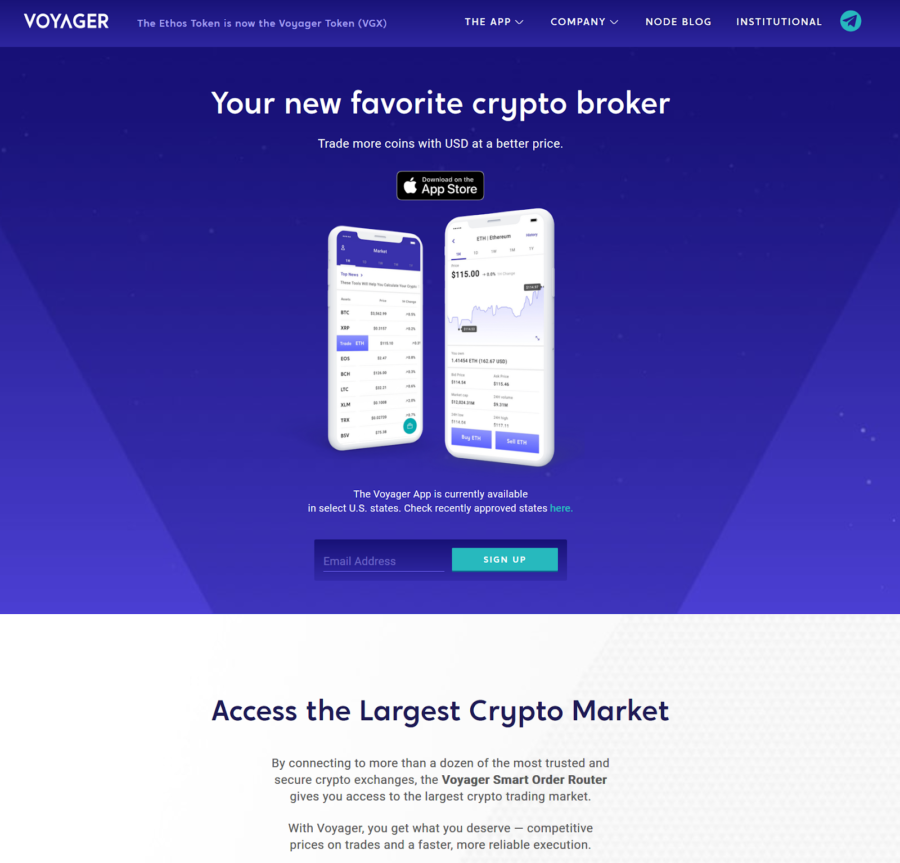 The broker currently supports trading in 20 of the most popular cryptocurrencies, and you can open and fund an account in just minutes. In addition to Qtum, other alt coins you can trade via Voyager include BTC, ETH, XRP, LTC, Bitcoin Cash (BCH), EOS, Stellar Lumens (XLM), Ethereum Classic (ETC), Ontology (ONT), Zcash (ZEC), Tronix (TRX), Cardano (ADA), Iota (IOT), NEO, VeChain (VET), ICON (ICX), Bitcoin SV (BSV), Dash (DASH) and Monero (XMR).
Voyager currently offers its services through an iOS app that can be downloaded from the Apple Store. The broker is currently working on an Android app that should be available at the end of 2019. The trading service is currently available to all U.S. residents, with the exception of residents of New York State pending approvals, and it is expected to be available to Canadians by the end of 2019.
In addition to its retail app, Voyager offers the same technology to institutions and technology businesses. The Voyager Execution Platform gives institutional clients access to competitive prices and faster, more reliable deal executions. You can also access Voyager's Liquidity Network that gives you unmatched access to the cryptocurrency market.
Next Steps
Now that you've researched the different exchanges to trade Qtum through, you can fund an account and begin trading. Keep in mind that the value of cryptocurrencies is often extremely volatile and can fluctuate wildly with no apparent cause.
If you plan on trading short term strategies, cryptocurrencies can be extremely profitable, although the losses can be just as extreme. Unless you're buying for the long term or a specific transaction, be careful not to leave trading positions open too long or unwatched.