Benzinga Money is a reader-supported publication. We may earn a commission when you click on links in this article.
Learn more.
If you want to capitalize on cryptocurrencies, you might want to acquaint yourself with an institution called cryptocurrency exchange, which facilitates trading in the currency.
The Best Cryptocurrency Exchanges:
What is a Cryptocurrency Exchange?
A platform which allows buying and selling of cryptocurrency in exchange for another cryptocurrency or a fiat currency, i.e. currencies such as the dollar, pound, euro, etc. which governments declare as legal tender, is called a cryptocurrency exchange.
Types of Cryptocurrency Exchanges
One way of classifying the exchange is based on the tradable currency. On this basis, an exchange can be a fiat exchange or a crypto-to-crypto exchange.
Fiat exchange: This allows the exchange of government-backed currencies with the cryptocurrencies.
Crypto-to-crypto exchange: In these exchanges, cryptocurrencies can be exchanged for each other. The widely traded crypto pair is Bitcoin vs. Ethereum.
Cryptocurrency exchanges are also classified as:
Traditional cryptocurrency exchanges: These operate like traditional exchanges, where buyers and sellers trade in cryptos based on the prevailing market price. Here, the role of the exchange is like that of a middleman facilitating the transaction.
Cryptocurrency brokers: Just like currency changes, these brokers facilitate buying and selling by customers at prices determined by them, which usually is the current market price, plus a small premium.
Direct trading platforms: These platforms facilitate peer-to-peer trading between buyers and sellers, without an exchange that acts as an intermediary.
Global Digital Asset Exchange, or GDAX, an arm of Coinbase, launched as a professional trading platform in 2015, is an example of a direct trading platform. GDAX is now switching over to the name Coinbase Pro, with Coinbase promoting the platform as one offering "professional trading tools and services, delivered through a completely re-engineered UI."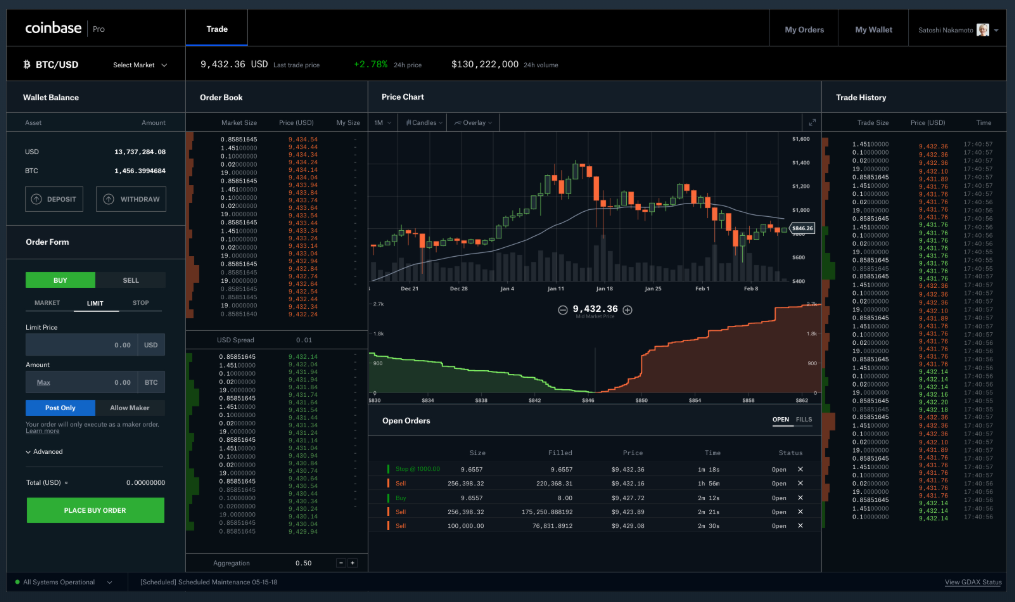 How Do You Get Started?
For a glimpse into how trading happens, look at how digital currencies are bought on Coinbase. Once you verify your identity on Coinbase, it allows you to buy Bitcoin using either the cash in your bank account or a credit card. Coinbase charges a transaction fee for this.
If you wish to trade using the Bitcoin you bought, it has to be moved to the GDAX trading platform. Bitcoin can be deposited and it will instantly show up in your balance.
Factors to Consider
Security. Legitimacy and security of a platform should be one of the primary considerations while choosing an exchange. Recently, South Korean exchange Bithumb was hacked, and the exchange lost the equivalent of $31.6 billion. Although the exchange swung into action by stalling all withdrawals and deposits and moved the existing cryptocurrencies with the exchange to a cold wallet where it can't be accessed, the hack triggered a near-term downward move in most cryptos.
Cryptocurrencies supported. A potential investor may do well to scout around for exchanges, which allows trading in all tokens.
Fees and commissions. If you're a high-volume trader, transaction charges may eat into your profits.
Mode of payment. The permissible payment mode varies with exchanges and includes varied options such as cash, credit cards, wire transfer, payment through PayPal, etc.
Geographic location. Choose an exchange in the country of residence, as legislation and policies governing an exchange vary among countries.
Ease of use. Simpler is better, especially when you're using a complex financial instrument.
Best Crypto Exchanges
Coinbase wins the battle hands down. Gaining access to the GDAX platform (now Coinbase Pro) is a unique advantage. Coinbase's user-friendly app is supposed to be a better bet for a novice investor.
The procedure for linking to bank accounts is fairly simple. Coins can be sent and received easily using QR code. Coinbase is also a relatively safe exchange and coin holdings of U.S. residents are insured by the FDIC up to a maximum of $250,000. Transaction fees are also relatively nominal.
Commissions
Depends on security and leverage
Account Minimum
$50 for US and Australia; $200 everywhere else
1. eToro
eToro's main strength is its simple and straightforward platform. Beginners will be able to sign up for an account in as little as 10 minutes, and the account verification process is intuitive.
Once you've opened your account, you have access to an easy order placement platform, straightforward commissions and pricing information, with a bustling social media network that can help you inform your trades.
2. iTrustCapital
iTrustCapital was founded with the mission of building the world's first and only low-cost platform for buying and selling cryptocurrencies within qualified retirement accounts.
Their platform allows you to exchange Bitcoin, Ethereum, XRP, Bitcoin Cash, Litecoin and EOS.
With cryptocurrency, you can buy and sell for just a 1% fee. There is a $1,000 minimum amount to start and a minimum trade amount of ~$30.
*US customers only
3. Coinmama
Coinmama is a fiat exchange that supports about 200 countries but is not available to all states in the U.S.
In fact, Coinbase is available to residents of only 38 states in the U.S. Crypto-to-crypto exchanges allow participation by residents from several countries across the globe.
Commissions
0.50% per sale
4. Coinbase
Coinbase charges a base rate of 4% for all transactions but waives a portion of the conversion fee depending on the payment method used. Meanwhile, its trading platform, the GDAX, charges a 0.10% to 0.30% taker fee, depending on the trading volume over the trailing 30-day period, as well as a 0% maker fee. A maker fee is one which applies to a market maker, one who places limit orders on the order books.
Since market makers help avoid wild swings, they are rewarded with a lower fee. However, taker fees become applicable when an order is placed that is immediately filled in entirety. Binance charges a 0.1% trading fee, and if the binance coin is used, the fee is cut by half.
Kraken's maker fees varies from 0-0.16% based on volume, while the taker fee ranges between 0.10 and 0.26%. CEX.io also has a similar fee structure. Bitfinex charges a small deposit fee for deposits less than $1,000 and for deposits above the limit; no deposit fee is charged.
Maker fee ranges from 0-0.10% and taker fee between 0.10% and 0.20%. Coinbase and its linked trading platform, the GDAX, score over the rest and Binance is the next best.
5. Uphold
Uphold makes it incredibly easy to buy cryptocurrencies, precious metals and equities. You can set up an account in seconds and be trading bitcoin, gold, and more than 100 assets in minutes.
Final Thoughts
Coinbase marries the concepts of simplicity with advanced optionality through Coinbase Pro, thereby appealing beginner and seasoned traders. This, along with the safety/security offered by the exchange, makes it tough to overlook.
That said, you should carefully look at the features and options offered by individual exchanges and choose the one that suits your investment philosophy.
Want to learn more? Check out Benzinga's guides to the best cryptocurrencies, best crypto wallets and how to trade cryptocurrency. Or, check out our guide on how to buy stellar lumens.
Benzinga's #1 Breakout Stock Every Month
Looking for stocks that are about to breakout for gains of 10%, 15%, even 20% potentially or more? The only problem is finding these stocks takes hours per day. Fortunately, Benzinga's Breakout Opportunity Newsletter that could potentially break out each and every month. You can today with this special offer:
Hire a Pro: Compare Financial Advisors In Your Area
Finding the right financial advisor that fits your needs doesn't have to be hard. SmartAsset's free tool matches you with fiduciary financial advisors in your area in 5 minutes. Each advisor has been vetted by SmartAsset and is legally bound to act in your best interests. If you're ready to be matched with local advisors that will help you achieve your financial goals, get started now.