Benzinga Money is a reader-supported publication. We may earn a commission when you click on links in this article.
Learn more.
Caring for your dog goes beyond regular walks, tug-of-war with rope toys and top-quality dog food. Your pup also needs to visit the vet on an annual basis — maybe more than once a year, depending on his health needs.
The annual cost of vet bills for a healthy dog is between $400-$500 on average for shots, teeth cleaning, blood work and more. Expect to pay more per year as your dog gets older. A surprise illness can put a dent in a pet owner's budget — that's what pet insurance is for.
Multiple companies now offer the best pet insurance for dogs. Don't miss out on a savings opportunity that will benefit your most loyal friend.
The Best Pet Insurance for Dogs
What is Pet Insurance?
Pet insurance helps cover expenses if your pet becomes ill or is injured and can offset high vet bills. It's similar to how health insurance works for humans.
You'll pay a monthly premium for pet insurance, and in some cases, you can pay for a full year of pet insurance in advance and receive a discount. You'll have to meet a deductible and possibly pay a copay when you take your dog to the vet. You pay the bill while there and then submit the bill for reimbursement.
There are three types of pet insurance plans:
Comprehensive: This type of plan covers accidents like a bite from another dog, but also illnesses such as cancer or diabetes.
Wellness coverage: Wellness coverage takes care of the costs of annual exams, vaccines, flea and heartworm prevention.
Accidents only: As the name implies, it only covers accidents, such as a broken leg or a swallowed bone.
Who Needs Pet Insurance for Dogs?
Any dog owner should consider purchasing pet insurance. It's easier to set aside money for the predictable costs of dog ownership, such as a yearly vet visit, but an unexpected illness could cost thousands of dollars. Pet insurance for your dog ensures that your pup will receive the care he needs and you don't have to worry about unpredictable medical costs.
What Does Pet Insurance Cover?
Pet insurance covers a variety of conditions and treatment options for your dog. Each policy provider has slightly different coverage options, so it's a matter of weighing what's most important to you. For example, Pet Plan pays vet exam fees, but Healthy Paws does not. The broader the coverage options, the more you'll pay in premiums.
Your pet insurance won't cover annual vet visits and blood work unless you select a plan with wellness coverage. Pet insurance will not cover preexisting conditions, either, and sometimes excludes hip dysplasia or other common ailments for your dog breed.
The purpose of pet insurance isn't to cover the normal costs of owning an animal. Responsible pet owners can plan and budget for those expenses. Its purpose is to help out when your pet falls unexpectedly ill or is injured in an accident so you can avoid expensive vet bills.
Pet insurance also has coverage limits, or caps, on how much the insurer will payout. Learn what each of these limits means and if they'll apply to your dog before you choose a policy.
Unlimited lifetime coverage: There's no cap or limit on coverage after you've met your deductible. For example, at no point will the insurance company stop paying to cover claims.
Annual maximum: Your pet insurance covers costs up to the annual maximum, which resets each year. Maximums can range from $2,500 to $25,000, which you select. Picking a higher maximum will lead to a higher premium.
Annual per incident: The annual per incident caps the cost per incident, such as an illness, condition or procedure. The insurance company will stop paying out anything once you've hit the limit.
Lifetime maximum: The lifetime maximum refers to the amount you pay either per condition or over your dog's lifetime, after which the insurance company will no longer pay for any care.
Pet Insurance Rates for Dogs
The amount you'll pay for pet insurance for your dog depends on the amount of coverage you select. For example, you'll lower your premiums if you're willing to pay a higher deductible. Your dog's breed and age also play a factor in overall cost.
Here's a list of the top 5 best dog insurance companies, their included coverage and sample prices.
Company
Price
Included Coverage
Pet Plan
$20/month and up
Accidents
Injuries and illnesses
Diagnostic treatments
Vet exam fees
Prescription medications
MRI, CAT scans and ultrasounds
Cancer treatments
Non-routine dental work
Surgery and rehabilitation
Holistic therapies
Referral and specialist treatments
Healthy Paws
$15/month and up
Illnesses and accidents
Hereditary, congenital and chronic conditions
Cancer
Diagnostic treatments including bloodwork
X-rays and ultrasounds
Surgery and hospitalizations
Prescriptions
Emergency care, specialty care and alternative treatments
Trupanion
$12/month and up
Illnesses and injuries
Hereditary and congenital conditions
Diagnostic tests
Surgeries
Hospital stays
Medications
Veterinary supplements
Prosthetic devices and carts
Embrace
$13/month and up
Accidents and illnesses
Dental illnesses up to $1,000/year
Hereditary and genetic conditions
Cancer
Chronic conditions
Exam fees
Alternative therapies
Behavioral therapy
Emergency vet care
Specialist care
Diagnostic testing
Hospitalization and surgery
Prosthetics and mobility devices
AKC Pet Insurance
$10/month and up
Accidents and injuries
Cancer
Allergies
Cherry eye
Laboratory tests
X-Rays, ultrasound, MRI and CAT scans
Surgery and hospitalizations
Prescribed medications
Chemotherapy and radiation
Extractions of permanent teeth
PetFirst
$15/month and up
Vet exam fees
Dental care
Medication
Accidents and illness
Hereditary, genetic and breed specific conditions
Chronic conditions
Diagnostic testing
ER visits
Surgeries
The Best Pet Insurance for Dogs
The best pet insurance combines affordable coverage with an easy reimbursement process and excellent customer service. The last thing you want to worry about is filling out paperwork or navigating an unclear process. Here are some of your best options for a pet insurance company for your pooch.
1. High-Quality Pet Insurance: Spot Pet Insurance
Spot Pet Insurance is the No. 1 pet insurance provider recommended by Cesar Millan, the leading expert in dog behavior. Some insurance highlights:
Up to 90% reimbursement on eligible vet bills
No age cap on coverage
Plans start as low as $1 a day* — that's less than a cup of coffee!
You can customize your coverage and can even add special Spot-On coverage. Coverage options include accidents, behavioral issues, dental disease, illnesses, preventive services and even hereditary and congenital conditions.
Spot's claims service is easy. Just visit your vet (don't forget to give your pet a treat on the way out!), send Spot the bill and get reimbursed.
Take 30 seconds to fetch your free quote now.
*Rates vary based on plan type, species, breed, age and location
Best For
Preventative Care
2. Best for Preventative Care: Pumpkin
You're ready for a proactive approach to protect your dog, so look no further than Pumpkin Pet Insurance to cover your tail-wagger.
Pumpkin allows customers to submit a claim online or it can provide a claims form if requested. After you've submitted your claim, Pumpkin will review the claim and determine whether it can be covered. Pumpkin's site notes that you'll receive reimbursement for 90% of the covered costs on your claim.
Reach out to Pumpkin for a sample quote for your pooch.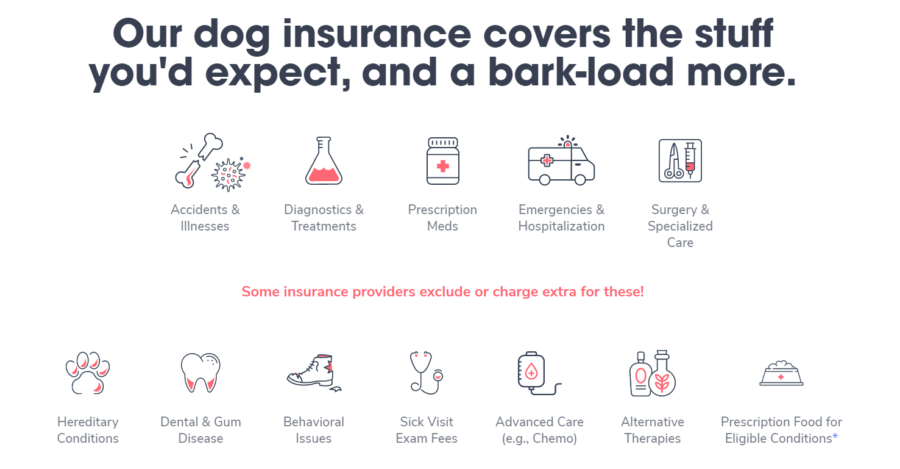 Source: Screenshot from Pumpkin's website
Starting Rate
$24- $115 per month
Best For
Chronic Conditions
3. Best for Chronic Conditions: PetFirst
PetFirst's comprehensive and inexpensive premiums and coverage for your dog makes this company our top pick. Its policies cover genetic and hereditary conditions, exam fees and chronic conditions.
PetFirst also has a diminishing deductible feature, which you'll love if you have a healthy pet. Your deductible goes down by $50 every year that you go without a claim. This is included with every policy and policies are sold in all 50 states.
Filing a claim is easy. Fax, email or directly upload it into a client portal. PetFisrt has been accredited with the Better Business Bureau since 2006 and has an A+ rating. Its customer service ratings receive 4 out of 5 stars on Consumer Affairs.
Starting Rate
$15 for cats, $30 for dogs per month
Best For
Training and Grooming
4. Best for Training and Grooming: Embrace
Consider a plan from Embrace Pet Insurance if you want to save a bundle on coverage. You can adjust the deductible, annual maximum and reimbursement percentage to reach a monthly premium that fits your budget.
Embrace Pet Insurance covers accidents, illnesses, exam fees and preventive veterinary care. Training and grooming may also be covered under your plan.
You could save even more on out-of-pocket costs as time goes on with Embrace's Diminishing Deductible feature. With each year that passes where you don't file a claim, your deductible will drop by $50.
Claims can be filed by email, fax or electronically. Most policyholders receive 90% back on their claims.
The Value of Pet Insurance
Pet insurance protects you from a worst-case scenario. Do your research so you choose a company with good customer service and easy claims reimbursement.
Consider this scenario: Let's say Fido breaks his leg. You could pay $2,700 to have the fracture repaired. If you'd purchased a pet insurance policy for $30/month that had a $150 deductible, your net savings would be over $2,100.
Talk to your vet about the health problems your animal might have later in life and the cost of treating them. Once you gather information on pet insurance policies and get a realistic idea of your dog's future health costs, the decision to buy a pet insurance policy could be quite simple.
Hire a Pro: Compare Financial Advisors In Your Area
Finding the right financial advisor that fits your needs doesn't have to be hard. SmartAsset's free tool matches you with fiduciary financial advisors in your area in 5 minutes. Each advisor has been vetted by SmartAsset and is legally bound to act in your best interests. If you're ready to be matched with local advisors that will help you achieve your financial goals, get started now.