Benzinga Money is a reader-supported publication. We may earn a commission when you click on links in this article.
Learn more.
You probably consider your cat to be part of your family, but as any pet owner knows, an injured or sick pet's vet costs can add up, especially if your cat needs surgery.
Pet insurance is a great way to zero in on savings for your wallet. Here's all the information you need to find out whether a pet insurance policy is a right fit for you and your feline.
The Best Insurance for Cats:
The Best Cat Insurance
The best pet insurance for your cat will depend on personal factors. Your cat's health, your financial situation and the kind of coverage you want play a large part. Each cat owner's needs are different, so there's no way to pick a one-size-fits-all insurance plan. Instead, you can decide what aspects of pet insurance are most important to you.
1. High-Quality Pet Insurance: Spot Pet Insurance
Spot Pet Insurance is the No. 1 pet insurance provider recommended by Cesar Millan, the leading expert in dog behavior. Some insurance highlights:
Up to 90% reimbursement on eligible vet bills
No age cap on coverage
Plans start as low as $1 a day* — that's less than a cup of coffee!
You can customize your coverage and can even add special Spot-On coverage. Coverage options include accidents, behavioral issues, dental disease, illnesses, preventive services and even hereditary and congenital conditions.
Spot's claims service is easy. Just visit your vet (don't forget to give your pet a treat on the way out!), send Spot the bill and get reimbursed.
Take 30 seconds to fetch your free quote now.
*Rates vary based on plan type, species, breed, age and location
Best For
Preventative Care
2. Best for Online Visits: Pumpkin
Your cat or kitten deserves the very best care possible, and Pumpkin Pet Insurance gives you that opportunity.
Pumpkin's site notes that after Pumpkin reviews your claim and determines whether your cat can be covered, you'll receive a robust 90% reimbursement for the covered costs on your claim. 
Pumpkin offers robust pet insurance plans for cats of all ages. If you're considering Pumpkin as your pet insurance provider, know the annual coverage limits and reimbursement limits in its policies. 
Reach out to Pumpkin for a sample quote.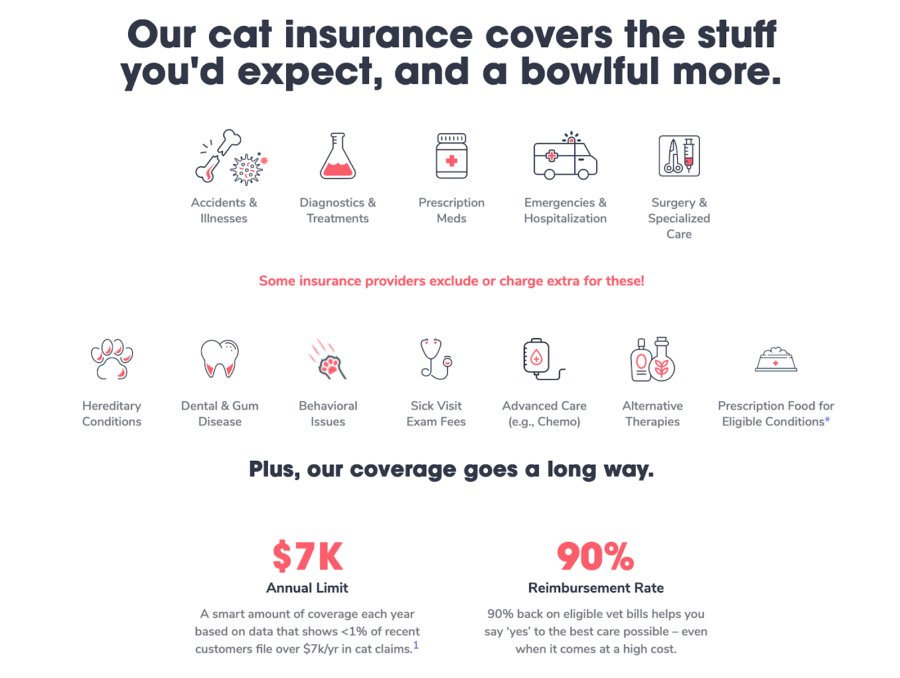 Source: Screenshot from Pumpkin's website
Best For
Routine Care Coverage
3. Most Affordable Pet Insurance For Cats: Pets Best
It's hard to find a more affordable option to protect your cat than Pet's Best – it offers accident-only cat insurance plans starting at $6 a month.
You can also choose from multiple coverage levels to help keep the cost of pet insurance down.
Pets Best makes it easy to customize your pet insurance plan to fit your budget.
Starting Rate
$24- $115 per month
Best For
Chronic Conditions
4. Best for Older Cats: Pet First
One concern for many cat owners is how to cover an aging pet. As your cat gets older, it's more likely to need vet care due to illness or accidents. Many cat insurance providers have an age limit, often around 14 years. After that age, your pet is no longer able to get insurance.
Pet First, however, doesn't have age limits to enroll a cat onto its insurance plan. Preexisting conditions aren't covered, but many issues related to aging are.
One coverage type to note includes holistic and alternative therapies such as acupuncture. You might find these alternative therapies helpful to your senior pets.
Starting Rate
$15 for cats, $30 for dogs per month
Best For
Training and Grooming
5. Best for Training and Grooming: Embrace
Consider a plan from Embrace Pet Insurance if you want to save a bundle on coverage. You can adjust the deductible, annual maximum and reimbursement percentage to reach a monthly premium that fits your budget.
Embrace Pet Insurance covers accidents, illnesses, exam fees and preventive veterinary care. Training and grooming may also be covered under your plan.
You could save even more on out-of-pocket costs as time goes on with Embrace's Diminishing Deductible feature. With each year that passes where you don't file a claim, your deductible will drop by $50.
Claims can be filed by email, fax or electronically. Most policyholders receive 90% back on their claims.
What is Pet Insurance?
Like your health insurance plan, pet insurance is an insurance policy that helps cover the costs of vet bills. Many pet insurance companies also allow you to add coverage for routine vet care. Regular check-ups, vaccines and heartworm testing are usually covered by these wellness add-ons.
Most pet policies include a waiting period before you can make a claim. This means you'll wait a certain number of days before you can use the insurance benefits. Pet insurance also won't cover your cat's preexisting conditions. Your insurance plan won't pay for the treatments if your cat has a diagnosed disease or injury.
Like human health insurance, pet insurance often requires a deductible for payouts. A deductible is the amount of money you're responsible for before the insurance company pays for a claim. Most policies also allow you to increase or decrease your deductible. A change to your plan's deductible also changes the cost of your plan.
For example, let's say your cat needs surgery that will cost $3,000 and your pet insurance deductible is $1,000. You'll need to pay the $1,000 out of pocket before your pet insurance policy benefits kick in. If your plan includes surgery costs, your insurance company should pay for the remaining $2,000.
Cat and dog insurance policies also differ from human health insurance plans. The biggest difference is the way you're paid for an insurance claim. Your health insurance provider pays medical bills on your behalf, after the deductible. Pet insurance policies, on the other hand, are reimbursement policies. You'll take your cat to the vet and pay for any treatments or procedures out of pocket. Your insurance provider reimburses you up to your coverage amount, minus the deductible.
Who Needs Pet Insurance for Cats?
Choosing whether to take out an insurance policy on your cat is a difficult decision. One aspect requires you to look at your financial situation. Many pet insurance plans have affordable options. However, you may have to give up extra coverage to meet your budget. You'll also need to decide what the peace of mind is worth to you. For some owners, knowing their pet is covered is more important than cost. For others, the potential of never needing to file a claim may make them less likely to buy a plan.
Certain breeds of cats are more prone to health issues. Many purebred cat breeds are prone to heart issues, for example. A cat insurance policy may help save you money down the road if your furry friend develops a severe health issue.
Breeds that are susceptible to illness and health issues include:
Cornish and Devon rex: Heart problems, kneecap dislocation and hereditary myopathy (a condition that causes weak muscles, specifically in the head and neck)
Abyssinian: Problems with eyesight, hearing and dental issues
Manx: Spinal issues, including spina bifida
Norwegian forest cat: Heart problems and hip dysplasia
Bengal: Heart disease, degenerative eye diseases and severe hip dysplasia and knee dislocation
Burmese: Kidney stones and urinary tract issues, glaucoma and hyperesthesia syndrome (causes increased sensitivity or pain when touched)
Ragdoll: Bladder stones and heart conditions
Siamese: More prone to certain types of cancer, heart conditions, respiratory issues, dental issues and eye problems
Himalayan: Kidney disease and respiratory issues that make breathing difficult
Maine coon: Heart problems, hip and elbow dysplasia and spinal muscle atrophy
Persian: Bladder stones and infections, heart issues, digestive issues and misaligned jaws that cause eating difficulties
Mixed breed cats can also have health issues. Cats, in general, are more likely than dogs or other pets to experience certain health issues. For example, cats of any age are often prone to urinary tract infections (UTIs). Pet insurance could be a good choice if you're concerned about your cat developing urinary issues as it ages.
What Does Pet Insurance Cover?
There are several types of insurance policies for cats. Each type covers different procedures, treatments and health conditions. Take a look at the different types of pet insurance available before you choose a policy best for your cat:
Accident-only plans: This type of plan covers injuries or health concerns caused by a specific accident. Some examples include ingesting a poisonous substance or being hit by a car. It doesn't cover diseases such as heart disease or lung disease.
Accident and illness plans: These plans provide similar coverages as an accident-only plan. They also include coverage for diseases or illnesses like digestive issues or allergies.
Insurance with embedded wellness: This is the most comprehensive type of plan. A comprehensive plan usually provides coverage for accidents and illnesses, as well as some routine vet care. Routine care might include vaccines, dental care or flea and tick control. It may also cover the cost of cremation or burial when your pet passes away.
Endorsements: Endorsements are add-on coverage for your pet policy. These add-ons vary by carrier, but some include cancer coverage or routine pet care. Endorsements allow you to customize your pet's plan with the coverage that matters most to you.
An overwhelming 98% of covered pets in the United States are under an accident and illness policy or an accident policy with wellness endorsement, according to the North American Pet Health Insurance Association (NAPHIA). Only 2% of covered pets have accident-only policies. The extra coverage for illness is an important part of pet insurance.
Pet Insurance Rates for Cats
Insurance rates for cats tend to be lower than those for dogs. NAPHIA reported in 2018 that the average cost of an accident and illness plan for a cat was $354.48 per year and the same coverage for a dog was $566.34.
Even though cat coverage is usually less than dog coverage, it's still a good idea to look into multiple providers. This gives you the best chance to find the price that works for you. Rates for pet insurance vary based on your pet's individual health and your provider.
See the chart below for some common pet insurance carriers and their costs per month. This data is based on a domestic shorthair cat at 6 months of age.
| Company | Price | Included Coverage |
| --- | --- | --- |
| ASPCA | $25.38 | Complete coverage, accident-only coverage |
| Nationwide | $56.88 | Whole pet with wellness, whole pet and major medical |
| Figo | $26.95 | Essential, preferred or ultimate plans |
| 24PetWatch | $37.91 | Accident and illness |
| PetPremium | $20.54 | Accident-only, total coverage |
| Pets Best | $45.12 | Accident and illness plans, accident-only plans and routine care additions |
| Pet First | $21.00 | Cost-conscious plan |
Get the Right Pet Insurance for Your Cat
Pet insurance covers a wide range of illnesses and injuries from accidents. You can even add wellness coverage to most plans to cover the costs of routine vet care for your cat. There are plenty of coverage options and providers available and you should be able to find an insurance option that fits your coverage needs and budget.
Hire a Pro: Compare Financial Advisors In Your Area
Finding the right financial advisor that fits your needs doesn't have to be hard. SmartAsset's free tool matches you with fiduciary financial advisors in your area in 5 minutes. Each advisor has been vetted by SmartAsset and is legally bound to act in your best interests. If you're ready to be matched with local advisors that will help you achieve your financial goals, get started now.