Benzinga Money is a reader-supported publication. We may earn a commission when you click on links in this article.
Learn more.
Want to jump straight to the answer? The best pet insurance provider for most people is definitely Spot or Pumpkin.
You probably don't think twice about buying health insurance for yourself and your family. What about your pets? Pet insurance can help cover any injuries or illnesses your furry (or scaly) pets encounter.
When you start looking for pet insurance, you'll notice that there are a lot of companies that offer it. Benzinga has done all the research for you so you know which companies have the best pet insurance. Here are our "picks of the litter."
The Best Pet Insurance in Connecticut:
Pet Insurance in Connecticut: An Overview
When your pet's suddenly not feeling his best or suddenly injured, pet insurance is a cost-effective way to provide care at a fraction of the price of paying for it all out of your own pocket. Here are some quick stats:
Number of households with pets: 50%
Amount spent on pet bills annually: $1,200
Average cost of pet insurance annually: $480
What Does Pet Insurance Typically Cover?
Every pet insurance policy is different but most tend to cover some general conditions and types of treatment:
Illnesses
Accidents
Ultrasounds
Surgery
Hospitalization
Prescriptions
Emergency care
Hereditary conditions
Chronic conditions
Congenital conditions
Diagnostic treatments
Cancer care
X-rays
Blood tests
Some things aren't covered:
Spaying and neutering
Dental health care (unless there's an injury to the teeth caused by an accident)
Elective procedures
Behavioral training
Preexisting conditions — this is any health condition that affected or affects your pet before insurance coverage starts
Routine care and wellness visits
Grooming and boarding, nail trims
Specialized prescription food or diets
Preventive care (vaccinations, flea control, deworming)
Therapy or medication for behavioral modification
Some policies will let you add riders to a policy, which are additional types of coverage not covered in the original. These riders may cost a little more but can include things like coverage for routine vet visits or coverage for preventive care like shots and flea medicine.
3 Reasons to Buy Pet Insurance in CT
Your puppy has swallowed something he shouldn't have or your cat has some digestive issues. Here's what pet insurance can offer:
Peace of mind. It's not a matter of if something happens, but when. Pets get sick, just like people, and it's good to know that you have financial help available to cover it.
You won't need to put your pet down because he or she is too expensive to treat. Pet insurance can help cover the cost of these surgeries and treatments without leaving you with a hefty financial burden.
There are lots of affordable companies to choose from. Pet insurance doesn't have to break the bank.
The Best Pet Insurance in Connecticut
What makes a pet insurance policy the best? Many companies say that they offer the best pet insurance in Connecticut — but we put them to the test to determine which ones truly live up to the claim. You want to know which company really steps up to the plate and offers the coverage you can count on, whether you're a fan of dogs or cats. Here's what our reviewers found.
Pros
Multiple pet discount
Covers prescription food and supplements
No upper age limit for coverage enrollment
30-day money-back guarantee*
More reimbursement options: 70%, 80% and 90%
Cons
Doesn't cover exotic pets
1. High-Quality Pet Insurance: Spot Pet Insurance
Spot Pet Insurance is the No. 1 pet insurance provider recommended by Cesar Millan, the leading expert in dog behavior. Some insurance highlights:
Up to 90% reimbursement on eligible vet bills
No age cap on coverage
Plans start as low as $1 a day* — that's less than a cup of coffee!
You can customize your coverage and can even add special Spot-On coverage. Coverage options include accidents, behavioral issues, dental disease, illnesses, preventive services and even hereditary and congenital conditions.
Spot's claims service is easy. Just visit your vet (don't forget to give your pet a treat on the way out!), send Spot the bill and get reimbursed.
Take 30 seconds to fetch your free quote now.
*Rates vary based on plan type, species, breed, age and location

Best For
Extensive Coverage
Pros
No upper age limit
Multiple pet discount
An extensive list of covered procedures
Cons
Plans only cover cats and dogs — no other pet types
2. Best for Extensive Coverage: Pumpkin Pet Insurance
Pumpkin Pet Insurance offers comprehensive coverage for dogs and cats. You can opt for preventive coverage, but all Pumpkin policy cover a wide range of services and situations and a 90% reimbursement rate.
You can get a free, personalized quote anytime to learn more about specific policy details and exclusions.
More questions? Pumpkin's customer service team can be reached by:
Calling 1-866-ARF-MEOW, Monday to Friday from 8 a.m. to 8 p.m. EST
Emailing help@pumpkin.care
Watch out for Pumpkin's chat feature — coming soon!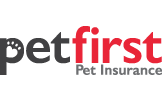 Starting Rate
$24- $115 per month
Best For
Chronic Conditions
3. Best for Fast Claims Processing: PetFirst
PetFirst's pet insurance coverage is easy to understand because it works like traditional health insurance coverage. For example, you have an annual benefit, the maximum amount that the company will pay in a year, as well as a deductible, that you must meet. The deductible is the amount that you must pay out of pocket before the insurance policy pays out. This makes it easier to understand the benefits and costs for pet insurance from PetFirst.

Where the company truly excels is its fast claims. Coverage is available for dogs and cats of any age and you can also add on routine care coverage for those occasional vet visits and exams. Once you submit your claim, it's processed quickly and efficiently. PetFirst covers some illnesses and conditions that other pet insurance companies don't, including heart disease, kidney failure, arthritis and diabetes.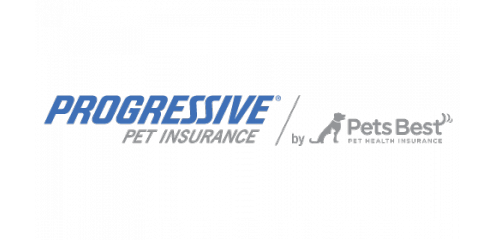 Starting Rate
$16 for cats, $30 for dogs/month
Pros
Customizable coverage options with the choice to add wellness coverage
Quick email quotes make comparisons simple
Affordable accident-only policies available
Cons
Only available for cats and dogs
Boarding costs not included in any plan
4. Best for Customizable Plans: Progressive
Progressive is known for its auto insurance policies, but many people are surprised to learn that it offers pet insurance, too! Just like with your auto insurance, you can customize a policy that meets your needs and budget.
For example, you may want a plan that only covers treatment as a result of accidents and you can have it. You may want coverage for routine examinations and treatments and you can customize that as well. You'll have the freedom to tailor an insurance policy to your pet's needs and still keep your budget in mind.
Progressive lets you choose your deductible (ranging from $50 – $100), your reimbursement amount (ranging from 70% – 90%) and your annual limit (from $5,000 to unlimited). In addition, you'll pay just 1 annual deductible rather than having to pay a deductible every time your pet needs treatment or surgery. That makes the entire process much more convenient.
Progressive processes most claims within 2 – 5 days, which is a little longer than other insurers. But you have greater payment flexibility and can choose to pay your premium every month, every quarter or every year.
Get the Care Your Pet Needs in the Constitution State
No matter where you live in the Constitution State, you want to be sure that your pet has, well, a healthy constitution! That means getting the right pet insurance coverage to protect against accidents, surgeries or illnesses. Just like you can't imagine a day without your furry friend by your side, the best pet insurance coverage helps ensure that your best pal gets the very best care at a price that's right.
Just enter your ZIP code to get instant quotes from the pet insurance providers we've featured. You may be surprised to learn how little it costs to cover your pet!
First-Class for Your Pet?
SPOT Pet Insurance knows that your pets are part of your family. SPOT offers the highest quality pet-centric coverage and first-class service for pet insurance. 
SPOT works hard to earn your trust with a clear explanation of benefits and responsive associates ready to answer your questions. SPOT even sends "get well" notes for your pets and provides access to telehealth resources.