Since appearing after the 2008 financial crisis, digital financial advisors have gained enormous popularity. Created in 2008 by Jon Stein, Betterment became one of the first of these so-called robo-advisors. Acorns was founded by Jeff and Walter Cruttenden in August of 2014. Both companies provide wealth management services, but thebest way to invest still depends largely on your individual situation and risk tolerance.
Acorns vs. Betterment: Overview
Who is Acorns For?
Acorns works best for people who want to save and invest money without any effort. Beginners, college students, micro-investors, and passive investors generally find the ease of use and automatic deposits at Acorns ideal. In addition, college students get four years of service without fees upon proof of their student status.Read Benzinga's full Acorns Review
Who is Betterment For?
Betterment clients tend to be more experienced investors who choose to take an active part in managing their money to some degree. Betterment provides a higher level of service and caters to people who like to diversify their investments, as well as plan for and invest for retirement.Read Benzinga's full Betterment Review
Acorns vs. Betterment: Platform and Tools
Acorns and Betterment's platforms are pretty different - here's why.
What Acorn Offers
Acorns' investment app can be found on the Apple App Store and on Google Play for Android. The mobile app has an intuitive and easy-to-use interface. Acorns ups its brand awareness with the phrase, "Invest your spare change" that describes the service it provides quite accurately. 
Round Ups
Acorns' app allows you to link an unlimited amount of debit and credit cards. The app then performs "round ups", where each transaction is rounded up to an even dollar amount. For example, if you made a purchase of $3.39 on one of your linked credit or debit cards, the app automatically rounds up the purchase to an even $4.
The merchant receives the $3.39 debit, and the remaining $0.61 goes into a savings account. Once the accumulated rounded-up amounts reach at least $5, the sum then gets deposited into an Acorns investment account, where it gets directed through the Acorns robo-advisor to one or more ETFs.
Recurring Withdrawals
Another way to invest in Acorns consists of setting up a recurring withdrawal program from a linked checking account. Acorns' program requires a minimum of $5 per recurring withdrawal and allows users to make lump sum deposits at any time.
Partnerships with Merchants
In addition to managing micro investments, Acorns has partnered with many large and medium-size companies to automatically invest in your Acorns Core account through its "Found Money" program.
After making a purchase at a participating merchant, Found Money appears in your account within 60-120 days after the purchase.Merchants enrolled in this program generally include a percentage of the purchase or a specific dollar value on a minimum purchase. An Acorns extension can be found for Chrome, which can monitor Found Money notifications in real time.
What Betterment Offers
Comparing Betterment vs. Acorns' platform and research tools show that Betterment's offerings typically have a higher level of complexity and tend to cater to people with more investment experience.  
Betterment, which has both a web and mobile app, has become the leader in the industry, with approximately 300,000 customers and $11 billion under management.
Account Linking and Access
The Betterment app can be downloaded from either the Apple App Store or Google Play for the Android version, or you can open an account and use the web-based platform instead.
While Acorns lets you link credit and debit cards, the Betterment App only allows electronic transfers to and from your Betterment account, with only one, linked checking account allowed.
Accounts Offered
Nevertheless, the Betterment app does allow for syncing your other investment accounts like individual retirement accounts (IRAs), as well as taxable accounts, loans, mortgages and 401(k)s. This gives you a central location to view and evaluate all of your investments and loans so you can keep track of your net worth.
It also gives Betterment an overview to use when advising you on your investments and liabilities.
In addition to reviewing your goals and account activity, the Betterment app lets you check the balance of your portfolio in real time, make deposits and withdrawals anytime and anywhere, and manage the allocation of stocks and bonds in your portfolio. 
Bottom Line
The two companies' business models fit two different types of investors. Both apps adequately fulfill their role in what each company offers their clients. Therefore, depending on your investment or savings goals, either app would work well if you choose the one most suitable for your needs.
Acorns vs. Betterment: Research Offerings
Most brokers offer research or education to their investors at varying degrees. Here's how Acorns and Betterment compare.
What Acorns Offers
When it comes to research, Acorns'digital magazine Grow features a wealth of tips for savers and investors. The online magazine includes news, a Money 101 section, as well as "how-to" menus and interviews with people who have used the platform successfully.
What Betterment Offers
Betterment's research resources give investors guidelines on investing methodologyand technical specifications.
Other selections on the research resource page include topics such as cash analysis methodology, assessing a portfolio's diversification, and goal projection and advice methodology, to name only a few. Betterment also produces white papers and financial planning guides.
Bottom Line
Experience level determines which company's research would be more useful. Both companies give interesting information, the value of which depends on the goals and intentions of the investor.
Acorns vs. Betterment: Commission and Fees
Because Acorns and Betterment are made for two different investors and offer very different products, their commissions and fee structures differ as well.
Acorns' Commissions and Fees
Acorns' accounts require no minimum balance; however, for round ups or one-time investments, deposits must add up to at least $5.
Generally, Acorns charges clients $1 per month on balances below $5,000, while accounts over $5,000 pay $0.25 per year. College students with a verified .edu address qualify to receive services free of charge for four years.
Betterment's Commissions and Fees
Betterment has two plans for management fees:
Betterment Digital

: This plan has no minimum account balance and charges an annual fee of 0.25% of the account size or 0.15% for accounts with a balance of over $2 million. Betterment Digital includes the company's legacy digital advice and tools, plus access to financial advisors via in-app messaging answered within 24 hours.

Betterment Premium

: This plan requires a minimum $100,000 balance, has an annual fee of 0.40% of the account size and gives clients unlimited phone access to financial advisors. For an account with a balance over $2 million, Betterment Premium costs 0.30% of the balance. If you funded an account before September 18, 2018, you will continue to get free management services on a balance above $2 million.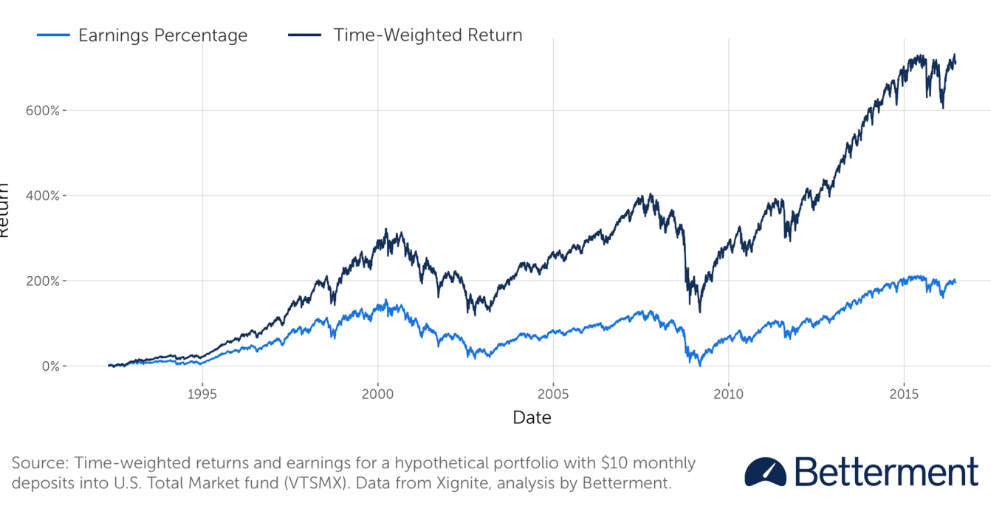 In addition to the above-mentioned investment plans, Betterment offers five financial planning packages that start at $149 and go up to $399. Other optional features of a Betterment account include SmartDeposit, SmartSaver, and RetireGuide.
Bottom Line
The extreme affordability of Acorns' commissions and fees reflect the narrow range of options available to investors and savers. Betterment, while perhaps more expensive, offers a considerably wider range of investments and services more suited for seasoned investors.
Acorns vs. Betterment: Security
Both Betterment and Acorns offer top-of-the-line security. Let's see how they compare.
What Acorn Offers
Acorns' app consists of an investment platform that makes funds deposited ineligible for insurance by the FDIC. Nevertheless, Acorns has coverage from the Securities Investor Protection Corporation, or SIPC, which ensures clients for up to $500,000 in the event that the company becomes insolvent.
Other security features at Acorns include SSL 256-bit encryption, secure servers and privacy verified by physical security. The company also offers account alerts and safeguards and uses multiple security measures such as automatic logouts, ID verification and constantly monitored client accounts.
What Betterment Offers
Betterment's app also does not qualify for insurance coverage from the FDIC, but as a member of the SIPC, Betterment insures client accounts for up to $500,000 in the event that the company becomes insolvent.
Betterment's security features the strongest browser encryption available, secure servers, systematic procedures that monitor logging, auditing, backups, and data safety. The company also runs frequent internal and external audits of software and systems to avoid hacking.Other security measures include two-factor authentication or 2FA.
This security measure asks you for a unique verification code from either a mobile authenticator each time you log in. This can involve Google Authenticator, Authy, or a text message sent to you by Betterment.
Bottom Line
In the realm of security, Betterment maintains an edge over Acorns. The two-factor authentication feature and the company's frequent internal and external audits make Betterment more secure than Acorns.
Acorns vs. Betterment: Customer Support
24/7 live phone support is the gold standard when it comes to brokerages. Both Acorns and Betterment don't quite live up to this but do offer other supports.
What Acorns Offers
Acorns' customer support consists of email and phone support from Monday through Friday, 9 a.m. until 8 p.m. EST. In addition, the company can be reached by a single support/contact web page where you enter your information (name, email, address etc.) and then wait for a response.
A disclaimer at the top of the page states, "Due to high demand, our response time is currently 1-2 days."
What Betterment Offers
Betterment offers an online form with a text box where you can type in questions. In addition, the support team can be reached through telephone or live chat Monday through Thursday from 9 a.m. until 8 p.m. EST and from 9 a.m. until 6 p.m. EST on Friday.
On Saturday and Sunday, you can only access support via the live chat option, available from 11 a.m. until 6 p.m. EST. Customer support can also be reached via email at support@betterment.com.
Bottom Line
Betterment's customer support offers its clients live chat assistance on the weekend versus Acorns' phone support that can only be accessed Monday through Friday.
Acorns vs. Betterment: Tradable Asset Classes
What Acorns Offers
Acorns' asset classes consist of ETFs on small companies, large companies, real estate, government bonds, emerging markets, and corporate bonds. Acorns purchases fractional ETF shares for your account after rounding up spare change.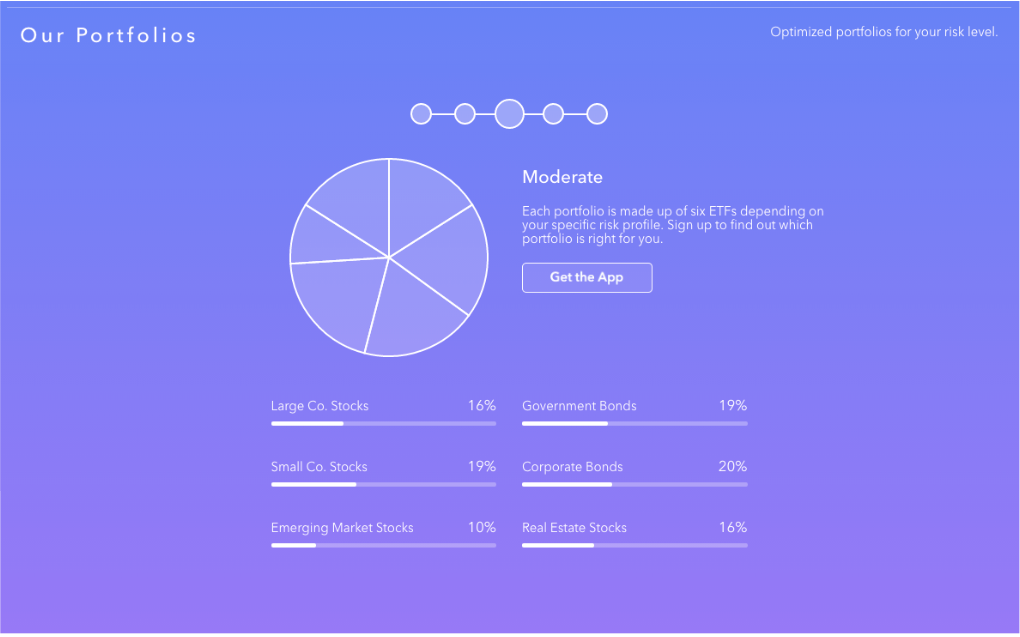 In addition to the above portfolio, Acorns offers a high- and low-risk portfolio option.The ETFs used by Acorns with their respective ticker symbols include: Vanguard S&P 500 ETF (VOO),Vanguard Small-Cap ETF (VB), Vanguard FTSE Emerging Markets ETF (VWO), Vanguard REIT ETF (VNQ), PIMCO Investment Grade Corporate Bond ETF (CORP) and iShares 1-3 Year Treasury Bond ETF (SHY).
What Betterment Offers    
You can find the ETFs used by Betterment below, plus the index and the expense ratio for their investment fund.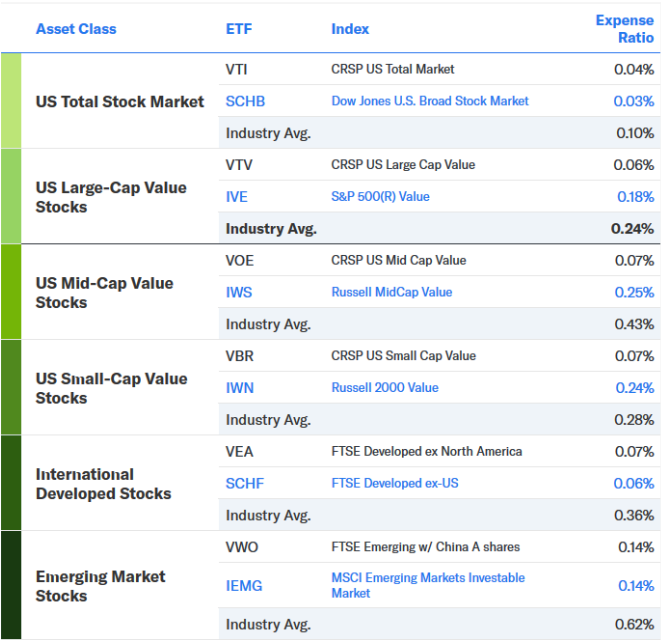 Bottom Line
Acorns provides a limited service compared to Betterment, with fewer options and ETFs. Betterment gives its clients a wider range of investment options and clearly fills the needs of more experienced investors.
Acorns vs. Betterment: Ease of Use
Ease of use and an intuitive interface make up common characteristics of both Acorns and Betterment. Nevertheless, Acorns seems more geared towards "set it and forget it" investors. Betterment also has a wider range of investment and customizing options for more advanced investors.   
Acorns vs. Betterment: Final Thoughts
Depending on the needs and financial education of the user, Acorns offers an extremely useful service to people just starting out as investors, as well as to those who have issues with saving money.
In addition, Acorns provides students with ways to begin saving money at an early age, which seems a wise decision for any young person entering the workforce.Nevertheless, the limited options for investment and growth in an Acorns account have much more relevance if you do not want to actively manage your finances.
"Set it and forget it" makes a lot of sense for the average Acorns client, especially college students.In contrast, Betterment has basically pioneered the industry to become the benchmark for robo-advisors.
The firm's customer support options and low costs make it the number one choice in one of the newest investment arenas currently offered to the public.    
Brokerage

Best For

Commissions

Account Minimums

Account Minimums

 

Beginners

Micro investors

college students

Passive investors

$1.00 per month or $0.25 per year

$0

Open an Acorns Account

 

Intermediate investors

Experienced investors

College students

Retired investors

0.25% - 0.40%

$0 

Open a Betterment Account
If you're still not sure if Acorns or Betterment is right for you, check out our other comparisons: