Best Ways to Invest
A bottle of water left open will eventually be empty. Just as water evaporates, money also devalues when it's stuffed under your mattress. Put your money to work at an interest rate that matches the inflation rate, and you won't lose buying power over time.
Benzinga Money is a reader-supported publication. We may earn a commission when you click on links in this article.
Learn more.
Jump straight to Webull! Get real-time market data, analysis tools and $0 commissions.
A dollar stuck at the back of a drawer will be worth three pennies less in a year's time. In ten years, that dollar will be worth $0.74, but if that dollar were invested and earned a 3% return, it would maintain its buying power. If you want to stay even with inflation, you must invest.
We've carefully pieced together some of the best ways to put your money to work. Add a dash of patience and passion, and you'll reap the rewards.
Method 1: You Can Loan It Out Using Bonds
Want a safe investment with predictable returns? Then bonds may be for you. Treasury inflation-protected securities (TIPS) are U.S. Treasuries designed to maintain buying power. The principal value of TIPS increases with inflation and decreases with deflation as measured by the Consumer Price Index (CPI).
Ten-year TIPS now offer a yield of 0.910%, which is applied to the adjusted principal so that interest payments adjust with inflation. If your only concern is not losing, you could accomplish that simply by buying TIPS.
If you need a higher interest rate without regard for inflation, the benchmark Ten-Year Treasury Bond pays 3.19%, near its highest in seven years. But if inflation and interest rates continue to rise, you would see a drop in account statement value.
A bond purchased from the U.S. Treasury department is a $1,000 loan to the U.S. Government with a guaranteed return of principal invested and semiannual interest payments. A higher return is available to lend to corporations. For example, the Walmart (WMT) bond that matures April 5, 2027 is priced to yield 3.82% and is rated Aa2 by Moody's.
The B3 rated Tesla (TSLA) bonds, due August 15, 2025 with a 5.3% fixed coupon rate, are selling at $892.80 per $1,000 bond and net 7.37% to maturity. To capture the expected return, all you have to do is sit back and allow Tesla to stay in business.
Method 2: Own Part of a Company
Not in the traditional sense. Look to appreciating assets for less certain returns on investment but much better performance.
Gold supply is limited by mining capacity, so its price rises over time with its increased rarity. It rises in value with inflation and appreciates more in times of geopolitical discord and military conflict. However, gold has no earnings and pays no dividends or interest.
Real estate is limited to the supply available on this increasingly populated planet. It must go up in value, but which real estate and where? Also, once a real estate investment has been made, that money is tied up in that property and cannot be used for other purposes without borrowing against it. Real estate does not come in small chunks.
Shares of common stocks

of corporations rise with earnings increases and at an average rate more rapid than any other investible asset. Shares of common stocks allow an individual investor to own a part of the income stream that a company produces as well as participate in any dividend declarations. Common stocks:
Are liquid and trades settle quickly.

Can be used as collateral for borrowing on margin.

Qualify as assets when applying for a real estate or business loan.

Allow an individual investor access to ownership of multinational corporations.
The total return for the Standard and Poor's 500 Index has been 14% over the last ten years and over 11% for the last 40 years. The numbers have been worse for segments of time within those periods, but bonds cannot compare with stocks for long-term return when measured on a pure percentage basis without factoring risk.
Method 3: Let Your Interests Guide You
A coffee-lover who bought Starbucks stock in 1992 because the coffee was good did well. A cinema buff who bought MoviePass, didn't fare well at all.
The risk of entering the market at exactly the wrong time can be mitigated by dollar-cost averaging. Regularly buy the same dollar amount of an equity investment can mitigate timing risk. A fixed monthly investment buys more shares when the stock is cheap and fewer shares when it is expensive, which lowers the average cost of all shares.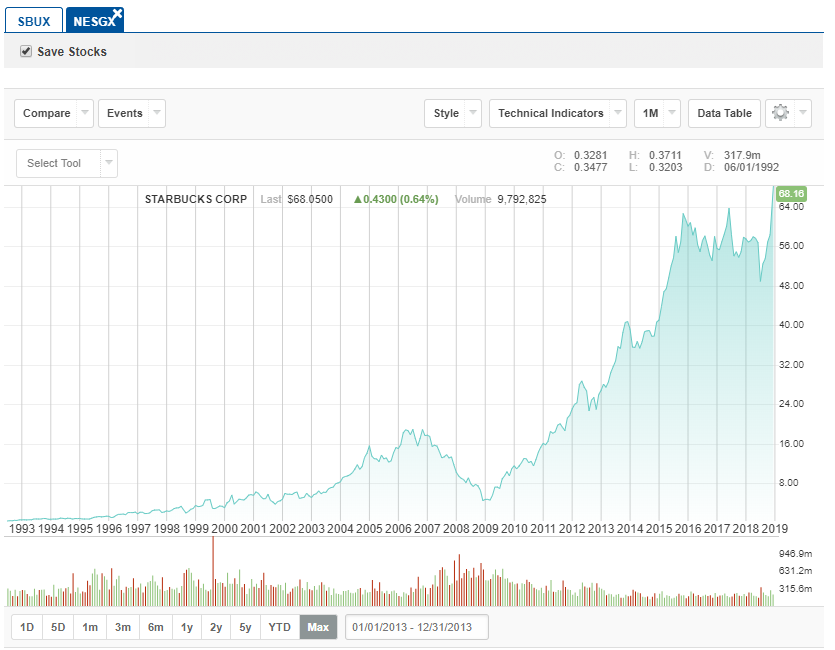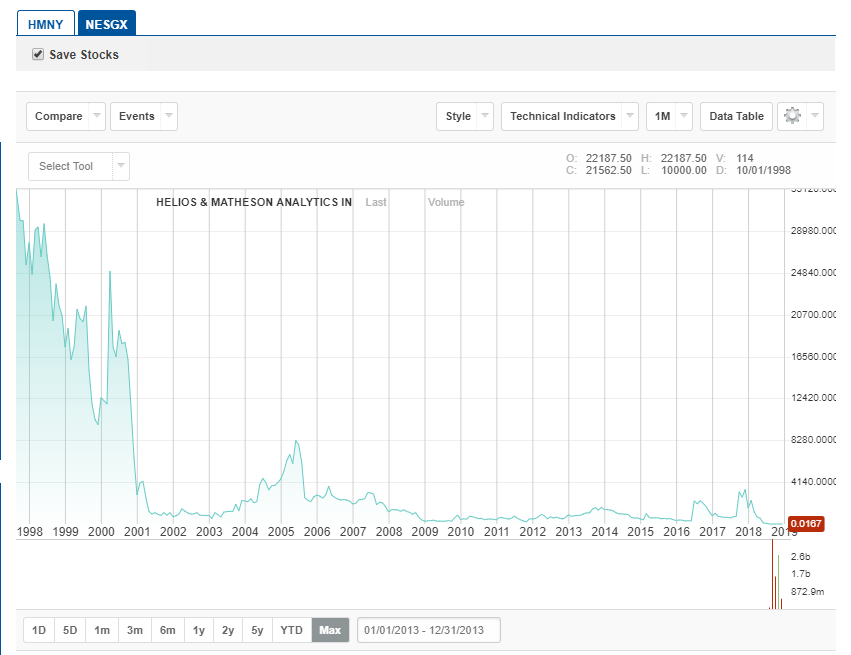 Starbucks performance over time
Source: NASDAQ.com
MoviePass performance over time
Source: NASDAQ.com
If you're interested in purchasing stocks in companies that you personally believe in, whether it is their core values, mission, product, or just think they'll be profitable, you can do so with a self-directed trading account from a brokerage. Here are a few of Benzinga's top picks from our 2019 Best Online Stock Trading Brokerages.

Best For
Socially Responsible Investing
1 Minute Review
Ally Invest is a comprehensive broker offering easy access to domestic markets. Combining a wide range of charting tools with an easy-to-master platform, Ally is a solid choice for both new and experienced investors. Ally's mobile app is particularly impressive for investors who already bank with Ally, offering seamless compatibility between accounts. While more experienced investors might be disappointed with Ally's beginner-oriented educational center, they're bound to love Ally's wide range of technical tools and rock-bottom pricing.
Best For
Investors who already bank with Ally and want to streamline between accounts
Beginners looking for easy-to-follow educational tools
Stock investors looking for affordable access to low-priced options and commission-free stock trading
Pros
Streamlined interface that's easy to use and quick to master — even for beginners
Wide range of unique tools that makes analyzing securities simple
Seamless integration between mobile and desktop offerings, especially for Ally Bank account holders
Diversified managed investment portfolios with a low minimum and no advisory fees
Impressive ETF screening tools that make it easy to find your next fund
Cons
No fee-free mutual funds
No access to futures trading

1 Minute Review
E*TRADE is an online discount trading house that offers brokerage and banking services to individuals and businesses. One of the first brokers to embrace online trading, E*TRADE not only survived both the dot-com bubble and Recession — it thrived. You can choose from two different platforms (one basic, one advanced). E*TRADE is a suitable broker for traders of most skill levels, whether you want to buy mutual funds and hold them for decades or dabble in options swing trading. E*TRADE offers a library of research and education materials to help you out.
Best For
Active traders
Derivatives traders
Retirement savers
Pros
Sophisticated trading platforms
Wide range of tradable assets
Exceptional customer service
Cons
Limited currency trading
Higher margin rates than competitors
No paper trading on its standard platform

Commissions
$0
$6.95 for OTC Stocks
1 Minute Review
This publicly listed discount broker, which is in existence for over four decades, is service-intensive, offering intuitive and powerful investment tools. Especially, with equity investing, a flat fee is charged, with the firm claiming that it charges no trade minimum, no data fees, and no platform fees. Though it is pricier than many other discount brokers, what tilts the scales in its favor is its well-rounded service offerings and the quality and value it offers its clients.
Best For
Novice investors
Retirement savers
Day traders
Pros
World-class trading platforms
Detailed research reports and Education Center
Assets ranging from stocks and ETFs to derivatives like futures and options
Cons
Thinkorswim can be overwhelming to inexperienced traders
Derivatives trading more costly than some competitors
Expensive margin rates
And, Remember the Three Investing Must-Dos
1. Pay Attention to Timing
Timing does not matter if you're persistent; all that matters is that the process continues. On the other hand, timing matters if you're patient and you wait until shares go on sale and then stocks up. If you're passionate about an opportunity, you can be well-informed about that one company, but also blind to the whims of the market.
2. Choose a Reputable Firm
Different brokerages have different rates for different levels of service. There's good news, though. Commission rates have shrunk, some have disappeared, and most have less effect on the potential total return of a stock purchase. You can find cheap commissions from affordable online brokerages and robo advisors.
3. Learn About Risk and Return
The Capital Asset Pricing Model (CAPM) describes the relationship between risk and return. Using beta (β) to represent volatility as risk, expected returns for individual securities can be estimated.
Expected Return = Risk Free Return + β (Market Return – Risk Free Return)
Risk-Free Return = Ten Year Treasury (3.2%)
Market Return = S&P 500 (11%)
| | | | | | | | | |
| --- | --- | --- | --- | --- | --- | --- | --- | --- |
| Company Name | Symbol | Price | EPS | P/E | Dividend | Div. Rate | Beta (β) | CAPM % |
| American Express | AXP | $107.66 | $4.15 | 25.94 | $1.44 | 1.34% | 0.71 | 10.98% |
| Berkshire Hathaway | BRK-B | $219.45 | $19.25 | 11.40 | $0.00 | 0.00% | 1.09 | 15.15% |
| Charles Schwab | SCHW | $47.83 | $2.19 | 21.84 | $0.36 | 0.75% | 1.48 | 19.42% |
| Coca-Cola | KO | $49.69 | $0.56 | 88.73 | $1.54 | 3.10% | 0.48 | 8.45% |
| Goldman Sachs | GS | $227.71 | $13.71 | 16.61 | $3.05 | 1.34% | 1.1 | 15.25% |
| Starbucks | SBUX | $68.54 | $3.20 | 21.42 | $1.15 | 1.68% | 0.9 | 13.06% |
| Tesla | TSLA | $351.38 | ($16.14) | -21.7 | $0.00 | 0.00% | 1.47 | 19.31% |
| Wal-Mart | WMT | $105.47 | $1.75 | 60.27 | $2.06 | 1.95% | 0.2 | 5.38% |
Source: NASDAQ.com
Know That Sometimes, It Comes Down to Luck
Unless you're ready to make a commitment of ten years or more, Lady Luck can have a powerful influence on investment returns. Financial research by Nobel laureate Eugene Fama and Dartmouth professor Ken French has shown that timing of an investment has a significant effect on investment results on a ten-year-or-less investment horizon.
Final thoughts
The combination of passion, patience, and persistence, as well as the investment of time, energy and money, can do wonders for your portfolio. Tap into all of Benzinga's investing resources for help with everything from bonds to penny stocks.
Turn to Webull
0 Commissions and no deposit minimums. Everyone gets smart tools for smart investing. Webull supports full extended hours trading, which includes full pre-market (4:00 AM - 9:30 AM ET) and after hours (4:00 PM - 8:00 PM ET) sessions. Webull Financial LLC is registered with and regulated by the Securities and Exchange Commission (SEC) and the Financial Industry Regulatory Authority (FINRA). It is also a member of the SIPC, which protects (up to $500,000, which includes a $250,000 limit for cash) against the loss of cash and securities held by a customer at a financially-troubled SIPC-member brokerage firm.